July 10-20, 2024 (11 days)
Capacity: 15
Muckle Flugga Lighthouse, Isle of Unst, Shetland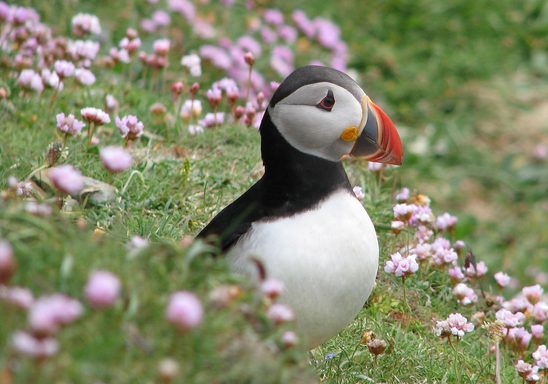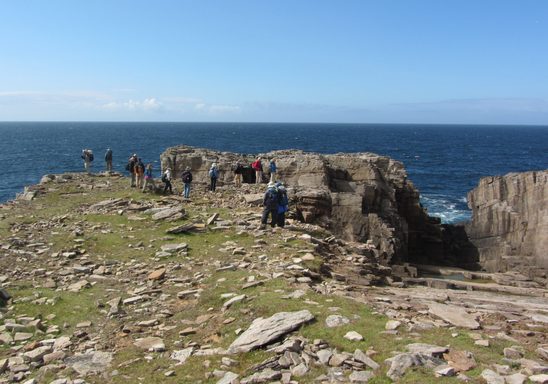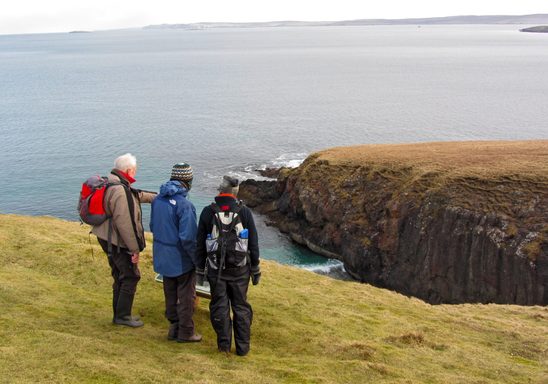 The Trip
I invite you to join Carleton College geologist Sarah Titus on this unique hiking tour in Scotland's little-visited Orkney and Shetland Islands!
This is the perfect opportunity to explore on foot Scotland's Northern Isles' amazing wealth of geological and archaeological sites plus seabird colonies. Their rocks tell the whole story, spanning almost three billion years. On Shetland, a UNESCO Global Geopark, you will walk on an ancient ocean floor, explore an extinct volcano, and stroll across shifting sands, all in the space of a day. In contrast, Orkney is made up largely of sedimentary rocks, one of the best collections of these sediments to be seen anywhere in the world. Both archipelagoes also have an amazing wealth of archaeological sites dating back 5,000 years. This geological and archaeological saga is worth the telling, and nowhere else can the evidence be seen in more glorious a setting.
This active land tour features daily hikes that are easy to moderate in difficulty, so to fully enjoy and visit all the sites on this itinerary one should be in good walking condition (and, obviously, enjoy hiking!).
Highlights include:
The "Heart of Neolithic Orkney," inscribed as a UNESCO World Heritage Site in 1999, including the chambered tomb of Maeshowe, estimated to have been constructed around 2700 B.C.; the 4,000-year-old Ring of Brodgar, one of Europe's finest Neolithic monuments; the Ness of Brodgar, a massive ceremonial complex that, in its heyday, must have completely dominated the landscape; and Skara Brae settlement. These are unquestionably among the most important Neolithic sites in western Europe.
Walking across the tombolo, a spit of sand, to St. Ninian's Isle, Shetland.
Eshaness, Shetland, with some of the most spectacular coastal scenery in the Northern Isles. Its cliffs that we see today cut right through the flank of a long-extinct volcano.
Birdwatching in the Isles, one of the major seabird breeding and feeding areas in the North Atlantic, where more than a million birds breed in very large colonies.
Our guides will explain in advance the difficulty of each day's hike(s) and, if you prefer, you can opt out of any hiking excursion and be driven to the next stop; but, bear in mind that most sites can only be visited if you approach them by foot. The hiking duration for each day is estimated within the detailed itinerary.
All meals are included, and you will enjoy comfortable accommodations: three nights at the elegant Lynnfield Hotel on Orkney, a comfortable overnight ferry to Shetland, four nights at the remote, charming Busta House Hotel on Shetland, and a final night in Aberdeen.
This program is limited to no more than 15 Carls and friends, so I encourage you to contact the Alumni Adventures office at (800) 811-7244 or carleton@studytours.org to reserve your space today.
Download the detailed brochure.
Carleton Leader
Sarah Titus, Professor of Geology, has taught classes at Carleton since 2006 including tectonics, structural geology, and geophysics (co-taught with her father, Emeritus Professor Bill Titus). She has co-led the Geology department's off-campus program in New Zealand four times since 2012, and leads numerous field trips for classes and the department, especially to southern California. Sarah's research is focused in two directions: on the San Andreas fault and how plate motion is taken up in central California; and on oceanic plates with major faults and how these systems deform, with field sites in Iceland, Cyprus, and New Caledonia. Sarah speaks Norwegian, after living there for two stints in the 1990s, and she hopes to dust off her language skills for Shetland. In her free time, she enjoys swimming and dabbles in crafts including ceramics, spoon carving, knitting and, most recently, watercolor.
Tour Prices (9 nights)
Per person, double occupancy
10-15 participants $6,795
Single Supplement $1,345
Single room supplement will be charged when requested or required (limited availability).
With fewer than 10 participants, a small group surcharge may be applied.
Itinerary
Wednesday, July 10, 2024: Depart home
Thursday, July 11: Aberdeen, Scotland | Ferry to Kirkwall, Orkney
Friday, July 12: Neolithic Orkney | Kirkwall | Welcome dinner
Saturday, July 13: Skara Brae | Yesnaby | Stromness | Kirkwall
Sunday, July 14: Isle of Hoy | Kirkwall | Ferry from Kirkwall to Lerwick, Shetland
Monday, July 15: Lerwick, Shetland | Jarlshof | St. Ninian's Isle | Isle of Mousa | Brae
Tuesday, July 16: North Roe | Fethaland | Brae
Wednesday, July 17: Isle of Unst | Brae
Thursday, July 18: Eshaness | Brae | Farewell dinner
Friday, July 19: Lerwick | Sumburgh | Fly to Aberdeen
Saturday, July 20: Fly home
Download the brochure for the complete detailed itinerary.
Additional Information
For more information or to reserve your space, please call 800-811-7244 or email Carleton College Alumni Adventures. To make a reservation online click here.