Galapagos: Darwin's Enchanted Isles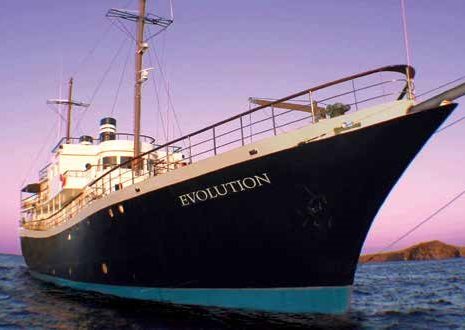 The 16-Cabin M/V Evolution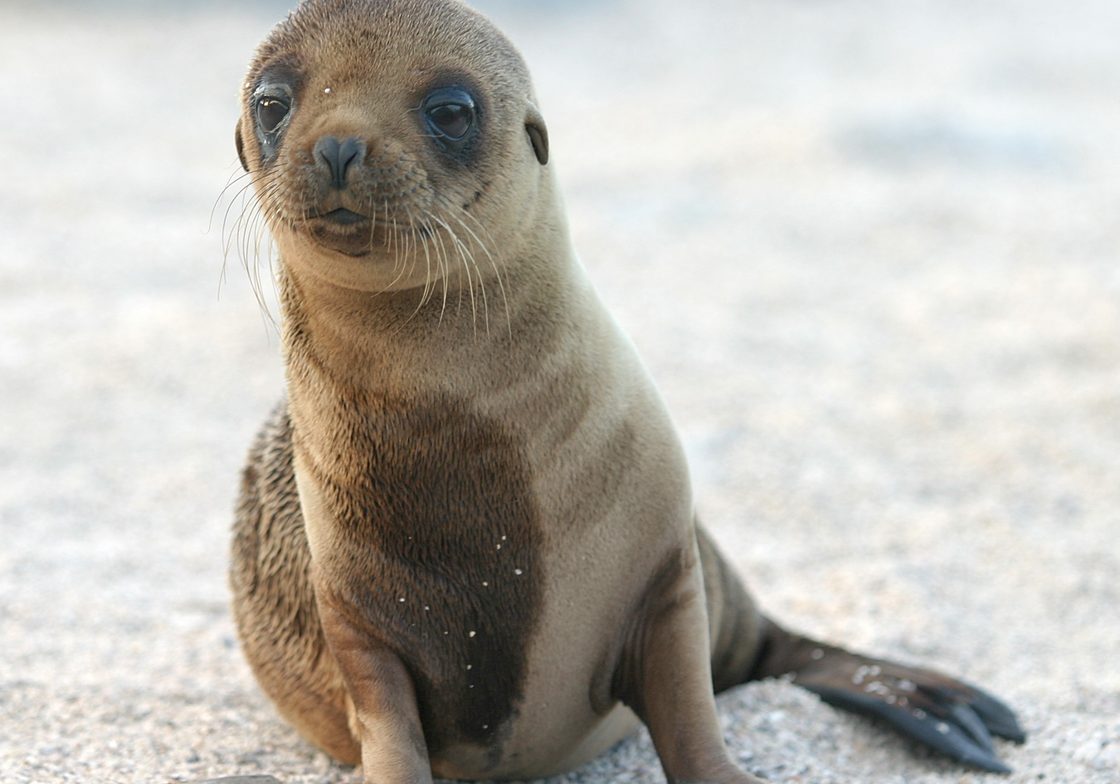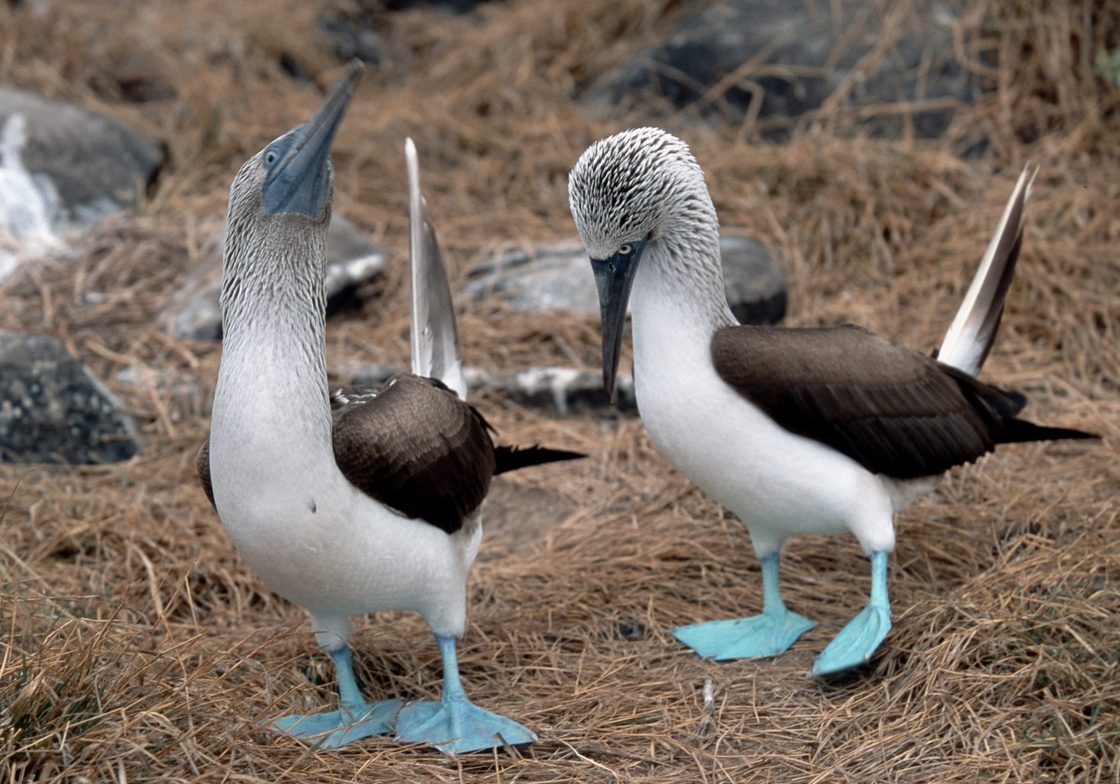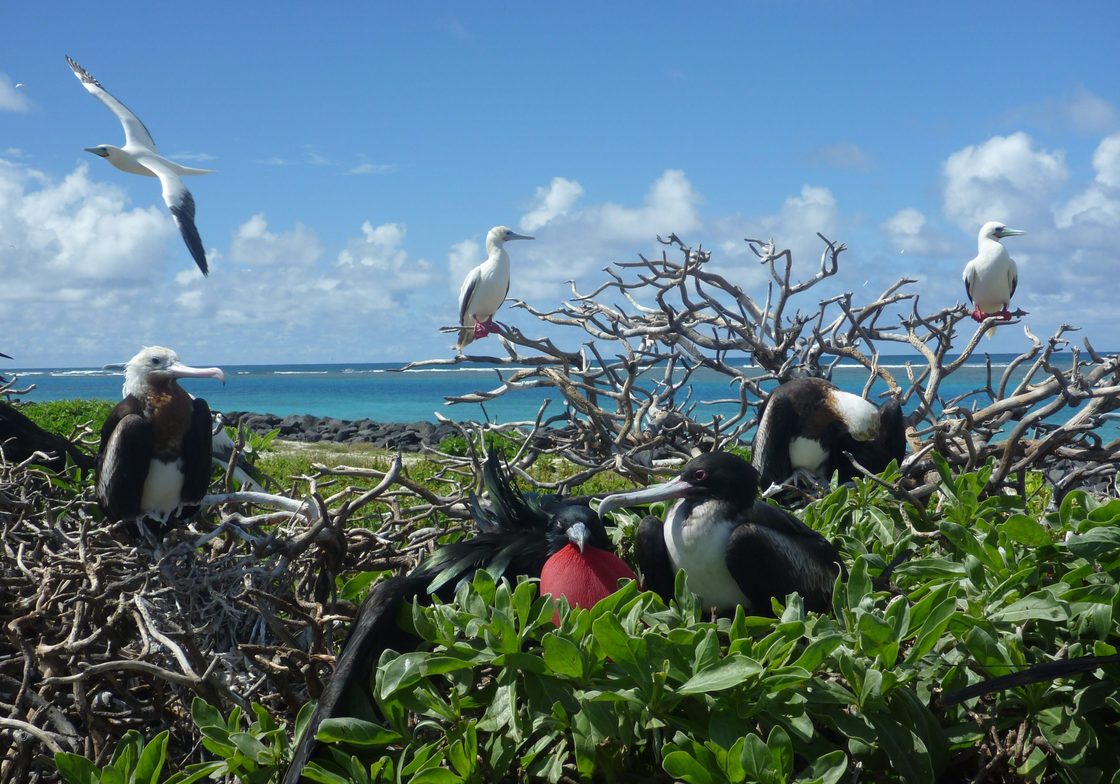 Great Frigatebirds and Red-footed Boobies
The Trip
Capacity: 16 Cabins
Accompanied by Carleton Professor of Biology Matt Rand and experienced guides who are natives of the islands and licensed at the highest level, immerse yourself in a extraordinary adventure to a "living laboratory of evolution," the Galapagos Islands, a UNESCO World Heritage site. So rare are the Islands' species that virtually all of their reptiles, and half of their plant and bird species, are not found anywhere else in the world. Charles Darwin's exploration of the region in 1835—and the strange life forms he encountered there—sparked his theory of evolution. His resulting thesis, On the Origin of Species by Means of Natural Selection, altered the course of biological science.
The marine environment of the Galapagos Islands contains a wide variety of habitats from coral reefs to mangrove lagoons. An uncommon mix of cold and warm-water marine life, dolphins, fur seals, hammerhead sharks, and whales share the same environment. See colonies of sea birds; comical blue-footed boobies performing a courtship dance; puffed, crimson-throated frigate birds showing off for their mates; waved albatrosses by the hundreds; and the world's pinkest flamingos.
This will be Professor Rand's seventh visit to the Galápagos, and he's excited to share this extraordinary opportunity with you, observing and learning about animal behavior with a unique and diverse set of organisms in one of the best environments on Earth in which to do so. Staffed by an experienced captain and friendly crew, our spacious, 16-cabin motor yacht M/V Evolution provides both generous comfort and safety in remote areas. With an open-air bar, hot tub, indoor and outdoor dining areas as well as two sun decks, the Evolution offers guests more open-air public space than any boat in her class.
---
Faculty Leader
Dr. Matthew Rand, Professor of Biology, has been teaching courses in animal behavior, physiology, morphology, and reproduction, including a non-majors course on human reproduction and sexuality, at Carleton College for the past twenty years. In 2002 and 2009, he offered off-campus courses on animal behavior in the Galápagos Islands to Carleton students, and he has led three previous alumni trips to the Galápagos. Matt believes that the Islands provide one of the best environments on Earth in which to observe animal behavior with a unique and diverse set of organisms. This will be his seventh visit to the Galápagos, where he will facilitate an appreciation for this extraordinary opportunity to view animal behavior under natural conditions.
---
Abbreviated Itinerary
Friday, November 30: Depart U.S./Arrive Guayaquil, Ecuador
Saturday, December 1: Guayaquil/San Cristobal/Isla Lobos, Embark Evolution
Sunday, December 2: South Plaza Island/Mosquera Island
Monday, December 3: Sombrero Chino Island/ Puerto Egas, Santiago Island
Tuesday, December 4: Genovesa Island
Wednesday, December 5: North Seymour Island/Santa Fe Island
Thursday, December 6: Santa Cruz Island
Friday, December 7: Floreana Island
Saturday, December 8: Galapagos/Guayaquil, Disembark ship
Sunday, December 9: Depart Guayaquil/Return to U.S. or continue on for optional extension
Extension Itinerary (abbreviated)
Sunday, December 9: Galapagos/Guayaquil/Lima, Peru
Monday, December 10: Lima/Cusco/Urubamba Valley
Tuesday & Wednesday, December 11 & 12: Machu Picchu
Thursday, December 13: Ollantaytambo/Sacsayhuamán/Cusco
Friday, December 14: Cusco
Saturday, December 15: Cusco/Lima/Return to U.S.
Pricing (Per Person Double Occupancy)
| Category | Description | Price |
| --- | --- | --- |
| 1* (yellow) | Cabin with queen bed and window.  Approx. 263 sq. ft. | $8,498 |
| 2 (green) | Cabins with queen or twin beds and window. Approx. 198 sq. ft. | $8,098 |
| 3* (blue) | Cabins with queen or twin beds and porthole. Approx. 183 sq. ft. | $7,198 |
| 4C (orange) | Cabins with queen or twin beds and porthole. Approx. 143 sq. ft. | $6,998 |
| 4D (pink) | Cabins with queen or twin beds and porthole. Approx. 178 sq. ft. | $6,798 |
See "Air Arrangements" section regarding the additional costs of internal flights.
All cabins feature private bathrooms with hair dryers and toiletries, climate controls, writing desk, safe-boxes and closet/storage space.
A limited number of singles are available in category 4C at $8,498 and 4D at $8,298.
*Indicates cabins that can accommodate a triple booking. The third occupant pays the per person double occupancy rate, less $1,000.

Optional Machu Picchu Extension Prices per person
Double Occupancy $3,748
Single (limited availability) $4,948
---
Additional Information
To make an advance reservation or for more information please call 800-811-7244 or email Carleton College Alumni Adventures.