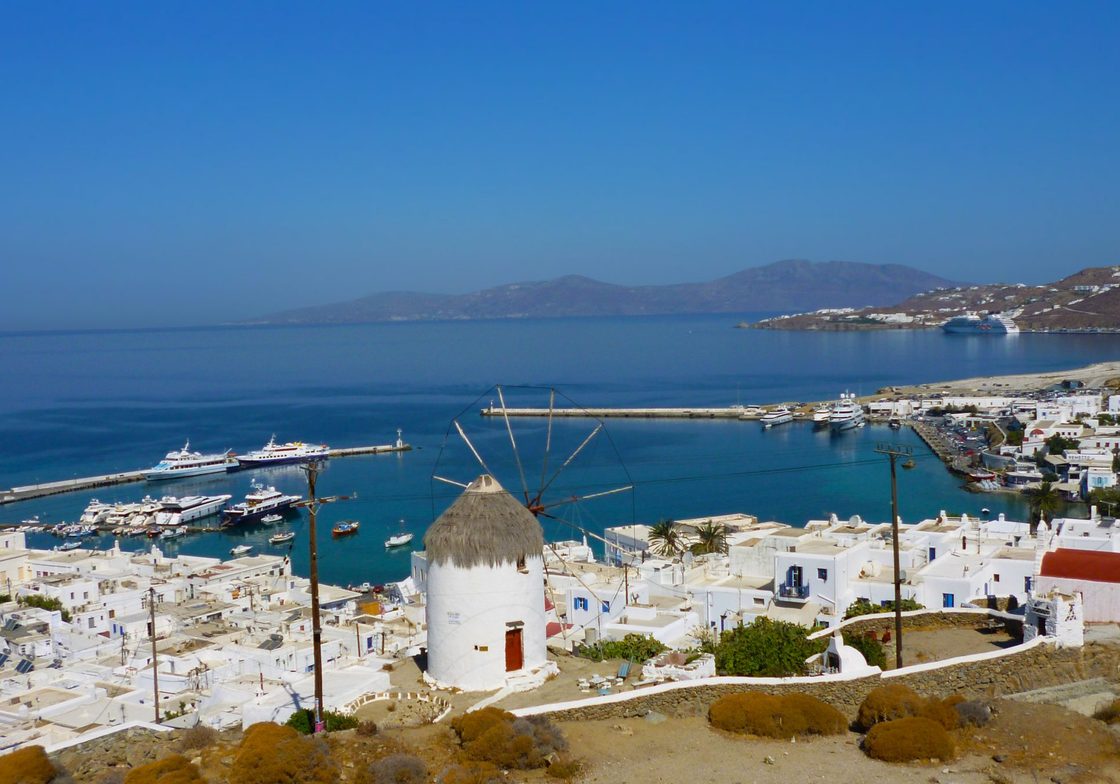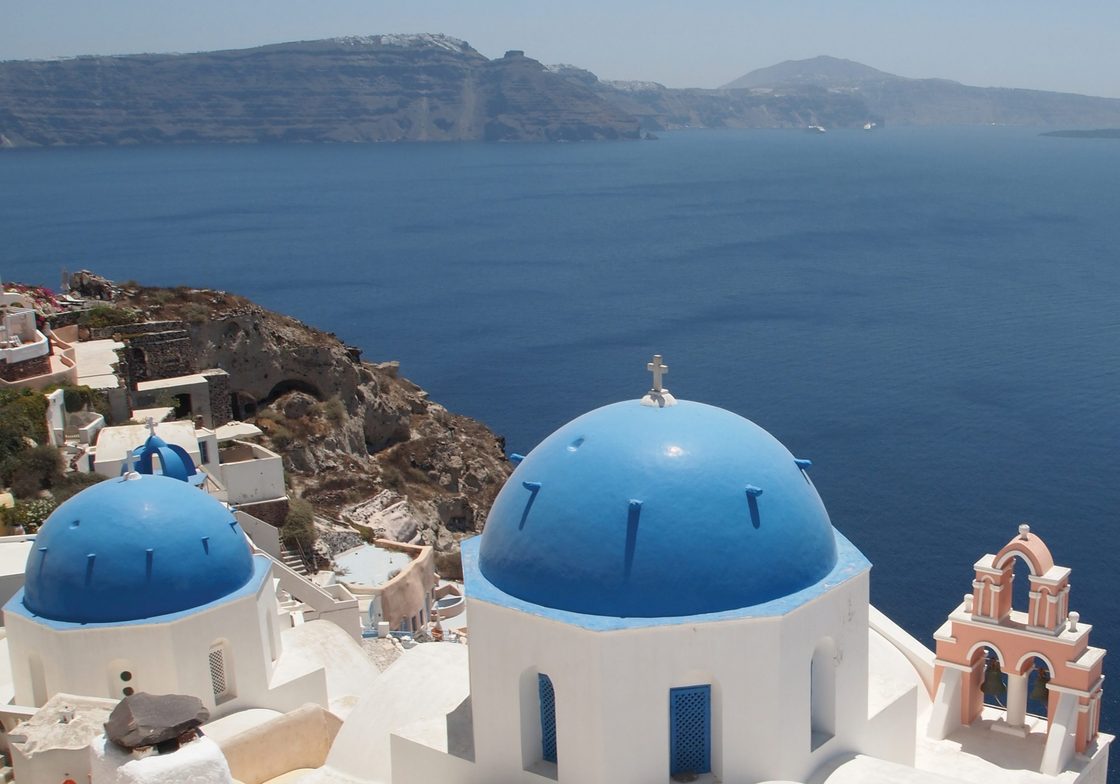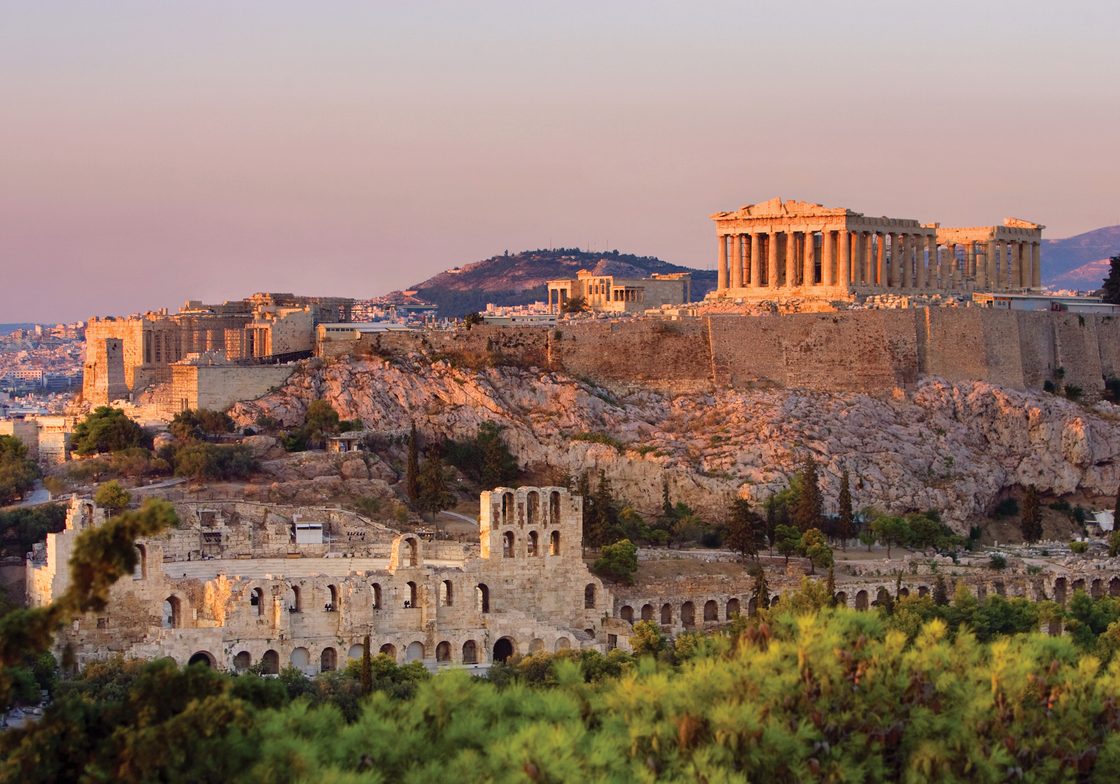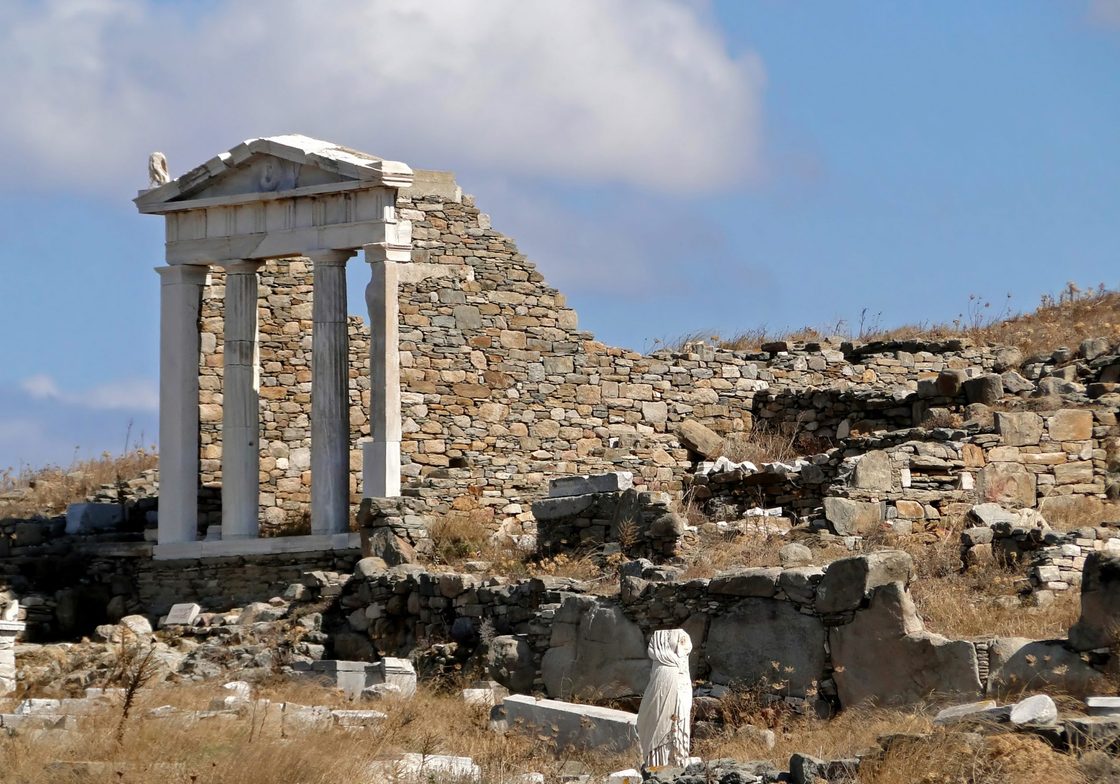 The Temple of Isis, Delos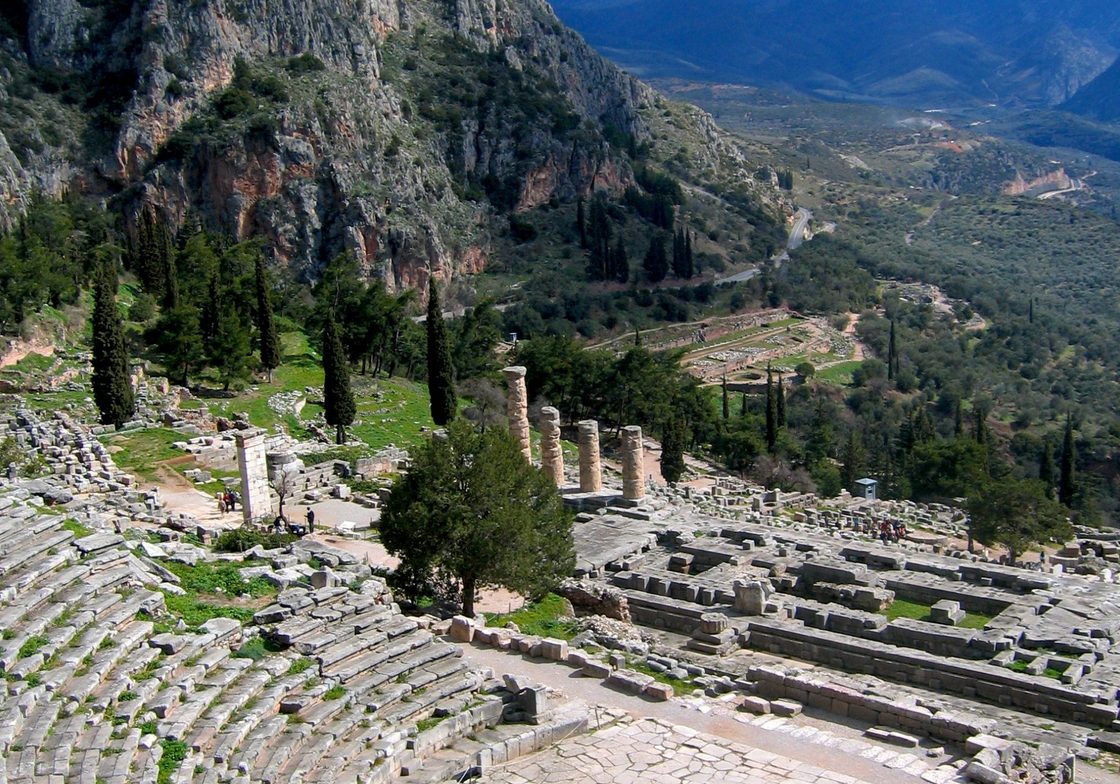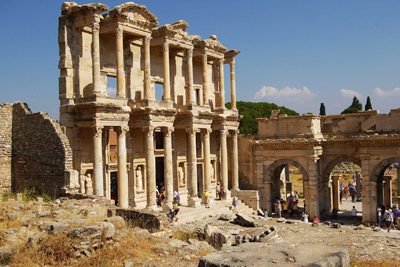 Library of Celsus, Ephesus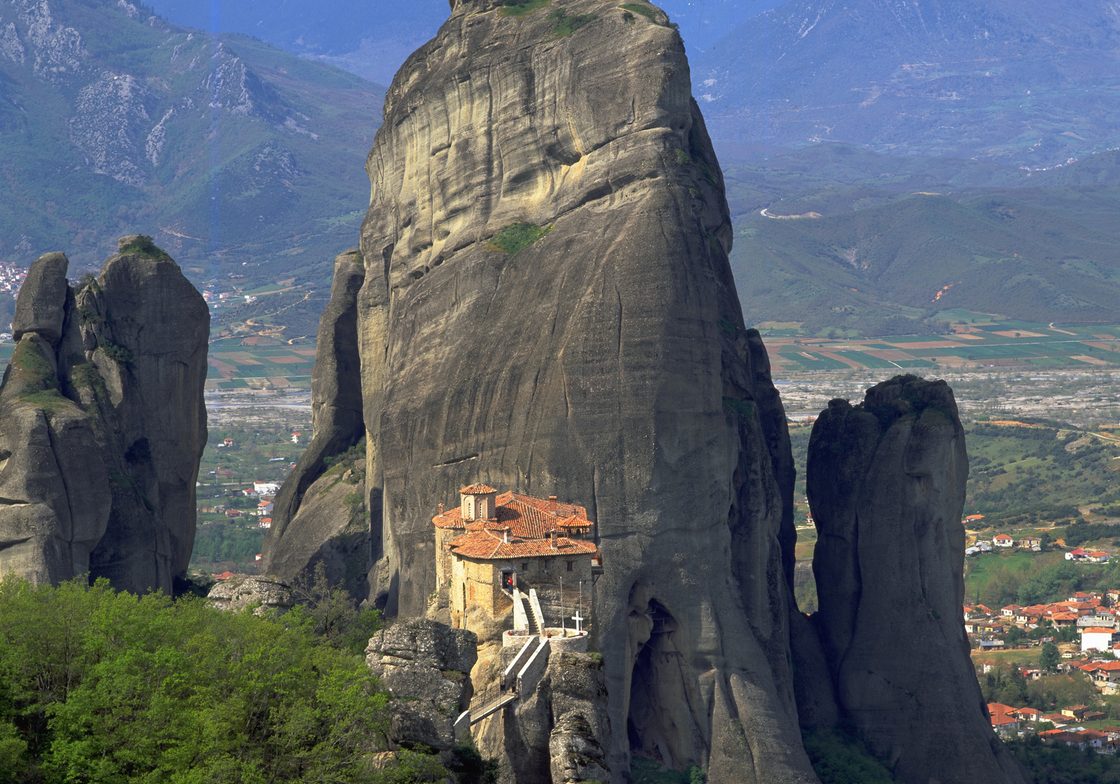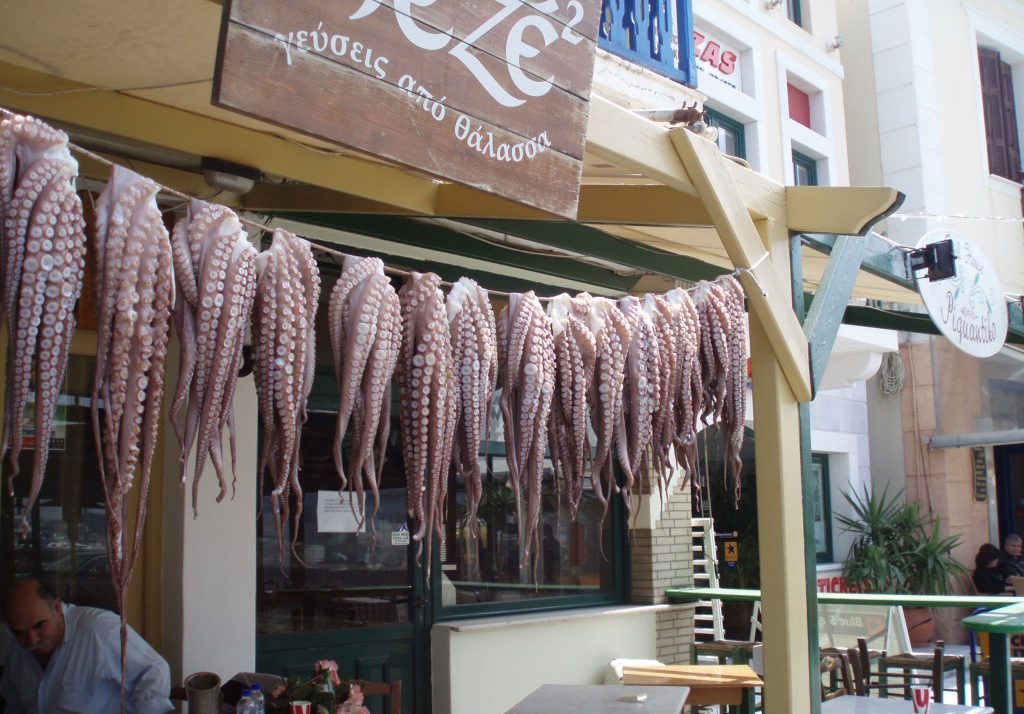 Seafood restaurant in Naxos
The Trip
Explore the cultural treasures of Greece, including six UNESCO World Heritage sites (*), and cruise the glittering Aegean Sea aboard the private, 26-cabin M/V Athena. Start off with several days on the mainland to take in stunning sites set in dramatic landscapes, including the ancient oracle of Delphi* and monasteries set atop towering peaks at Meteora.* Embark the M/V Athena in Athens for a seven-night cruise, visiting the iconic islands of Syros, Mykonos, Patmos,* Naxos, and Santorini; the sacred ancient ruins on Delos;* and the vast Greco-Roman city of Ephesus* in Turkey. Along the way, engage in a series of onboard lectures and informal discussions with Carleton College faculty leader Chico Zimmerman and AIA lecturer and host Nancy Wilkie. Also enjoy special activities such as a Greek cooking class and a lunch and dinner at the homes of local Greek families, plus a visit to an icon-painting workshop. Return to Athens, where you disembark and have two days to visit the iconic Acropolis* and explore independently.
Plus Optional Pre-Cruise Extension: Athens & the Peloponnese
August 27-September 2, 2018
---
Faculty Leader
Chico Zimmerman has been a member of the Classics Department at Carleton College since 1989. He is the Hazel Lillian Amland Grose Professor of Classics and currently serves as the Chair of the department. A philologist by training, Zimmerman specializes in poetry of all periods of antiquity, including Archaic, Classical, and Hellenistic Greek epic, lyric, and tragedy. His current research explores the Homeric and Platonic inter-textual aspects of the Roman poet Ovid. Zimmerman is also interested in learning, cognition, metacognition, and brain science. Having served as the Coordinator of the Perlman Center for Learning and Teaching, he is an avid consumer of the scholarship of teaching and learning and has an abiding interest in faculty development around issues of pedagogy and course design. Zimmerman lives in a geodesic dome that he built with his wife when he was much younger and more adventurous.
Guest Lecturer
Dr. Nancy Wilkie, representing the Archaeological Institute of America (AIA), is a distinguished archaeologist who has lectured on numerous study tours worldwide, especially in the Mediterranean. She is William H. Laird Professor of Classics, Anthropology, and the Liberal Arts, Emerita, at Carleton College where she was co-coordinator of the Archaeology Minor. Nancy has worked on archaeological projects in Greece, Egypt, and Nepal, authored more than 30 articles, and co-edited three books on archaeology. From 1998-2002 she served as President of the AIA, and in 2009-10 she was the AIA's Charles Eliot Norton lecturer, one of the highest honors that the Institute bestows. In April 2003 the President appointed Nancy to the Cultural Property Advisory Committee of the U.S. State Department, on which she continues to serve. In April 2013 she was elected President of the U.S. Committee of the Blue Shield, an organization dedicated to the protection of cultural property in times of armed conflict.
---
Abbreviated Itinerary
Saturday, September 1, 2018: Depart Home
Sunday, September 2: Arrive Athens, Greece
Monday, September 3: Athens | Arachova
Tuesday, September 4: Arachova | Delphi | Arachova
Wednesday, September 5: Arachova | Kalambaka
Thursday, September 6: Kalambaka | Meteora | Kalambaka
Friday, September 7: Kalambaka | Athens | Embarkation
Saturday, September 8: Syros | Mykonos
Sunday, September 9: Delos | Kuşadasi, Turkey
Monday, September 10: Kuşadasi | Ephesus | Kuşadasi
Tuesday, September 11: Patmos, Greece
Wednesday, September 12: Santorini
Thursday, September 13: Naxos
Friday, September 14: Athens | Disembarkation
Saturday, September 15: Athens
Sunday, September 16: Athens | Fly Home
Optional Pre-Cruise Extension: Athens & the Peloponnese
August 27-September 2, 2018
Delve into Greece's prehistory, mythology, architecture, and arts while admiring the stunning natural beauty of the Peloponnese peninsula. Spend two nights in Athens, visiting the superb Acropolis Museum, with an option to visit the spectacularly-situated Temple of Poseidon at Cape Sounion. Transfer to Nafplion for a full day of sightseeing, from the Corinth Canal to the UNESCO World Heritage site of Epidaurus, with its magnificent ancient theater, and back to the charming seaside town of Nafplion for a walking tour. En route to Olympia, where we spend two nights, visit the UNESCO World Heritage site of Mycenae, the impressive Bronze Age fortress/palace of legendary King Agamemnon. At ancient Olympia, another UNESCO World Heritage site, visit the original Olympic stadium, ruins of the Temple of Zeus, its excellent site museum, and more. Further details will be provided to confirmed participants or upon request.
---
14-Night Main Program Pricing (Per Person)
| Deck | Category | Land/Voyage | Air/Land/Voyage |
| --- | --- | --- | --- |
| Upper | A | $7,295 | $8,395 |
| Upper | B | $7,095 | $8,195 |
| Main | C | $6,795 | $7,895 |
| Main | D | $6,495 | $7,595 |
| Lower | Singles | $6,495 | $7,595 |
Five-night pre-tour extension pricing – $1,595 (per person, double occupancy)
Additional Information
To make an advance reservation or for more information please call 800-811-7244 or email Carleton College Alumni Adventures.