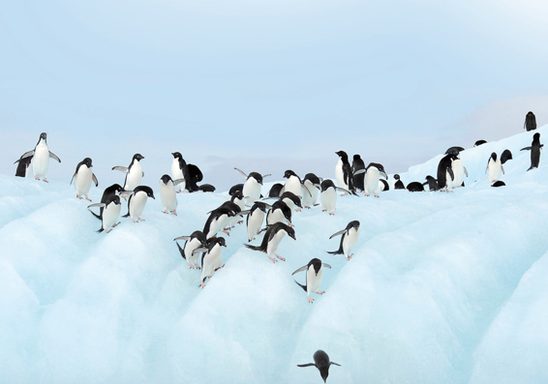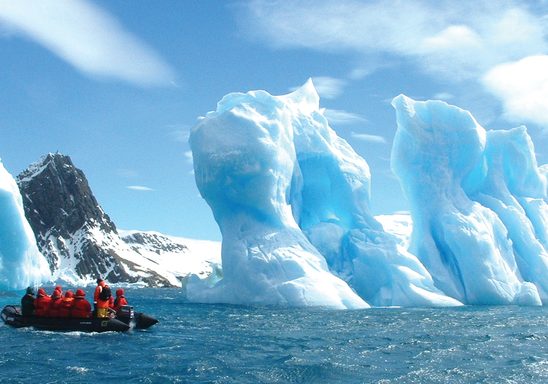 Zodiac boat on an excursion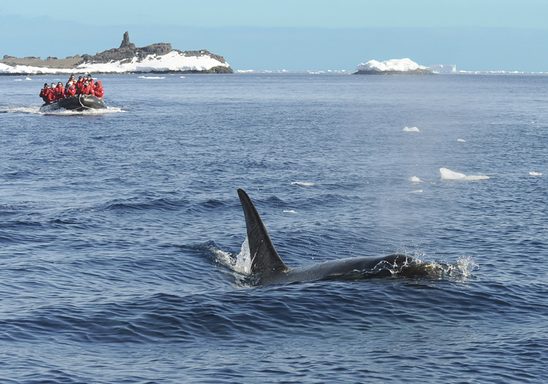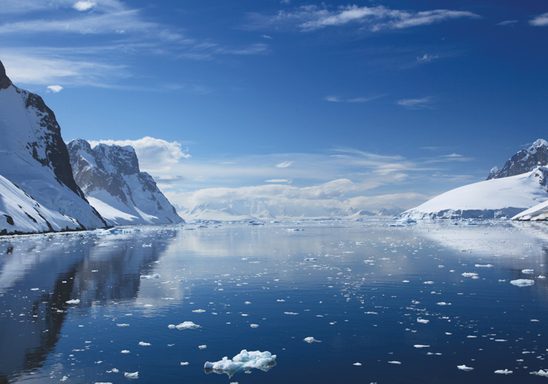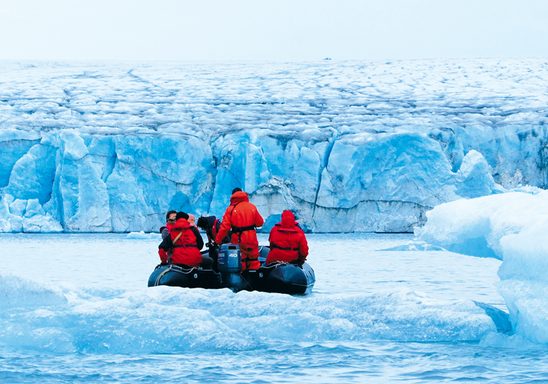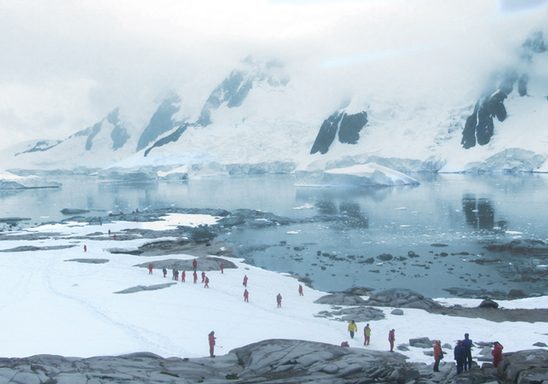 Passengers on an excursion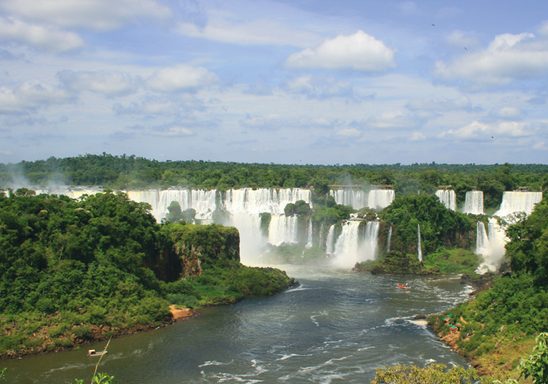 The Trip
Early Booking Discount: Book before June 3, 2016 and save $1,000 per person
In honor of the 150th anniversary of the founding of Carleton, and of former Carleton president and celebrated Antarctic explorer Laurence M. Gould, we are pleased to present this spectacular winter 2017 cruise to Antarctica, Earth's "last frontier." Accompanied by two Carleton program leaders—Senior Associate in Archives, Eric Hillemann, author of a 2012 biography of Gould; and Professor of Geology Mary Savina ('72)—you will cruise aboard the elegant, five-star, ice-class m.s. Le Soléal, one of the finest vessels in Antarctic waters, which combines innovative design with personalized service and features private balconies in 95% of her 110 deluxe suites and staterooms. By design, the ship is energy efficient, environmentally protective of marine ecosystems, and has been awarded the prestigious Clean Ship rating, an extreme rarity among ocean-cruising vessels.
Experience the White Continent in its unspoiled state—fantastically shaped icebergs, turquoise glaciers, bustling penguin rookeries and breaching whales—during the lingering light of the austral summer. Accompanied by the ship's expert expedition team of naturalists, board sturdy Zodiac craft for excursions ashore and observe the antics of Antarctica's abundant wildlife—penguins and seals, especially, are unafraid of human visitors. Mary Savina, Eric Hillemann, and the expedition team will provide a series of enriching lectures on this untouched wilderness and the history of its exploration. Spend two pre-cruise nights in a deluxe hotel in Buenos Aires, including a tour of the vibrant capital city. Choose to extend your journey with an exclusive three-night, post-cruise Iguazú Falls extension.
---
Faculty Leaders
Mary Savina ('72) is Charles L. Denison Professor of Geology at Carleton College, where she earned undergraduate degrees in history and geology. Her specialties—geoarchaeology, landscape history, and environmental geology—combine these interests nicely. Mary received the 2013 Undergraduate Research Mentor award, presented by the Geosciences division of the Council on Undergraduate Research. Although this trip will be Mary's first visit to South America and Antarctica, she has taken Carleton students and/or alums to Greece, New Zealand, Australia, Iceland, Alaska, and the deserts of the American Southwest. In her spare time, Mary sings in a choir and loves opera. She expects to learn a lot about Antarctica before this trip through the geologic research of many former Carleton students.
Currently Carleton's Senior Associate in Archives, Eric Hillemann has been an archivist at Carleton College since 1990. For twenty years, until 2010, he also coached Carleton's outstanding academic quiz teams, whose successes included two undergraduate national championships. His biography of former Carleton president and celebrated Antarctic explorer Laurence M. Gould was published in 2012 as A Beacon So Bright: The Life of Laurence McKinley Gould. Hillemann has been co-leader of one previous Alumni Adventures trip to Antarctica, conducted in 2006 while he was working on his Gould biography. He is currently preparing for publication, in connection with Carleton's sesquicentennial celebrations, a volume of 150 short essays, each accompanied by a related photograph, on various topics spanning the full century and a half of the college's history. Accompanying Hillemann on this adventure will be his wife, Claire Hill, who is the James L. Krusemark Professor of Law and founding director of the Institute for Law and Rationality at the University of Minnesota Law School.
---
Highlights
Two nights in the deluxe Plaza Hotel Buenos Aires, with breakfasts
Nine-night cruise on the five-star, ice-class ship Le Soléal
Captain's Welcome and Farewell Receptions
All meals included (continental breakfast, buffet breakfast, buffet lunch, afternoon tea, and dinner) throughout the cruise, featuring fine international and regional cuisine, served at single, unassigned seatings
Complimentary wine and beer served with lunch and dinner
Exploration by Zodiac landing craft, accompanied by an expert naturalist
Shore excursions to explore Antarctica's diverse wildlife habitats, including major penguin rookeries
An onboard expedition team of naturalists who provide a series of lectures about local wildlife and landscapes
Souvenir, polar-grade red parka
---
Abbreviated Itinerary
Day 1 Depart North America
Day 2 Buenos Aires, Argentina
Day 3 Buenos Aires
Day 4 Buenos Aires/Fly to Ushuaia/Embark m.s. Le Soléal
Day 5 Cruising the Drake Passage
Day 6 Cruising/Half Moon Island
Day 7 Deception Island/Pendulum Cove
Day 8 Paradise Bay/Port Lockroy/Wiencke Island
Day 9 Lemaire Channel/Petermann Island
Day 10 Brown Bluff
Day 11 Cruising the Weddell Sea
Day 12 Cruising the Drake Passage/Cape Horn
Day 13 Ushuaia, Argentina/Disembark m.s. Le Soléal/Fly to Buenos Aires/Depart for North America
Day 14 Arrive North America
*Please note that the ship's cruising pattern and destinations are ultimately dependent on weather, ice, and sea conditions, so our itinerary is subject to change.
---
Additional Information
To make a reservation or for more information please call 800-811-7244 or email Carleton College Alumni Adventures.
View Full Brochure of this trip
EARLY BOOKING DISCOUNT: Book before June 3, 2016 and save $1,000 per person
Main Tour
Pricing is land/cruise only, including gratuity to drivers and guides.
Per Person Double Occupancy (regular pricing)
| | |
| --- | --- |
| Category 8 | $10,395 |
| Category 7 | $11,395 |
| Category 6 | $12,695 |
| Category 5 | $13,195 |
| Category 4 | $14,195 |
| Category 3 | $14,395 |
| Category 2 | $14,495 |
| Category 1 | $14,895 |
| Deluxe Suite | $15,195 |
| Prestige Suite II | $15,495 |
| Prestige Suite I | $16,195 |
| Owner's Suite | $17,495 |
Single Occupancy (regular pricing)
| | |
| --- | --- |
| Category 6 | $22,995 |
| Category 4 | $25,995 |
TAXES (not included): $865 per person (subject to change)
AIRFARE Buenos Aires/Ushuaia/Buenos Aires (not included) = $850 (estimated & per person)