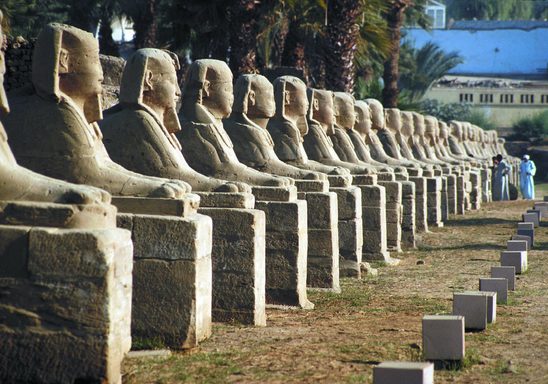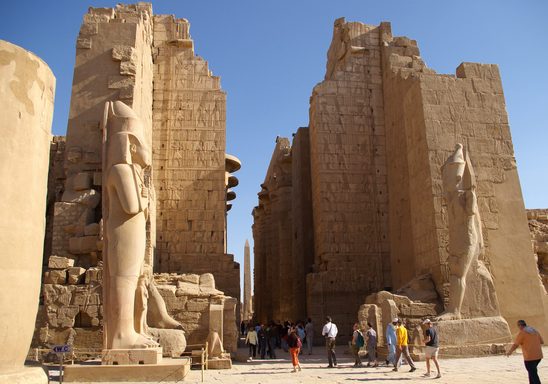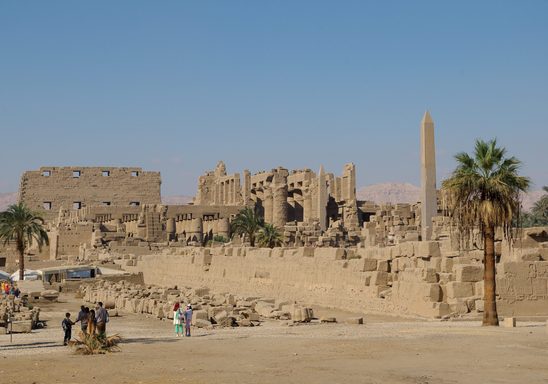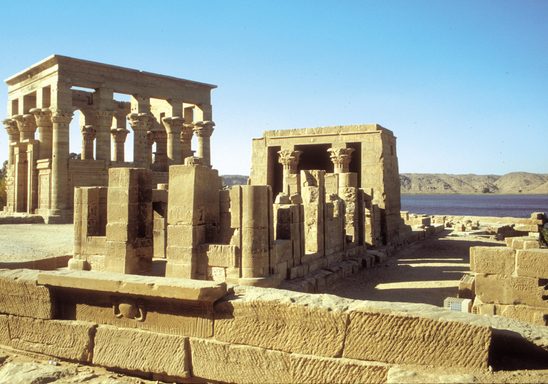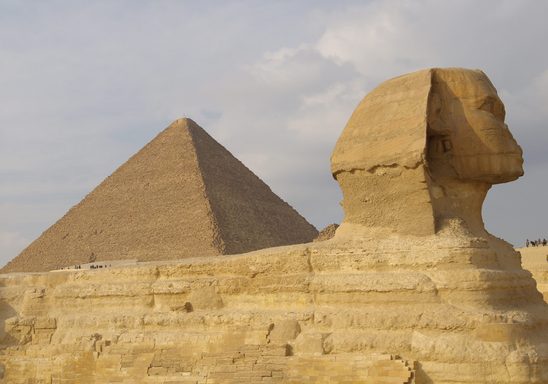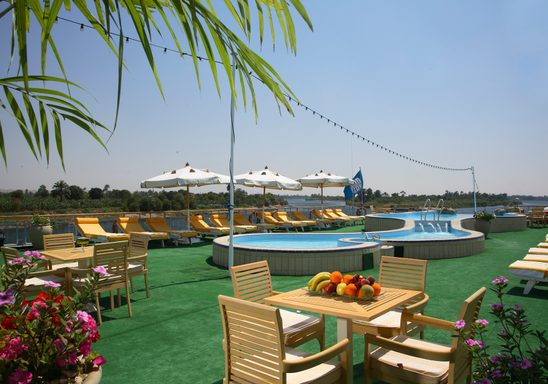 View from the top deck of the Sonesta Star Goddess
The Trip
Travel with a top-notch team of experts, including our congenial Carleton hosts, Rob and Teresa Oden, on an unforgettable experience designed for intrepid minds and curious souls. Rob, long a Professor of Ancient Near Eastern Languages and Religions, will share insights about ancient Egypt and its influences via illustrated lectures and ongoing conversations throughout the tour. In addition, a superb Egyptian guide will accompany you on all excursions and a professional trip manager will handle all of the travel logistics and details. Visit sites and museums that no trip to Egypt would be complete without. Plus, thanks to special permissions granted to our group, visit two tombs that are closed to the public: the spectacular Tomb of Seti I and the Tomb of Nefertari (often called the most beautiful tomb in Egypt). Delight in the ambiance and elegance of some of Egypt's finest hotels, including a luxurious, seven-night Nile cruise aboard a five-star riverboat with only 33 cabins, all of them suites.
---
Faculty Leaders
Robert A. Oden, Jr., retired on July 1, 2010 from the Presidency of Carleton College, a position he had held since 2002. Previously, he served as the President of Kenyon College and, from 1975 to 1989, he was a Professor of Religion at Dartmouth College. Rob's chief research interests are in Near Eastern languages, history, and religion, and he is the author of five books and more than 100 scholarly articles. He reads most of the languages of the ancient Near East, including Akkadian, Egyptian Hieroglyphs, Canaanite/Phoenician, and Nabataean. Rob has led numerous alumni trips to Egypt and to Turkey and the former Ottoman Empire for Dartmouth and Carleton, and in the Winter Term of 2008 he led and taught a Carleton Off-Campus Studies Program in Egypt. He served as a Trustee of the American University in Cairo for 25 years, and is today the Chair of the Dartmouth-Hitchcock Medical Center Board of Trustees and a Trustee of the American Schools of Oriental Research.
Teresa Oden was the administrator of a small foundation for a dozen years, before turning to historical research. She has written magazine articles and plays based on the history of towns where she has lived. In 2007 she published Spousework: Partners Supporting Academic Leaders, a book which offers insight into the lives of college presidents and their families.
---
Abbreviated Itinerary
Sunday, January 8, 2017: Depart Home
Monday, January 9: Arrive Cairo, EGYPT
Tuesday, January 10: Cairo | Giza Plateau | Cairo
Wednesday, January 11: Cairo | Saqqara | Serrapeum | Cairo
Thursday, January 12: Cairo
Friday, January 13: Cairo | Aswan | Embarkation
Saturday, January 14: Aswan | Kom Ombo | Edfu
Sunday, January 15: Edfu | Luxor (East Bank) | Karnak | Luxor
Monday, January 16: Luxor (West Bank) | Valley of the Kings | Luxor
Tuesday, January 17: Luxor | Valley of the Queens | Deir el Bahari | Esna
Wednesday, January 18: Esna | Edfu | Kom Ombo
Thursday, January 19: Aswan
Friday, January 20: Aswan | Disembarkation
Saturday, January 21: Aswan | Abu Simbel (optional) | Aswan
Sunday, January 22: Aswan | Cairo
Monday, January 23: Cairo | Home
---
Pricing Per Person
Double Occupancy (21 to 34 participants) $8,295
Double Occupancy (16 to 20 participants) $8,945
Double Occupancy (11 to 15 participants) $9,145
Single Supplement $2,195
---
Additional Information
To make a reservation or for more information please call 800-811-7244 or email Carleton College Alumni Adventures.