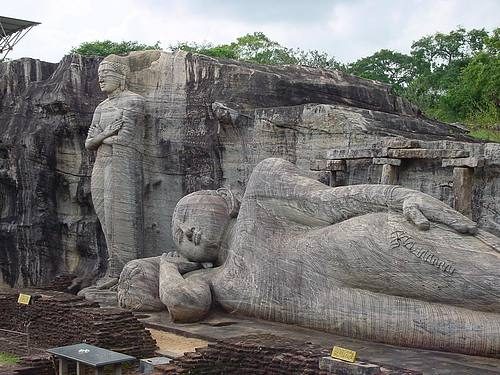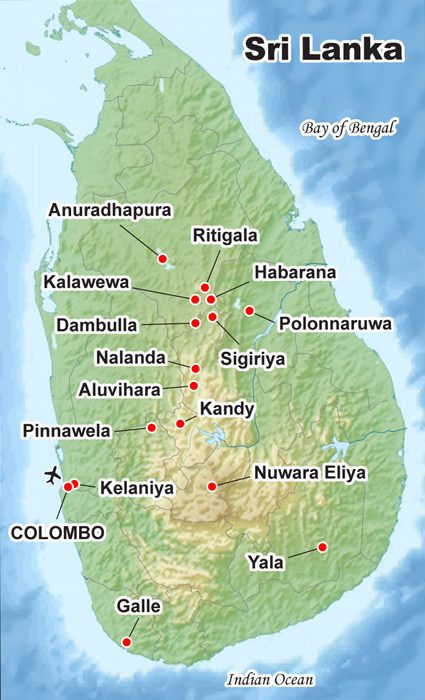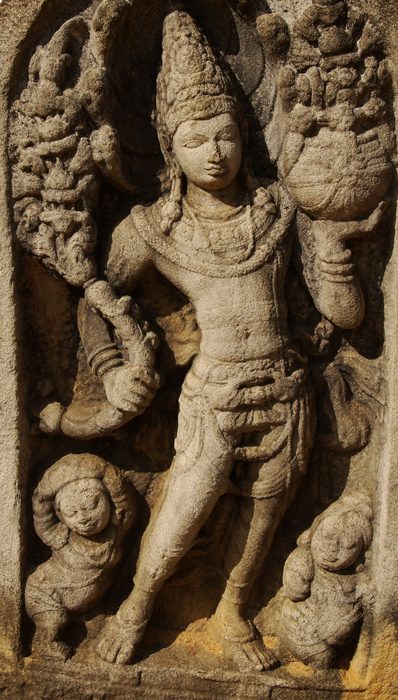 Kelaniya Temple, Sri Lanka
The Trip
Explore Sri Lanka's diverse cultural and natural treasures with Carleton professor Roger Jackson, an expert on Buddhism and other South Asian religions, and Pam Percy, an expert on Somatic Yoga. Visit six amazing UNESCO World Heritage sites, including the rock fortress of Sigiriya, the impressive ruins of Polonnaruwa, and the caves of Dambulla, with their marvelous paintings and sculpture. Also explore a reserve and a national park to see monkeys, elephants, a variety of birds and, possibly, a leopard. Enjoy excellent accommodations and first-class cuisine throughout this well-paced tour. An expert local guide/trip manager will also accompany you and handle all of the travel logistics and details.
---
Study Leaders
Roger Jackson is John W. Nason Professor of Asian Studies and Religion at Carleton College, where he teaches courses on South Asian religions—especially Buddhism and Hinduism—as well as mysticism and religious poetry. He has a B.A. in Religion from Wesleyan, an M.A. in South Asian Studies, and a Ph.D. in Buddhist Studies from the University of Wisconsin. Roger has published widely on Indian and Tibetan Buddhism, and has edited two international Buddhist studies journals. He has studied, traveled, and lived in South Asia multiple times, including Sri Lanka, where he twice directed the ISLE off-campus study program. A long-time practitioner of Buddhism, Roger is a regular teacher at Gyutö Monastery in Minneapolis and a frequent guest speaker at Buddhist centers in the Twin Cities area.
Pam Percy is a certified teacher of hatha yoga and Somatic Yoga, which she teaches in Northfield, MN. She worked for many years as a registered nurse, specializing in home care and hospice; as an elementary-school librarian; and for Carleton's Admissions office. Pam has a B.A. in Psychology from the University of California at Santa Barbara and a B.S.N. from the University of Wisconsin. She has been practicing yoga and Buddhist meditation for all of her adult life, and has traveled extensively in South Asia, including long stints in Nepal, India, and Sri Lanka.
---
Abbreviated Itinerary
Sunday & Monday, November 29 & 30 – Arrive Colombo, Sri Lanka
Tuesday, December 1 – Colombo
Wednesday, December 2 – Colombo | Kelaniya | Pinnawela | Habarana
Thursday, December 3 – Habarana | Anuradhapura | Habarana
Friday, December 4 – Habarana | Sigiriya | Habarana
Saturday, December 5 – Habarana | Polonnaruwa | Habarana
Sunday, December 6 – Habarana | Kalawewa | Ritigala | Habarana
Monday, December 7 – Habarana | Dambulla | Aluvihara | Nalanda | Kandy
Tuesday, December 8 – Kandy
Wednesday, December 9 – Kandy
Thursday, December 10 – Kandy | Nuwara Eliya
Friday, December 11 – Nuwara Eliya | Yala
Saturday, December 12 – Yala
Sunday, December 13 – Yala | Galle
Monday, December 14 – Galle | Colombo | Home
Yoga & Meditation
A unique feature of this Alumni Adventures trip will be the opportunity to complement our travels through Sri Lanka's geography, culture, history, and religion with inner and bodily exploration rooted, directly or indirectly, in South Asian culture. At various points during the trip, we will be led by Pam Percy in Hanna Somatics or Somatic Yoga, which are gentle, mindful, physical practices that assist us in releasing patterns of chronic tension, thereby creating more comfort and ease in our own bodies. There also will be regular opportunities for the practice of mindfulness meditation, led by Pam Percy or Roger Jackson. Mindfulness meditation, the health benefits of which have been amply documented, is based on the Buddhist meditation technique called satipatthana, which may have been taught by the Buddha himself, and is the main style of meditation taught in Sri Lanka. These activities, which are suitable for people of any age or physical condition, are completely optional. They require no previous experience, and will be taught in a non-sectarian spirit.
---
Additional Information
To make a reservation please call 800-811-7244 or email Carleton College Alumni Adventures. There is also a reservation form within the Brochure PDF, available for download.
View Full Brochure of this trip
---
Pricing Per Person
Main Tour Pricing
Double Occupancy (16-20 participants) $6,795
Double Occupancy (10-15 participants) $7,045
Double Occupancy (6-9 participants) $7,495
Single Supplement $1,845