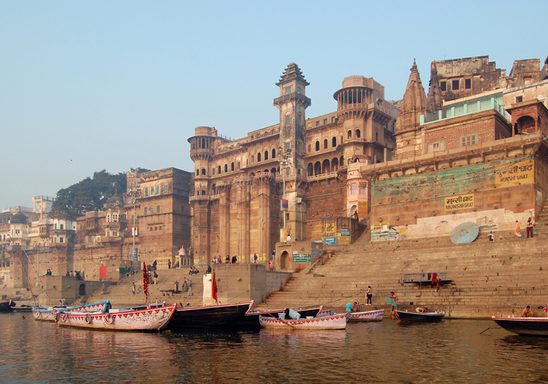 Varanasi's ancient ghats lining the Ganges River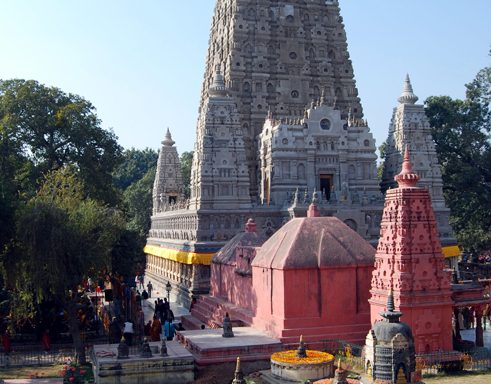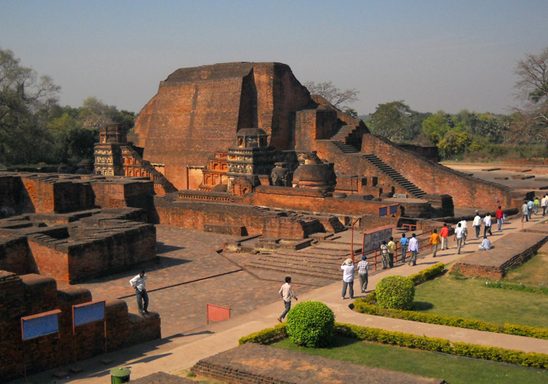 Nalanda, an ancient Buddhist university.
The Trip
Discover what may very well be the most relaxing, luxurious, in-depth means of exploring India by cruising for eight unforgettable nights, 800 miles down the Ganges, aboard the classic 28-cabin riverboat Bengal Ganga. Relax on a comfy lounge chair right outside your cabin or on the top deck while viewing a panoply of river and village life, freshwater dolphins, and exotic birds. Plus, enjoy five pre-cruise nights exploring Delhi, Varanasi, and Bodhgaya, staying at comfortable, often luxurious, hotels. Throughout the program you will gain insights from two distinguished experts with abundant experience leading small groups in India: Carleton Professor Emerita Nancy Wilkie and Dr. Annapurna Garimella, an art historian and cultural expert based in Bangalore and Delhi. An optional, post-trip extension in Odisha (Orissa), including a visit to Konarak's 13th-century Sun Temple (a UNESCO World Heritage site) is also available.
---
Study Leaders
Nancy Wilkie is a distinguished archaeologist and professor who has led numerous study tours throughout Asia and the Mediterranean. Nancy is William H. Laird Professor of Classics, Anthropology, and the Liberal Arts, Emerita, and co-coordinator of the Archaeology Concentration at Carleton. From 1998-2002 she served as President of the Archaeological Institute of America, and in 2009-10 she was the AIA's Charles Eliot Norton lecturer, one of the highest honors that the Institute bestows. In the mid-90's she was named to the Alumni of Notable Achievement by the College of Liberal Arts, University of Minnesota; and in April 2003 the President appointed Nancy to the Cultural Property Advisory Committee of the U.S. State Department on which she continues to serve. In April 2013 she was elected President of the U.S. Committee of the Blue Shield, an organization dedicated to the protection of cultural property in times of armed conflict. Nancy has directed archaeological projects in Greece, Egypt, and Nepal; and has lectured on travel programs around the world, including several to India. Nancy's most recent research project is focused on the depiction of Hell in the Buddhist temples of Sri Lanka.
Annapurna Garimella is an art historian and designer who specializes in the art and architecture of India. Annapurna has been a study leader on many tours of India and received the highest praise. She earned her Ph.D. in Art History from Columbia University, where her work focused on religion, kingship, architecture, and urban planning in medieval India, and she curated a show on Rajput painting at the Arthur M. Sackler Gallery of Art, Washington, D.C. Annapurna has taught at universities in the U.S. and India. As Research Editor for Marg Publications, South Asia's oldest publishing house dedicated to the arts, Annapurna edited several volumes on Buddhist art in Central Asia and the Himalayan kingdoms. Her own published work includes research on the medieval city of Vijayanagara, modernism, contemporary religiosities, and the politics of tourism and heritage.
---
Pricing Per Person
Main Tour
Main Deck:
| | |
| --- | --- |
| Double Occupancy | $11,295 |
| Single Occupancy | $12,995 |
Upper Deck:
| | |
| --- | --- |
| Double Occupancy | $12,495 |
| Single Occupancy | $14,295 |
Odisha Post-Tour Extension
| | |
| --- | --- |
| Double Occupancy (8 to 10 participants) | $1,995 |
| Double Occupancy (4 to 7 participants) | $2,195 |
| Single Supplement (limited availability) | $345 |
To make a reservation please call 800-811-7244 or email Carleton College Alumni Adventures.
Download a full PDF brochure of this trip here
---
Abbreviated Itinerary
Tuesday, February 10, 2015: Arrive DELHI, India
Wednesday, February 11: DELHI
Thursday, February 12: DELHI | VARANASI
Friday, February 13: VARANASI | SARNATH | VARANASI
Saturday, February 14: VARANASI | BODHGAYA
Sunday, February 15: BODHGAYA | RAJGIR | NALANDA | SIMARIA | EMBARKATION
Monday, February 16: MUNGER | SULTANGANJ | BHAGALPUR
Tuesday, February 17: BHAGALPUR | Dolphin Sanctuary | Vikramshila | BATESHWARSTHAN | KARAGOLA
Wednesday, February 18: KARAGOLA | RAJ MAHAL
Thursday, February 19: RAJ MAHAL | FARAKKA | JANGIPUR
Friday, February 20: JANGIPUR | MURSHIDABAD | CHOURIGACHA
Saturday, February 21: CHOURIGACHA | KALNA
Sunday, February 22: KALNA | KOLKATA (Calcutta)
Monday, February 23: KOLKATA | DISEMBARKATION | FLY HOME

—— Optional Post-Tour Extension to ODISHA ——
Monday, February 23, 2015: KOLKATA | BHUBANESWAR
Tuesday, February 24: BHUBANESWAR
Wednesday, February 25: RAGHURAJPUR | PURI | KONARAK | PIPLI
Thursday, February 26: CHAUSATH YOGINI TEMPLE | FLY HOME
---
Additional Information
To make a reservation please call 800-811-7244 or email Carleton College Alumni Adventures. There is also a reservation form within the Brochure PDF, available for download.