NOTE: A waiting list for this tour is now open. Please contact us at 800-811-7244 or email carleton@studytours.org to be added to list and notified is space becomes available.
January 27 – February 6, 2022
Sheikh Zayed Grand Mosque, Abu Dhabi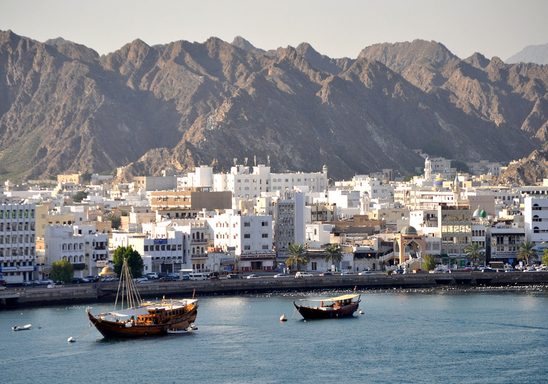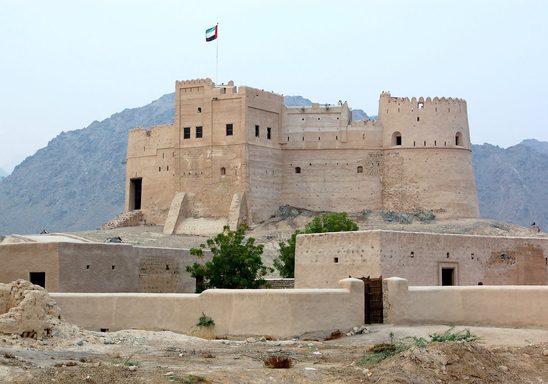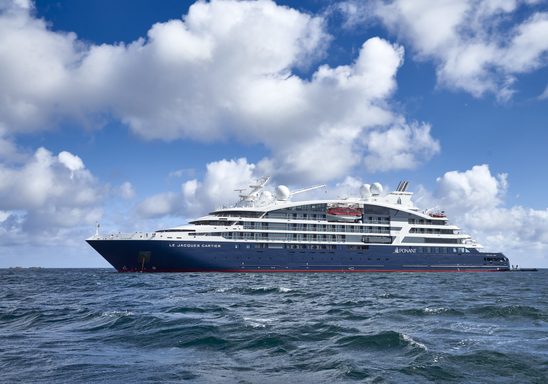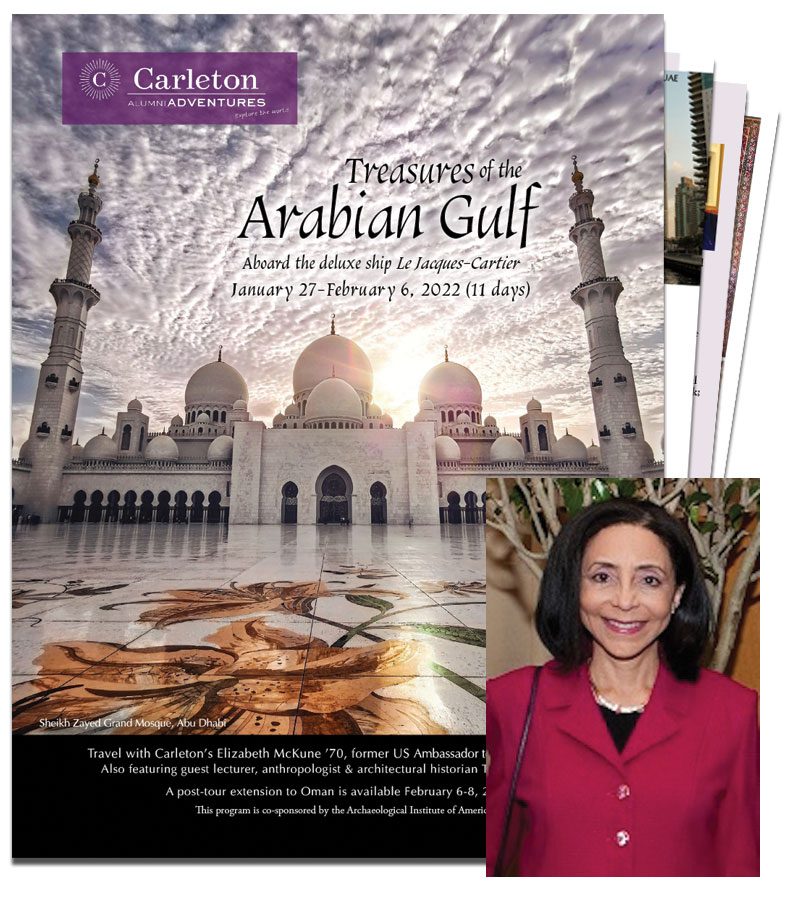 The Trip
Experience this splendid small-ship adventure in the Arabian Gulf with your host Elizabeth McKune '70, a distinguished diplomat who is intimately familiar with this region. She will discuss current events, and two guest lecturers will discuss history and Arabic cultural traditions, respectively. Co-hosting will be Sarah Forster '93, Director of Milestone Reunions.
Highlights:
A luxurious, eight-night cruise between the Arabian Gulf and the Gulf of Oman, embarking at Dubai, United Arab Emirates (UAE), and disembarking at Muscat, Oman.
After one hotel night in Dubai, travel aboard the luxurious and ultra-modern Le Jacques-Cartier that has just 92 staterooms but extensive amenities and public spaces, including a unique underwater lounge!
Our voyage is timed to include a full day at the Dubai World Expo.
From fascinating and futuristic Dubai, cruise to Abu Dhabi, the booming capital of the UAE, where we visit the Sheikh Zayed Grand Mosque, the heritage site/museum of Qasr Al Hosn, and Masdar City, an emerging eco-center.
Stop off at the nature reserve on the island of Sir Bani Yas, a unique wildlife sanctuary.
Doha, Qatar, blends tradition and modernity. Discover two fabulous museums, one with the largest collection of Islamic arts in the world, plus the Souq Waqif (marketplace) with traditional garments, spices, handicrafts, and souvenirs.
Le Jacques-Cartier will drop anchor in Khasab, gateway to the sublime "fjords of Arabia" that you will be able to explore aboard a traditional boat (dhow), before arriving in the Gulf of Oman.
Enjoy an excursion into the surrounding mountains of Fujairah and visit many architectural sites including Fujairah Fort, built in 1670, and Al Bidya Mosque, the oldest mosque in the UAE.
An optional, two-night extension in Oman explores Muscat, Nizwa, the oasis of Wadi Bani Khalid, and the spectacular dunes of the Wahiba Sands.
Tour Leader
Elizabeth (Davenport) McKune '70 served as US Ambassador to the State of Qatar from 1998-2001. She was the first female ambassador from any country accredited to Qatar in this capacity. During her 33 years as a career Foreign Service officer, Liz spent 17 years abroad with postings including Israel, Tunisia, Egypt, Lebanon, the Sultanate of Oman, Iraq, and Great Britain. Stateside she held a Deputy Assistant Secretary of State position as Deputy Executive Secretary, also a first for a female. Other senior positions included Director of the Office of Northern Arabian Affairs, Director of the Office of Pacific Island Affairs, Director of the Media Outreach Center, and International Affairs Advisor to the Commandant of the Industrial College of the Armed Forces (ICAF). Liz co-authored The National Security Process: The National Security Council and the Interagency System. For her work at ICAF, Liz received the DoD's Joint Civilian Service Award. In addition, she is the recipient of State's Meritorious, Superior, and Senior Performance Pay Awards. The Government of the State of Qatar awarded Liz its Sash of Merit. Upon leaving the State Department in 2006, Liz became the Executive Director of the Sultan Qaboos Cultural Center from 2007-2011, where she oversaw a period of unprecedented growth and expansion. She is married to Kenneth McKune, also a former career Senior Foreign Service officer. They live in McLean, Virginia, with their dachshund, Gretel.
Special Guest Lecturers
Trevor Marchand has been leading lecture tours to Oman for twenty years and has delivered talks in Saudi Arabia and the United Arab Emirates on regional building traditions and on recovery and reconstruction of World Heritage sites damaged by conflict. With extensive knowledge of the region, Marchand's lectures on the UAE, Qatar, and Oman showcase religious identities and practices along the western shores of the Arabian Gulf; the dynamics of political dynasties, cultural change, and seismic economic transformations; the rich history of Indian Ocean trade and global connections; local heritage and craftwork; and traditional and contemporary architecture. He is Emeritus Professor of Social Anthropology at the School of Oriental and African Studies (SOAS, London) and recipient of the Royal Anthropological Institute's Rivers Memorial Medal.
Dr. Margaret Nydell is an expert in Arabic and modern Arabic cultural traditions. She is a widely respected scholar and professor of Modern Standard Arabic, Arabic dialectology, and many Arabic regional dialects. Dr. Nydell was an Arabic linguist for the Foreign Service Institute and the U.S. Department of State, and has directed the latter's School of Advanced Arabic Training in Tunisia. Most recently, she taught in Georgetown University's Department of Arabic for twelve years. The author of ten books, Dr. Nydell currently lectures on Arab cultural orientation for numerous government and private organizations. Her book Understanding Arabs: A contemporary guide to Arab society is in its sixth edition and has received excellent reviews. Dr. Nydell holds a master's degree in Arabic and a Ph.D. in applied linguistics, both from Georgetown University. She has lived and worked in Morocco, Saudi Arabia, Tunisia, and Cairo.
---
Program Rates (9 nights)
Staterooms starting at:
$6,790 Double occupancy
$8,290 Single occupancy
(Availability is limited, contact us for details – 800-811-7244 or carleton@studytours.org)
Download the detailed brochure for complete pricing and information
---
Itinerary
Breakfast=(B), Lunch=(L), Reception=(R), Dinner=(D)
Thursday, January 27, 2022: Depart home
Friday, January 28: Arrive Dubai, UNITED ARAB EMIRATES (UAE) | Welcome Reception
Saturday, January 29: Dubai city tour | Embarkation
Sunday, January 30: Dubai: World Expo
Monday, January 31: Abu Dhabi: City tour
Tuesday, February 1: Sir Bani Yas
Wednesday, February 2: Doha, QATAR: Museum visits, Souq Waqif
Thursday, February 3: At Sea
Friday, February 4: Khasab, OMAN | Musandam Peninsula dhow cruise
Saturday, February 5: Fujairah, UAE
Sunday, February 6: Muscat, OMAN | Disembarkation | Fly home or Continue on to the optional post-tour extension
---
Optional Post-Tour Extension – Treasures of the Oman Desert
February 6-8, 2022
Enjoy two unforgettable days surrounded by breathtaking scenery from the Nizwa mountain region to the magic desert of Wahiba Sands. Between oases, fortresses, canyons, and dunes, you will experience nature, culture, and art of desert living.
Sunday, February 6, 2022: Muscat, OMAN | Muscat city tour | Jebel Akhdar
Monday, February 7: Nizwa | Wahiba Sands
Tuesday, February 8: Return to Muscat | Fly home
Additional Information
To make a reservation or for more information please call 800-811-7244 or email Carleton College Alumni Adventures.