Northfield and the Twin Cities
---
Carleton is in Northfield, just 40 miles south of the Twin Cities of Minneapolis and St. Paul. Often cited for its charm and livability, Northfield consistently ranks among the best college towns in the US. And the Twin Cities? They're home to some of the best music, food, museums, and outdoor recreation in the country.
Northfield
Carleton College was founded in Northfield, Minnesota, in 1866, just 10 years after the town itself, and we graduated our first students in 1874. Fast forward to today, and Northfield is a bustling college town with 20,000 residents, two colleges, and plenty to see and do.
A short walk from campus, Northfield's main street — Division Street — is lined with locally owned businesses, friendly coffee shops, and a variety of restaurants. Whether you're looking for an authentic burrito, a newly released novel, or a funny postcard to send to your friends, you'll find it in Northfield. You'll also find several grocery stores, a clinic and hospital, and plenty of other amenities a short walk, bike trip, or bus ride away.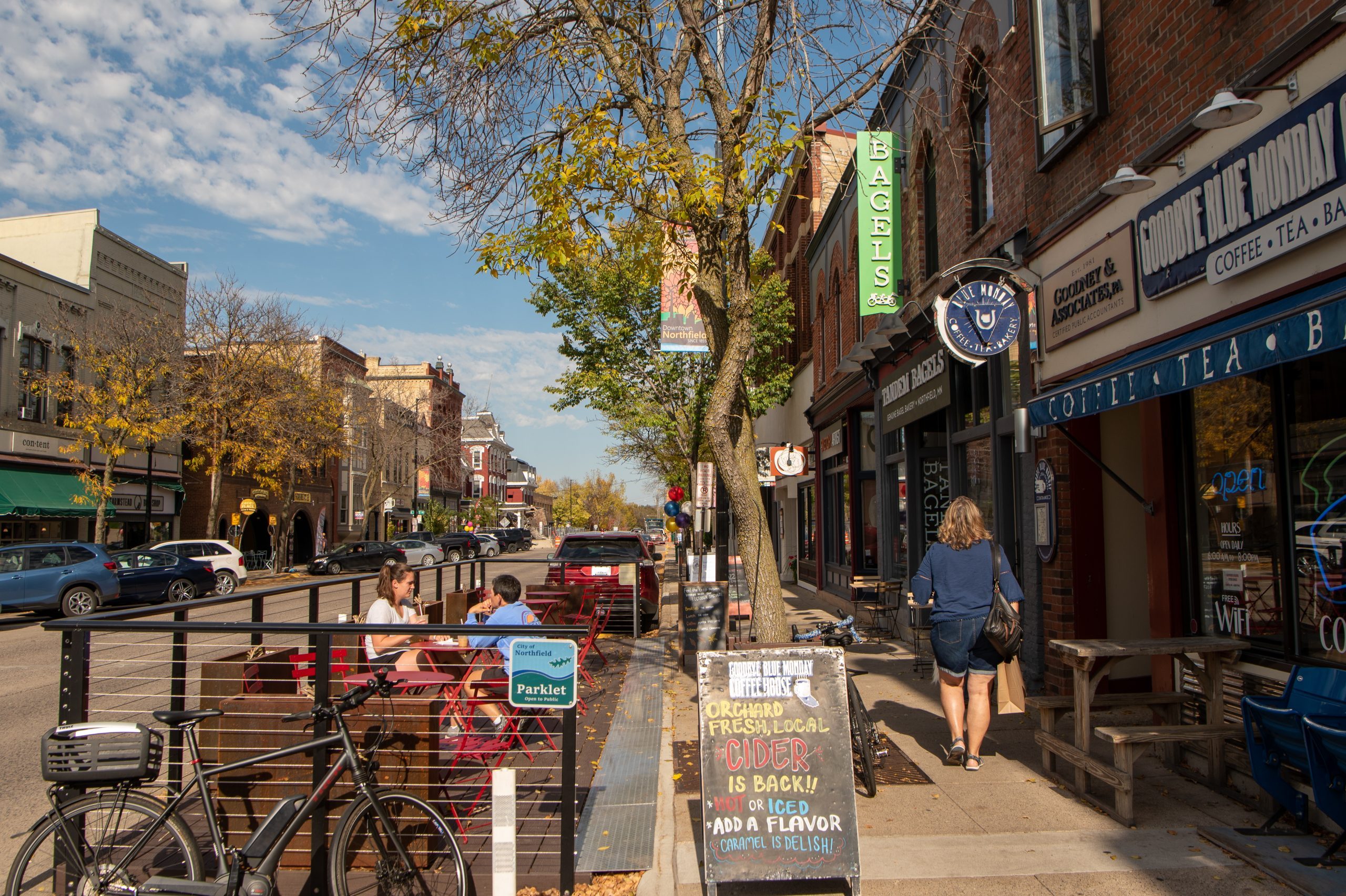 What's there to do in Northfield? Plenty! Here are some of our favorites:
Eat!
Bakeries: From Ames Mill perched on the Cannon River to the smell of Post's Malt-O-Meal cereal wafting through the air, it's clear Northfield has a deep milling history. That legacy lives on in its baked goods. From Martha's Eats & Treats in Dundas (only open Fridays and Saturdays) to Brick Oven Bakery to Cake Walk, there is no shortage of places to pick up a baked good.
Restaurants: Northfield has a wide range of dining options. You can get "everyday Nordic" at The Ole Store. Coco's Place and El Triunfo serve up Mexican tacos, tortas, and burritos. Reunion's classic American fare is topped only by the newly renovated historic building it occupies. Hogan Brothers is the perfect lunch place for soup and sandwiches. Tokyo Grill is our go-to place for sushi. Craving pizza? While every Northfielder has their loyalties between B&L's Pizza, George's Vineyard, and Basil's Pizza, all three grew out of the same family and make a good pizza! If you poll the admissions staff on their favorite burger in town, they'll send you to the Quarterback Club Family Restaurant.
Dining al fresco: Midwesterners love their pizza farms, and Northfield has one of the best in Red Barn Farm, just five miles southeast of town. South of town is Keepsake Cidery, which not only has locally made hard cider but a great menu, making for a relaxing picnic locale. You can grab a drink overlooking the Cannon River and catch local musicians on the back patio at Contented Cow (which also happens to share a patio with Little Joy coffee shop if cold brew is more your style!). 
See a full list of Northfield dining options.
Explore (and shop) historic Division Street
Division Street is the heart of town, and Northfielders take pride in preserving its charming historic nature. In addition to restaurants and cafes, local entrepreneurs have filled its storefronts with interesting finds. Some of our favorites include Content Books (run by a Carleton alumna!); the Northfield Arts Guild, where you can check out the gallery or gift shop of local art; MakeShift Accessories, filled with jewelry and accessories made from reclaimed industrial materials and cultural artifacts; and the Rare Pair, a clothing and shoe boutique that has has long anchored the Bridge Square intersection.
On Saturdays from  late May through October, be sure to swing by the Riverwalk Market to browse local arts and crafts and to pick up some produce. Another favorite stop is the Northfield Historical Society, which hosts the Defeat of Jesse James Days the weekend after Labor Day.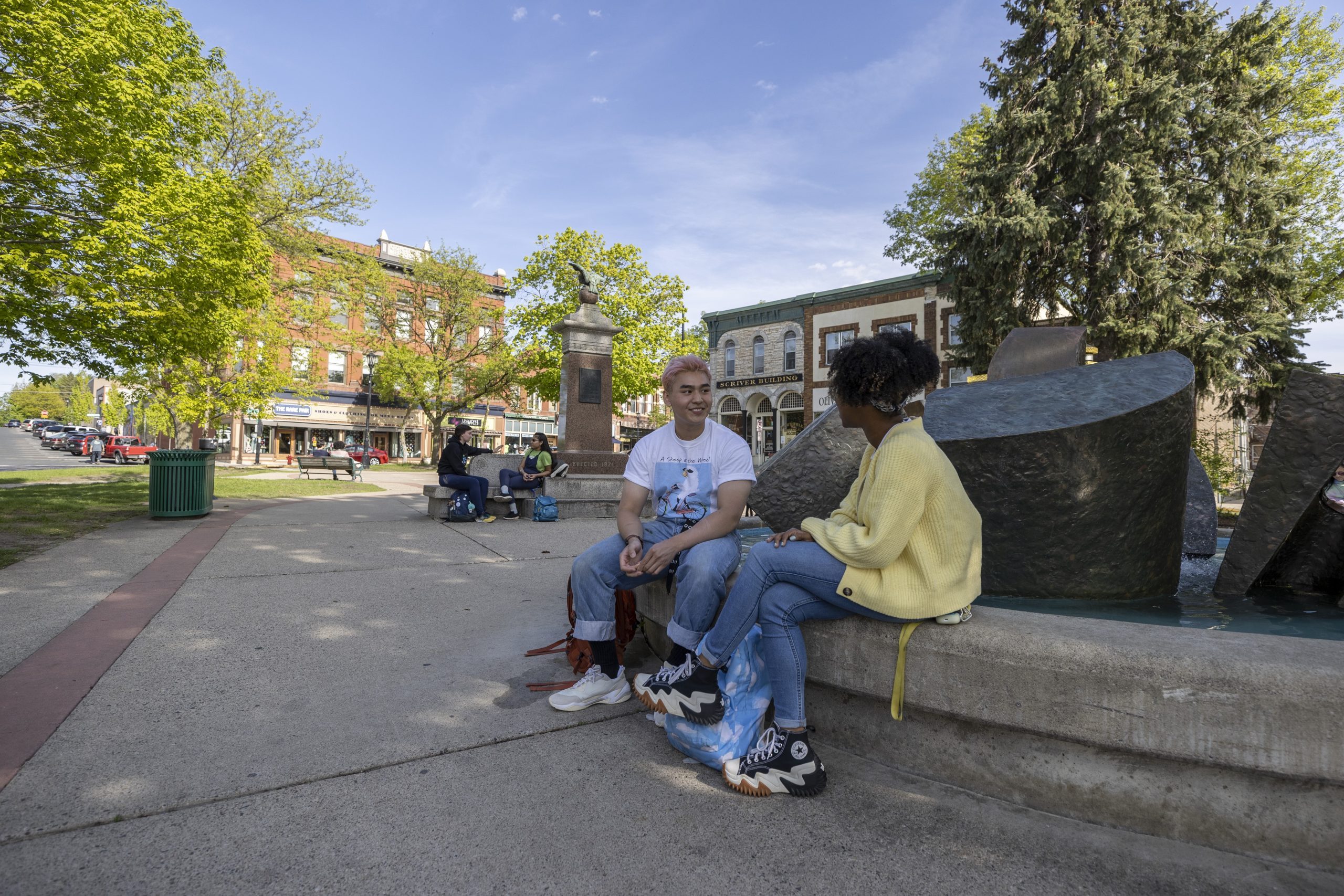 Engage with the community
Your understanding of Northfield won't be complete without learning about Carleton's Center for Community and Civic Engagement. The center connects students with organizations in Northfield and beyond, and facilitates meaningful volunteer experiences, paid positions, and academic or research projects. Our community engages deeply with business and nonprofit partners to tackle such issues as sustainability, educational access, and healthcare.
Experience the Arb and Beyond
Carleton is located on the homelands of the Wahpekute and Mdewakanton bands of the Dakota Nation. One of the ways we honor and preserve these lands is through the ecological preservation and restoration of the college's 800 acre Cowling Arboretum, or the "Arb." Community members and visitors are invited to explore the 15 miles of trails that weave through woods, along the Cannon River, and across prairie lands. 
If you're looking for a hike a little further afoot, head to Nerstrand Big Woods State Park, 20 minutes southeast of Northfield. Looking to explore the local trails and waterways? Head to Farmstead Outdoor Adventures to rent bikes, kayaks, skis, snowshoes, and more!
Refuel
Need an afternoon pick-me-up? When you have two colleges in town, you know you'll find a range of caffeine-flowing study spots. On Division Street, Little Joy is the newest and serves Northfield-roasted coffee. Goodbye Blue Monday has a strong college vibe and art-filled walls. The Hideaway also serves a nice lunch in addition to coffee, teas, and wine.
If ice cream is more your style, stop by The Blast for soft serve, Hogan Brothers for a dozen flavor options, or Coco's Place, where you can get mangonada, a refreshing mango ice cream layered with spicy and tangy seasoning.
Pick your own
While not far from the Twin Cities, Northfield is surrounded by fields, orchards, and farms. Several local farms invite folks to come and pick their own produce from asparagus to Honeycrisp apples (one of Minnesota's proudest inventions), depending on which season you visit. 
Fireside Orchard is open mid-August through Christmas Eve — in addition to apples, don't miss the apple cider donuts! Lorence's Berry farm offers pick-your-own strawberries, raspberries, and asparagus (always best to call ahead to confirm what's available). Little Hill Berry Farm has u-pick organic blueberries, strawberries, and pumpkins.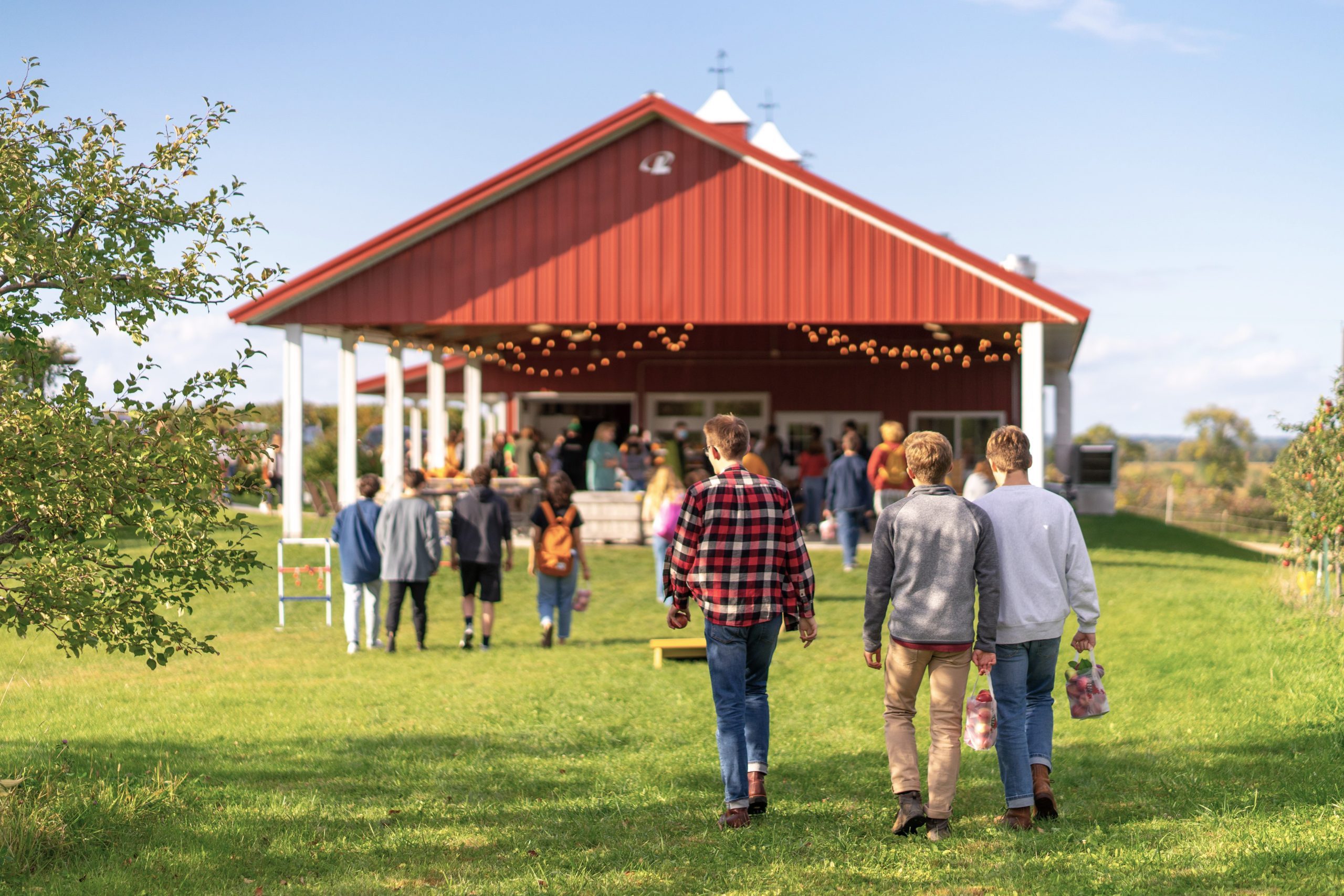 Twin Cities
Just 40 miles from campus, the Twin Cities of Minneapolis and St. Paul offer plenty of things for our students to do. There are several ways to get there from Northfield, so most students find it easy and fun to visit the "Cities" several times a year. Here are a few things to do when you get there.
A round of applause
The Twin Cities have an incredibly rich theater culture. Many locals claim that we have the second highest number of theater seats per capita. While that's yet to be proven, there's plenty of action on the marquees at the nationally known Guthrie, Ordway, Penumbra, and Orpheum theaters, but don't overlook the critically acclaimed productions at smaller neighborhood venues like the Jungle, Mixed Blood, and Ritz theaters.
Prince, Dessa, Lizzo, Dylan, Atmosphere
Home to some of the most influential artists in rock, hip hop, pop, and jazz, the Twin Cities' music scene is incredible. Whether you seek an intimate concert at the Cedar Cultural Center or want to catch a national headliner at First Ave, you'll find a variety of great acts to satisfy your musical appetite.
Hungry?
And speaking of appetites, you'll find an amazing spread of restaurants, farmers markets, and food trucks throughout the metro area. You can enjoy authentic tamales, injera, pho, or lutefisk, so you'll be able to indulge in old favorites, but be sure to try something new. Whatever you're craving, if you're looking for good food, Minneapolis and St. Paul have you covered.
Retails and roller coasters
Did we mention that the largest mall in the United States is located just 30 minutes north of campus? It's hard to ignore the Mall of America in Bloomington, Minnesota. It's practically a rite of passage for Carleton students to trek to "MOA" to shop for clothes, stock up on sports team swag, ride a roller coaster, and play a game of mini golf — all under one roof.
Yep. It's a big cherry
The Walker Art Center's outdoor Sculpture Garden showcases a beautiful and sometimes silly collection of sculptures, such as the iconic Spoonbridge and Cherry. Just across town from the Walker, you'll find one of the country's most comprehensive collections of Asian art at Mia. Explore the fascinating history of electricity at The Bakken, or the history of Minneapolis's mill culture at Mill City on the banks of the Mississippi River. And that's just a small sample of the museums and galleries you'll find throughout the Twin Cities.
Cheer leaders
If professional sports are your kind of fun, we've got you covered. Check out the schedules for:
Parks and lakes are everywhere
We're really proud of our outdoor lifestyle. Parks, trails, and gorgeous scenery abound in this land of 10,000 lakes. You may have heard it gets cold in Minnesota, and it does, but we have four beautiful seasons here, which means we're never at a loss for things to do outside. Depending on the weather, we can choose to bike, hike, skate, ski, swim, and run — and so we do!