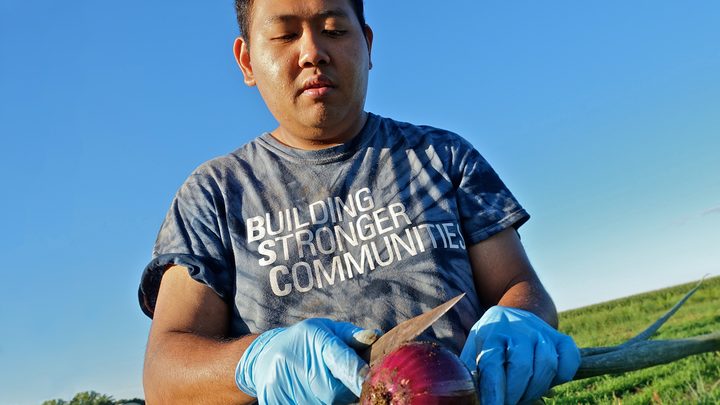 The Power of Produce
Carleton's relationship with local Hmong farmers has proven beneficial to both students and the local food movement.
Cultural misperceptions are often sown at a distance and cultivated in the dark.
---
Take, for example, what some passersby have imagined the domestic situation might be for the immigrant families who grow vegetables and flowers along US-52 in Vermillion Township, just 20 miles northeast of Carleton.
The 155-acre collective, run by the Hmong American Farmer's Association (HAFA), is populated by two dozen 10-foot-by-10-foot toolsheds. Painted red and designed to look like traditional barns, these picturesque structures are complemented by two greenhouses, a machine shed, a brand-new pack shed (equipped with sinks and tables to clean produce, as well as a refrigerated storage space), and a dilapidated but still functional country house turned makeshift office space. An aging grain silo towers over it all, unused save for a flowery mural rendered on its northern face by ArtCrop, a St. Paul nonprofit for Hmong creatives.
Even along a stretch of rural highway known for its lush fields and quaint ranch houses, the HAFA site is a particularly bucolic scene—one that many commuters commit to memory and some, whizzing by before and after work at 60 miles an hour, unconsciously misjudge. "I've always assumed those farmers were part of one big family," one local said in passing. "And a lot of people around here assume they live and sleep in those little barns."
Pakou Hang, HAFA's executive director, is well aware of the stereotypes. Despite the fact that Hmong American agrarians are integral to Minnesota's local food movement and account for more than 50 percent of vegetable producers at Twin Cities farmers' markets, they were, until recently, largely uncelebrated, unsupported, and misunderstood.
For instance, while Hmong culture is known for its clan-oriented structure, there are currently 19 families each renting one or two five-acre plots from HAFA. All of them have homes in or near St. Paul, and those retro-looking red sheds house only spades and other essential tools, which each farmer owns independently.
"Because of language barriers and unfamiliarity, and probably a little bit of racism, Hmong farmers haven't had access to land, larger markets, or any of the capital and credit that's prevalent in agriculture," says Hang. Until recently, there wasn't anyone who spoke Hmong at the US Department of Agriculture's Farm Service Agency, which is responsible for awarding indispensable federal loans.
HAFA is Founded
In 2011 Hang and her brother Janssen Hang cofounded HAFA with a mission to, according to its website (www.hmongfarmers.com), "advance the prosperity of Hmong American farmers through cooperative endeavors, capacity building, and advocacy." In practice, this has meant helping members unearth lucrative markets and deepen their understanding of small business management, including loan acquisition.
Two years later, HAFA recruited a benefactor, who purchased the acreage in Vermillion Township, and created an agricultural land trust, ensuring that farmers who qualify get a 10-year lease. Among other things, renters must be full-time farmers and have three years of experience working three acres or more. This arrangement encourages multiyear crop planning and provides members with a rare bit of stability in an inherently unpredictable industry. Having a physical space also allows HAFA to both encourage and demonstrate sustainable agriculture practices, which is among the group's core objectives.
Once the farm was working, HAFA began to forge a deep, mutually beneficial relationship with Bon Appétit Management Company, Carleton's dining services provider. It was just the sort of alliance Hang and her colleagues were looking to build, since it provided their members access to a large, nationally recognized vendor and simultaneously created an opportunity for them to engage in wider conversations on campus and at farm-sponsored events about issues such as economic equity, racial justice, and the importance of local agriculture.
"It's a very substantive multipronged relationship," Hang says. "We are able to sell a substantial amount of produce to Carleton, but we also show students how the complexities of the food system reflect the complexities of Hmong farmers' lives, which are layered with misperceptions, curiosity, and struggle. It's a full-circle thing, because, in order to lift up Hmong farmers, you have to tell their stories to people who will share them with people in the wider community."
Claire Kelloway '16 is an advocacy journalist at the Open Markets Institute in Washington, D.C., where she's spent the past year writing stories about the impact of economic concentration on agriculture for the website Food & Power (www.foodandpower.net). Kelloway, who majored in political science, says the job is a perfect fit for her passions, which were fortified in and outside of Carleton's classrooms and cafeterias.
As a first-year student, Kelloway found her way to Carleton's Center for Community and Civic Engagement and discovered the Real Food Challenge, a national nonprofit focused on encouraging colleges to buy meat and produce from local, ecologically sound, humane sources. Later, she attended the group's national conference, where Hang, a Yale graduate and former volunteer for Wellstone Action, gave a keynote speech. Kelloway returned to campus committed to creating an alliance between HAFA and Bon Appétit.
"I was already interested in the idea that entities we don't usually think about, like college cafeterias, can be vehicles for change," she says. "Pakou's presentation impressed on me the importance of paying special attention to marginalized communities that play a huge part in our local food system."
Bon Appétit proved to be the perfect partner. Based in Palo Alto, California, the restaurant company provides café and catering services to more than 500 entities in 32 states. It's respected for its farm-to-fork program, requiring chefs to buy at least 20 percent of their ingredients from small farms within a 150-mile radius of any given kitchen. Kelloway, who already was managing Carleton's Real Food Calculator—an online instrument that tracks institutional purchasing patterns—approached dining services manager Katie McKenna. Always looking to diversify the college's local supply chain, McKenna was on board from the word go.
"Bon Appétit is dedicated to being a model for change," says Kelloway, who spent the first two years after she graduated from Carleton working for the company as a liaison with various client colleges. "They not only support smaller producers who have been cut out of large, concentrated supply chains, they also leverage those producers' purchasing power, which influences larger institutions that may not be as educated [about small farms and sustainability] as they could be."
McKenna and former Carleton chef Gibson Price negotiated terms with Hang in 2017 for HAFA farmers to provide root vegetables to Carleton, with a heavy emphasis on yellow onions. It was a transformative contract. Farmers who had previously relied exclusively on seasonal sales learned how to cure their vegetables for year-round use, which provided them with more economic security and the ability to buy seeds and plan crop rotations in advance. Forging a relationship with a national vendor and a prestigious college also augmented HAFA's reputation, opening doors to both local lenders and prospective clients.
Our contract with Carleton was one of the main motivators for us to embark on a million-dollar project to build a new rinse, wash, cutting, and cooling facility. Our hope was that the expansion would lead to other similar contracts so our farmers could really invest in their future. And that's exactly

what happened.

Pakou Hang
In 2018 HAFA sold some 10,000 pounds of produce to Carleton, mostly cured onions and potatoes, at one dollar per. It also secured contracts to provide vegetables to the Minneapolis Public Schools, Lunds & Byerlys grocery stores, and Surly Brewing. As sales increase, Hang remains loyal to the college that set the wheels in motion, encouraging Carls to visit the farm, offering to speak with classes and student groups, and hiring interns from both Carleton and St. Olaf.
Assuming the weather cooperates, 2019 is shaping up to be one of HAFA's best. Small-scale farming is a tough business, though, and many factors will influence the association's future. HAFA senior organizer Bailey Webster points out that the median age among Hmong farmers is north of 50. And while young people still help their families work the land, haul produce and flowers, and sell at various farmers' markets, their desire for assimilation and economic security may lead to a substantial demographic shift in the next decade.
"For many of the older farmers, the work is an alternative to factory work before retirement or provides supplemental income right after," Webster says. "Younger Hmong folks might farm after they finish their careers, but most older farmers will say they prefer their kids go to college."
Webster guesses that farmers working collectives in the future are more likely to be of East African descent, given Minnesota's growing Somali, Sudanese, and Ethiopian immigrant population. If that happens, one can only hope that leaders like Hang, Kelloway, and McKenna emerge to establish profitable partnerships and build bridges of understanding.