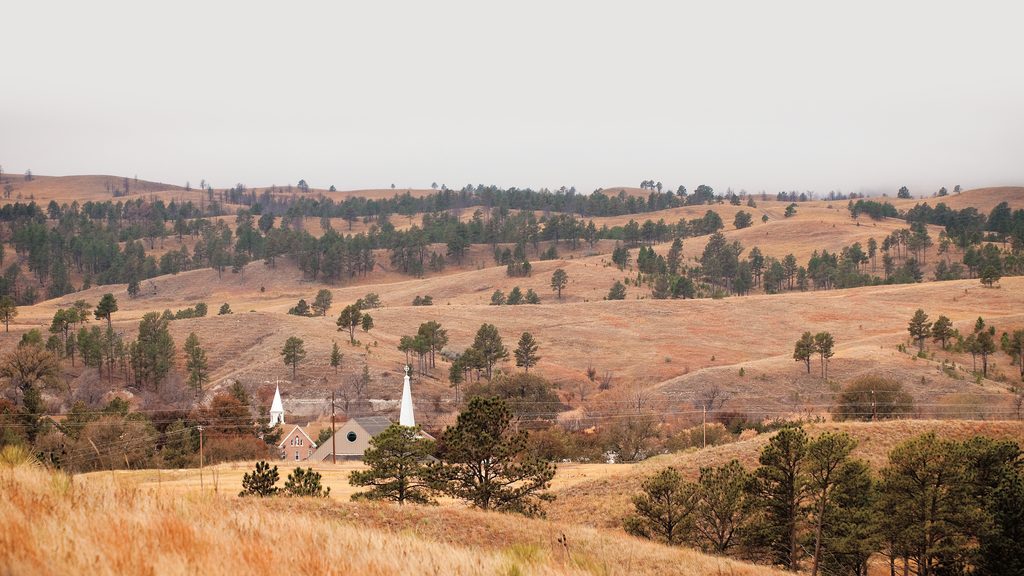 Speaking Their Language
Peter Hill '00 has overcome personal and professional challenges in order to teach the endangered Lakota language to high school students on the Pine Ridge Reservation.
It's morning on the high rolling plains that trail off the South Dakota Badlands. At a school just north of the Nebraska state line, students ease into their desks, shaking the remnant fog of the night's rest from their growing bodies. Billabong sweatshirts cover ripped jeans and concert T-shirts. This could be any high school in America—if it weren't for the surnames on the class roster: Standing Bear, Little Finger, Red Tomahawk.
The bell rings and the students' chatter trails off as the teacher makes his way to the front of the room. It could be the start of any class anywhere—if it weren't for the teacher's greeting: Lila taŋyaŋ waŋčhiyaŋkapi("It's very good to see you"). The words are Lakota, the language of the Oglala Sioux, and the school is Red Cloud Indian School, located in the town of Pine Ridge on the two-million-acre Pine Ridge Reservation.
Peter Hill '00 has taught U.S. history and social studies on the Pine Ridge Reservation since he graduated from Carleton, the realization of a dream he has held since he was in high school. Last fall he began teaching the Lakota language to Red Cloud freshmen, sophomores, and juniors as part of a school initiative to preserve the language.
"Pine Ridge Reservation is the greatest concentration of living speakers of Lakota," says Hill. "Of the 500 North American languages that existed among the Native population before European contact, only a few dozen are spoken widely today. The clock is ticking. It's definitely plausible that the Lakota language will be lost. Some people are in denial that that can happen. But it has happened to hundreds of Native American languages already."
Some native languages have been lost through neglect, but the losses began with the U.S. government's systematic effort to strip the Native community of its heritage and to force its members to assimilate into mainstream society. Only within the past 25 years or so have indigenous people made a concerted effort to preserve their native languages. Hawaiians, for example, who have made great strides toward saving their language from falling into oblivion, are currently sharing with the Lakota what they have learned.
Hill, who is not Native American, first visited the Pine Ridge Reservation in 1993. A high school student in Philadelphia at the time, he accompanied members of his church on a two-week service trip to help a local Episcopalian parish with roofing projects, day camp, and odd jobs. "The physical landscape just blew me away," says Hill. "It wasn't like anyplace I'd ever been."
Hill spent the next five summers visiting Pine Ridge through church-sponsored service projects. His interest in the reservation and in the Lakota culture continued to grow, and by the time he completed his first year at Carleton, he knew he wanted to live on the reservation permanently. "I wasn't sure how that was going to go," he says. "How I would be received, if I would be accepted into the community, if I would be able to make [friends], if I would be able to deal with the isolation."
An American studies major, Hill credits former Carleton educational studies professor Mary Hermes with helping him develop realistic expectations about what he was going to encounter when he moved to the reservation. Despite his many questions, Hill moved to Pine Ridge in 2000 and immersed himself in reservation life, both academically and socially. During the day, he taught U.S. history to high school students, and in the evening he studied the Lakota language on his own and with the help of his friends in the community, who also supported him through doubts that he would be able to remain on the reservation.
The challenges are not insignificant. South Dakota's Shannon County, which encompasses much of the Pine Ridge Reservation, is one of the least diverse counties in the United States. Census data from 2000 puts the county's Native American population at about 95 percent and the Caucasian population at 4.5 percent.
"My status as a minority is something I live with and deal with in either subtle or overt ways every day," says Hill. "Whenever you go into a situation where you represent something negative to that community, you run the risk of being reduced to a [stereotype]. There will be people who reduce you to that negative set of characteristics."
Hill points out that Native Americans have suffered at the hands of the U.S. government and military. The memory of the1890 Massacre at Wounded Knee—during which U.S. soldiers killed an estimated 300 Sioux (including women and children), most of whom were unarmed, after they surrendered—is still raw and painful for many Pine Ridge residents. "Those of us who come from [white] culture will be associated with those actions," says Hill.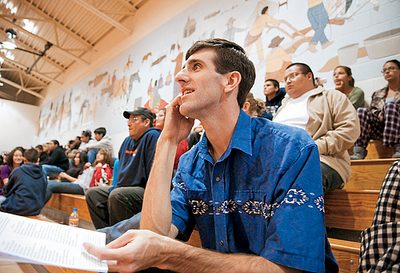 The Pine Ridge Reservation remains in an unenviable position at either the top or the bottom of some statistical lists. According to a recent article in the Washington Post, life expectancy for men living on Pine Ridge is 48—among the lowest in the western hemisphere. Infant mortality is twice the national average, and unemployment hovers somewhere around 85 percent.
Yet Red Cloud Indian School offers its students hope and opportunity. Housed in a modern building on a historic campus, the school is the legacy of the Jesuit missionaries who came to the reservation at the request of Chief Red Cloud in 1888. It is recognized as a model school in many ways, and 8 of the 40 students in the class of 2008 were awarded Gates Millennium Scholarships to cover full college tuition. One hundred percent of the seniors either continued their education or enlisted in the military, and 2008 also marked the third consecutive year that a Red Cloud student had won first place in the National Science Fair.
When Red Cloud administrators decided to expand the school's language program by requiring that students take two years of Lakota language instruction, Hill applied for the job. He had proven his commitment to the community, become fluent in the language, and received certification to teach the Lakota language from Oglala Lakota College. Yet there were still some members of the community who questioned the wisdom of hiring a non–Native American for the position.
In Hill's opinion, the fact that he learned Lakota as a second language helps his teaching. Like most of his students, he grew up speaking English, and he didn't begin to study Lakota until he was just a few years older than his students are now. That helps him appreciate firsthand how difficult it is to learn this language.
At the start of the school year, Hill used the Total Physical Response method, which encourages students to begin the study of a language by listening. "Research shows that humans learn language best in the same order we learned our first language," Hill says. So classes begin with Hill reciting physical commands in Lakota—Inažiŋ po ("stand up"), Ikhu kiŋ ekpatȟaŋ po("touch your chin")—and the students following the commands.
While in many ways Red Cloud is a typical high school, it also embraces Oglala Sioux tradition. After-school activities include drama club, Lakota storytelling, basketball, and a sweat lodge ceremony. Hill is encouraged by this blending of cultures, and he is hopeful that his own interest in the Lakota culture and language will inspire his students to take a greater interest in their heritage.
"[Studying] the Lakota language is important," says Amanda Standing Bear, one of Hill's first-year students. "It is what we are supposed to do. If we don't learn it, the language will be lost forever."
Many of Hill's students have studied the language previously, though few grew up hearing Lakota spoken at home. The decline of Native American languages can be traced to the late 1870s, when the U.S. government established boarding schools for Native American children. Usually located far from reservations so that children could have no contact with their parents, the schools were charged with assimilating Indian children into white European culture. Attendance was mandatory at the schools, where the children wore military-style uniforms and were punished if they spoke their native language, wore their own clothes, or tried to practice their own religion.
Most of these schools were closed by the 1930s, but their shameful legacy remains; many parents and grandparents see it as ironic that the U.S. government, which worked so hard to stamp out these languages in the not-too-distant past, now supports many of these initiatives with grant money. Red Cloud students, however, say that they have learned a lot from Hill and want to continue studying the language.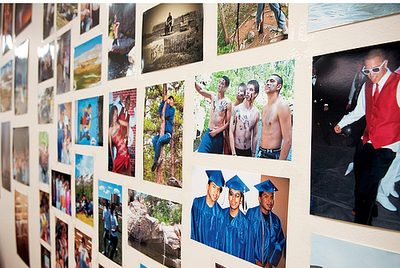 Committed to staying on Pine Ridge even before he moved there permanently, Hill knew that his chances of convincing a girlfriend to move to the reservation were slim, so he hoped that he would find a life partner there. After five years, he was feeling less hopeful. Then he met Mandy Youngers, a nursing student from Augustana College in Sioux Falls, South Dakota, who was working in 2005 at Pine Ridge Hospital as part of a month-long cross-cultural experience. Kindred spirits with a passion for the landscape and the people, Peter and Mandy were married in 2008 in a ceremony in the Black Hills, surrounded by friends from the Pine Ridge community. They now live in the town of Pine Ridge. 
Mandy works as a nurse-midwife at the hospital, where she delivers about 10 babies each month. The couple is expecting a baby of their own in April, and they plan to raise their child—who will be fluent in both Lakota and English—on the Pine Ridge Reservation.
"I've always imagined staying forever," says Hill.