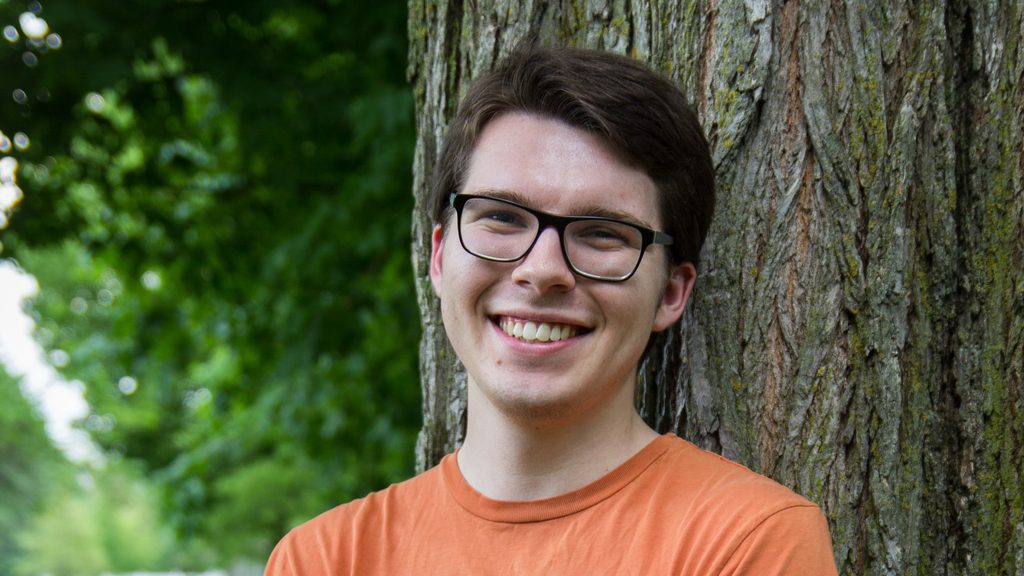 Senior Reflections: Gus Leinbach
Gus Leinbach knew from the start that he wanted to attend a liberal arts college.
His high school left him wanting more academically, so exploring a wide range of intellectual curiosities became the primary emphasis. At the same time, Leinbach took a few classes at the University of Minnesota during high school and determined that he wanted to attend a smaller college.
But Carleton wasn't his first choice. Having lived in Minneapolis since 8th grade, Leinbach initially wanted to leave his home state. However, a visit to Carleton during his senior year immediately changed his mind. He observed a class where he was blown away by the interaction between engaged students and faculty.
"I really liked the class that I sat in on — it was a religion class — and I ended up being a religion major," he says, laughing. "I got really involved since it was only 8 or 9 people in class. Then I thought, okay, this might be a really good environment to be in."
Once he got to campus, he realized that academics alone didn't define Carleton. Through a summer internship his sophomore year and a study abroad program in China the following fall, Leinbach reexamined his goals in both career and life. Coming back to Carleton, he felt a clearer direction in his long-term ambitions — exploring the connection between law/social justice — and a shift in the way he interacted with peers on campus.
"I felt more comfortable getting to know people," he explained. "Being away and having different experiences made me feel more at ease to talk at Carleton, to say 'hi' and ask how people were doing. Before that, I was pretty shy and didn't know what to say."
Four years at Carleton, both on and off-campus, has inevitably shaped Leinbach. Likewise, his presence on campus helped shape Carleton.
In a series of senior interviews, we asked Leinbach (religion) to reflect on life as a Carl and the road to graduation.
How I Got to Carleton
"My high school had 2,000 students, but it was very different from Carleton. The building felt like a box — almost no windows and a very cramped space, and I often felt disengaged from my schoolwork. Coming here, I thought, 'Wow, Carleton has so much' — in terms of the facilities and what most students were used to having academically.
"I don't like small towns that much. I'm much more of a big city person, but I really liked Northfield. If I were to be in a small town (long term), Northfield would be an option. I'm glad that I had that experience of really developing in a tight knit community, and now I'm ready for a change."
My Turning Point
"I had been doing different politically involved work on campus, so I was wondering what it was like outside of Carleton. So, during the summer of my sophomore year, I worked at this organization (Witness for Peace) doing advocacy work on U.S. foreign policy issues, which was a really cool experience and made me refocus some things I wanted to do, career-wise.
"Going abroad to China also helped me become more outgoing. I didn't know the language very well and had to force myself to interact. Coming back and speaking my first language to people at Carleton, it felt a lot easier. Also, I was in a non-Carleton program, so getting to know people. … from different colleges helped me figure out what I liked about them, and also what I liked about Carleton. For example, the level of awareness that Carleton students have — people here talk about how the world has to change. I appreciate that about Carleton."
Now That I'm About to Leave
"What will I miss the most? Being able to see all of my friends so easily. That's a big thing.
What will I miss the most? Knowing that I can sit somewhere on campus for three hours and I'll run into someone I know. Gus Leinbach
Knowing that I can sit somewhere on campus for three hours and I'll run into someone I know. I'll miss that. I'll miss my classes — not the work necessarily, but just being in class and learning. And the professors. Getting to know someone who has so much knowledge about a subject and having a conversation.
"But I'm excited to be (going back to) the city (Minneapolis). I had my share of time in Northfield. There will be more anonymity and that has its downsides, but I also can be my own person. I get to meet new people and start my position with an AmeriCorps program."