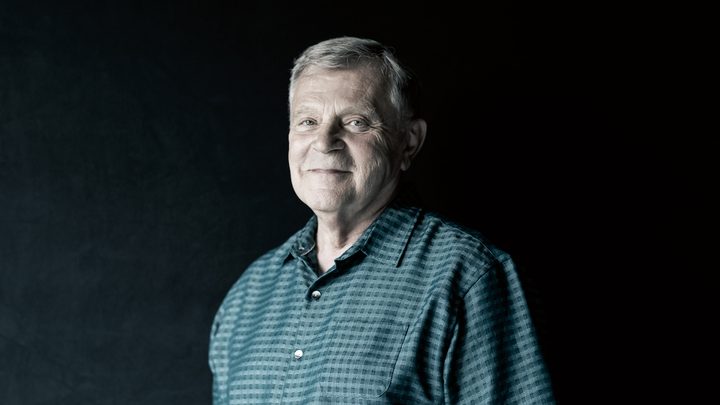 Part of the Family
Hear the stories of the many Carleton Alumni who dedicated their post-graduation Carleton career's to creating Out After Carleton for LGBTQA+ students and allies.  Their stories tell the history of an unwelcoming Carleton campus to a now-thriving community…but work is always to be done
The LGBTQA alumni group Out After Carleton will welcome Carls back to campus in October for its sixth Family Reunion. To mark the occasion, campus leaders and OAC members reflect on the group's founding 30 years ago and how it has helped hundreds of formerly disenfranchised alumni discover what it means to come home to Carleton.
In October 2002 David Ryan '70 was participating in an oral history project as part of Out After Carleton's second Family Reunion. "This campus is the most beautiful place in the world," he said during his interview. "Tomorrow, when I go back to New York, I will regret leaving. But it's really nice to know that Carleton is here, in my heart."
It's a commonplace sentiment among Carleton alumni, but coming from Ryan, who was wholly disconnected from the college for most of his postgraduate life, it was extraordinary.
As a Carleton senior, Ryan was expelled after being discovered in an intimate moment with another male student. His father persuaded administrators to let him return to finish his degree, but he felt like a pariah during his last term. He won a Fulbright fellowship and left Northfield for Paris.
Tragedy struck Ryan again in the late 1980s when AIDS claimed his partner and many of his friends. His anger and hurt were still fresh in 1993 when he wrote a letter to then–Carleton president Steve Lewis decrying Carleton's lack of progress on issues affecting lesbian, gay, bisexual, transgender, queer, and allied (LGBTQA) students.
Lewis tried through correspondence and even a dinner invitation to engage Ryan in a conversation about Carleton and how it was trying to create a positive experience for gay and lesbian students, faculty members, and alumni. Ryan came to dinner but was unmoved, criticizing Lewis's efforts toward inclusion as "too little, too late."
But then, in 1998, Ryan received an invitation to Out After Carleton's first Family Reunion, scheduled for that October. Lewis strongly and publicly supported the event, asserting that it was the college's responsibility to repair strained relationships with LGBTQA alumni. Although some alumni protested that the event was immoral, Lewis stood firm, and Ryan was finally swayed. "I called [Lewis] and said congratulations," said Ryan. "He was showing compelling leadership."
"[The reunion] was the strongest, most compelling three days of healing I

ever experienced."

David Ryan '70
At the airport waiting for a flight to Minneapolis, Ryan almost changed his mind. But, with the support of Mark Golden '86 and Jonathan Capehart '89, who had made Ryan's travel arrangements, Ryan decided to face Carleton again.
The reunion "was the strongest, most compelling three days of healing I ever experienced," said Ryan in his interview. Ryan died in 2003, by then fully reconciled with Carleton.
---
Ryan was not the only gay alumnus to avoid Carleton after graduation. In the first few years after becoming president in 1987, Lewis heard from several LGBTQA alumni who told him they felt unwelcome at Carleton. Determined to foster stronger connections between all alumni and the college, Lewis set out to ensure that no one was left behind.
His first move was small but revolutionary: he wrote a column for the Voice about learning that a former college classmate was gay. "I understood then what gay men had been through in my generation, and the damage that had been done to them as students and as adults," says Lewis. "When I came to Carleton, I knew I wanted to be supportive of gay and lesbian students, staff and faculty members, and alumni."
The first on-campus gathering for LGBTQA alumni took place during Carleton's general reunion in 1991.
"There were maybe six or eight of us there," says Lee Mauk '63. "A few people literally peeked around the corner to be sure they could duck into the room without being seen."
The fear of being outed was palpable—and for good reason. Lesbian, gay, and transgender people around the country were losing their friends and families, jobs, and even their lives. The following year, Mauk himself would become a statistic when he was terminated from his longtime job for being gay.
But along with their fear, the people who attended that meeting felt relief, too. Finally, they could talk with other alumni who shared their experiences and perspectives. "I can't believe this is happening at Carleton," Mauk recalls one person saying.
After that first meeting, Mauk was inspired to help more LGBTQA alumni connect with one another. Together he, Anne Potter '76, and Heather Franek '91 hosted a cocktail hour at the Loring Bar in Minneapolis, advertised primarily through word of mouth; 28 alumni showed up.
Meanwhile, back on campus, alumni affairs staff members scheduled another meeting for LGBTQA alumni during Reunion 1992. The alumni who came, some of whom had been at the Loring Bar event, wanted to do more than socialize. They were ready to organize—with one caveat.
"People insisted that we agree not to share their names with the college," says Matt Fikse '87. They didn't trust Carleton to protect their identities, so Fikse volunteered to manage the membership rolls himself. "I had enough old student association bureaucracy in me to handle the list and send the letters and so forth," he says.
After that, Fikse, who lives in Seattle, took charge of administrative tasks, while Mauk, Potter, and others hosted more events. A standing notice in the Voice invited alumni to contact Fikse if they wanted to be added to the mailing list—and many did. Within four years, 165 alumni had joined and the group had solidified its identity with the name Out After Carleton (OAC).
"It's a double entendre," says Fikse. The name was a nod to LGBTQA alumni and also signaled their mission to push the college to support their community. "We were getting 'out after' Carleton to change," he says.
---
Many people on campus were restless for change, too. Then-chaplain Jewelnel Davis had begun meeting with a group of gay faculty members who believed LGBTQA students needed more institutional support. A student organization provided some education and resources, but it was on-again, off-again based on students' availability and their comfort with being openly out on campus. Some faculty members were serving as unofficial advisers, but LGBTQA students had no staff members to turn to or institutional resources to count on.
Again, Davis stepped in to fill the students' unmet advisory needs. "As a chaplain, you've got to think about all of God's created community and all of the things that concern them," says Davis, who is now chaplain at Columbia University. "These students needed someone they could trust. It was hard for them to be in the process of knowing who they are at the same time they're trying to educate the whole community. So I took the lead in programming, pastoral care and counseling, and meetings with administrators, because sometimes these students needed somebody to stand in front of them and take the hit.
"If you are an ally but your support is closeted or ambiguous, you can't be effective. You have to be willing to be loud and proud in your support."
More allies began to crop up around campus. For example, when geology technical director Tim Vick heard that a recent graduate had felt alienated from the tight-knit department because of his sexuality, Vick decided to do something. With Marilyn Yohe '88 and Dan Spencer '79, Vick founded, in 1990, the Network for Lesbian, Gay, Bisexual, and Transgender, Questioning, and Allied Geology and Natural History Students and Alumni to offer career information, fellowship, and support.
Lewis also spoke out publicly in 1990 after someone defaced an art installation by Matthew Brooks '90 with a homophobic slur. "That occasioned a letter to The Carletonian from yours truly," says Lewis. "I said, 'We don't do that here. That's not who we are.' "
"I couldn't believe some of the stories I heard about what gay kids were going through [on college campuses]," says Ruth Waterbury '57. "Our then-daughter (now son) at Mount Holyoke was counseled not to come out until after graduation because so many parents cut off tuition when they found out."
Waterbury's son was one of the lucky ones. Instead of casting him out, his parents became ardent activists for LGBTQA college students. It seemed only natural for Waterbury to extend her efforts to her own alma mater.
As champions of the liberal arts, Waterbury and her husband, David, believed one of the best ways to change the culture at Carleton was through education. In 1993 they established the Endowment Fund on Issues of Human Sexuality. Since then, the fund has supported the development of new academic courses and sponsored campus speakers, field trips, theater productions, and other events.
"One way to confront discrimination is to have serious discussions about the issues of human sexuality and sexual identity," says Waterbury. "Carleton is a fine place to consider these questions in a thoughtful way."
---
By Reunion 1993, OAC members were starting to talk about hosting their own reunion. "They were so much more comfortable hanging out in that group than they were being out with their classmates," says Fikse.
That summer, Lewis asked Mauk to help turn the dream of an OAC reunion into reality. "I felt confident about making it all happen because of the support Steve Lewis expressed for it," says Mauk. "I came away from that conversation absolutely convinced that this was going to work."
Mauk partnered with Fikse and Potter to cochair the reunion, which ultimately would take five years to plan. If anything, the work deepened the trio's commitment to Carleton. Potter would stay active with OAC until her death in 2012. Fikse served on the Alumni Council from 2013 to 2017, and Mauk became president of the Alumni Council and chaired his class's 50th reunion committee.
While the reunion was being planned, OAC continued to grow and develop. First, members started raising funds. In 1993 they collected about $300 at Reunion to buy subscriptions to gay and lesbian journals for Gould Library. With the arrival of the Waterburys' endowed fund, interest in philanthropy increased. By the end of 1994, 70 alumni had contributed an additional $80,000 to the fund.
"This was the first time some of these people gave any money to the college," says Fikse. "They did it because they could use their money to encourage change at Carleton."
Next, in 1996, OAC moved its annual Reunion gathering from the basement of Severance to a more visible outdoor tent bedecked with a rainbow flag. Later that year, the group took a poll and decided it was ready to transfer custody of its membership rolls to the college.
Indeed, trust in the college was growing and, by October 1998, many LGBTQA alumni were ready to come back to campus—some for the first time since graduation—for their own reunion.
The primary goal of that first OAC reunion was to restore relationships with Carleton. It was dubbed the Family Reunion both as a nod to repaired relationships and to facilitate discreet communication about the event for alumni who still needed it. Plenty of activities on the schedule were typical of a regular reunion: sports and recreation, receptions, student-led campus tours. But there also were oral history sessions and discussions about the evolution of LGBTQA student life at Carleton through the decades to help alumni share their stories, vent their frustrations, and affirm their experiences.
"It was compelling, because it felt like a big, broad family," says Fikse. "People old enough to be my parents were telling their stories about being gay at Carleton."
The Family Reunion offered practical benefits, too, via discussions on financial planning for same-sex couples, how to support LGBTQA rights in the political arena, and being out in the workplace.
The event ended with a Sunday-morning brunch in Great Hall, where Lewis asked the group for input. Participants said that LGBTQA students needed a dedicated staff adviser—especially given Davis's departure for Columbia two years earlier.
The very next year, Carleton hired its first adviser for LGBTQA students, and the year after that opened the Gender and Sexuality Center.
"It was breathtaking how quickly it happened," says Fikse.
"We were heard," says Mauk.
For the first time, many OAC members felt that Carleton accepted them and valued them.
---
OAC has continued to host Family Reunions every four years or so. The most recent one, in 2015, drew 100 people. Organizers hope the next one, scheduled for this October, will bring even more alumni back to campus. "Healing is still a big priority," says current OAC cochair Elliot James '04. "Many members of the community are still struggling to think about Carleton as a place that isn't oppressive."
James, a history professor at the University of Minnesota–Morris, points out that although LGBTQA rights have made impressive strides, some members of the community still face marginalization and oppression. "Matthew Shepard was attacked just as people were coming to Carleton for the first Family Reunion," says James. "Now we're talking about the high rates of trans women of color who are killed. The faces we see and mourn have changed, but the violence around gender and sexuality is still something we share.
"I don't know if it's useful for this pain to be our shared point of connection. But as a historian, I do believe it's useful to recognize the fissures in how we identify who we are as a community so we can work together across generations to heal these things."
"For me, the Family Reunion is all about the intergenerational connections and the opportunities we have to learn from each other," says cochair Lisa Nordeen '90. "We've built a group that is hopeful, healing, and actively looking for intergenerational bridges across eras."
OAC members continue to mentor students and serve as advisers on everything from being out in the workplace to finding LGBTQA communities in various cities after graduation.
OAC has helped many alumni come to feel affection for Carleton, but group members still think of themselves as "the rabble-rousers," says Nordeen. There will always be more work to do and more stories to share.
"If you'd asked me 10 years ago whether I'd be involved with Out After Carleton, I would have said not really," says Nordeen. "I came into it with skepticism, but I have met so many amazing people. I've loved being part of it."
"I'm excited to welcome alumni back to campus for the Out After Carleton reunion," says Carleton president Steven Poskanzer. "I'm looking forward to a terrific set of events and speakers and, especially, to the chance to see friends old and new. The OAC reunion is a great opportunity to connect across generations of Carleton's LGBTQA alumni and allies to create and strengthen our community."
To alumni who wonder whether they should participate in OAC, Nordeen says: "Give it a try. Just show up. Maybe you'll feel at home."
---
Images