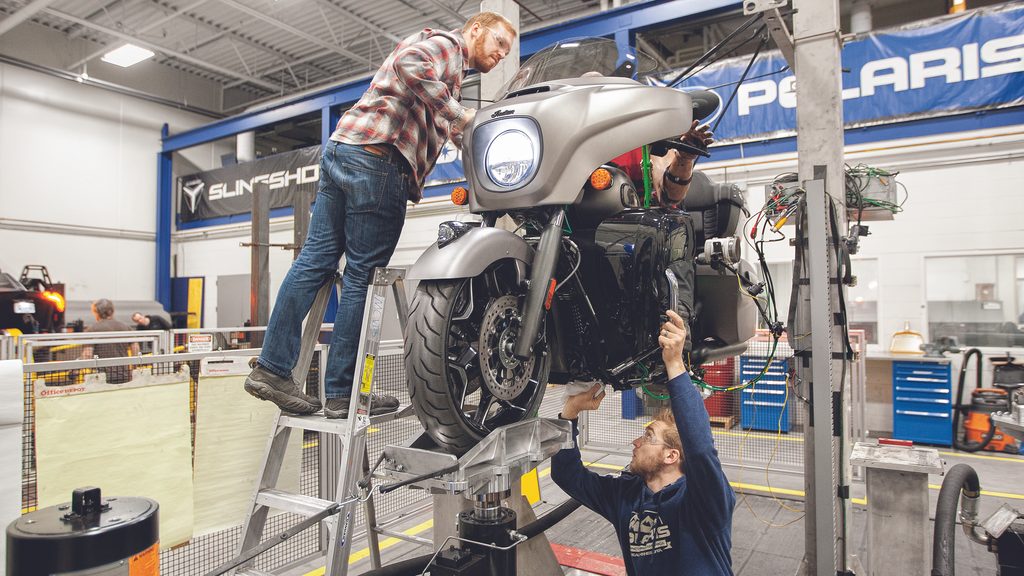 One Day Apprentice: Kyle Leichter '12
Kyle Leichter '12 grew up with a love for all things fast.  His dream job, unsurprisingly, was being a motorcycle test engineer.  Not sure if Carleton could get him there, he rolled his dice and found a new appreciation for the Liberal Arts – where he got to design and build for the theater shop and the physics lab.
Kyle Leichter '12 has been a motorcycle test engineer at Polaris for almost two years. "It's every kid's dream job come true," he says.
---
Leichter grew up in Detroit Lakes, Minnesota, surrounded by ATVs and motorboats, but his mother drew the line at motorcycles. Eventually, she caved and allowed Leichter to get a moped. That turned out to be the first in a long line of bikes that included a 2003 Honda Reflex, a 2007 Yamaha FZ6, a 2013 Triumph Tiger 800, a 1995 Yamaha XT225, and a 2012 Husqvarna TE310. Motorsports may have been in his blood, but it was still a long road to the Polaris Test Center in Wyoming, Minnesota.
"I had to choose between engineering school and a liberal arts education," says Leichter. "I've always thought [Star Trek's] Jean-Luc Picard was the ultimate liberal arts student: he can quote Shakespeare and repair a warp drive. I wanted to be that well-rounded, too."
While he has yet to repair a warp drive, Leichter learned his way around a machine shop by spending three summers working with Carleton physics professor Dwight Luhman and project manager Mark Zach, who showed him how to repurpose items they found in junkyards for their research projects. Today Leichter applies those same processes and methods to a wide range of engineering challenges.
"I had two amazing jobs at Carleton: my work-study assignment in the theater shop, where I worked with my best friends to build things that delighted audiences," says Leichter, "and in the physics department, where I designed, built, tested, and redesigned precision lab equipment. My job at Polaris is a synthesis of those two experiences, and I use skills from both of them every day."
He spends his days at Polaris in research, design, and testing of new motorcycle models.
"I was drawn to this job by a line in the posting that said 'split time between office and shop,' " says Leichter, who is close to finishing a master's degree in engineering at St. Thomas University. "Some days I'm in meetings for nine hours or analyzing data all day, but some days I head out to the shop in the morning and don't leave until it's time to go home. Polaris is very much a 'you drive the ship' type of company. If I want to develop a new test or improve a process, I get to dive in and own that project.
"Carleton taught me how to learn, innovate, communicate, and adapt," he says. "And when it comes down to it, that's all engineering is."
Images