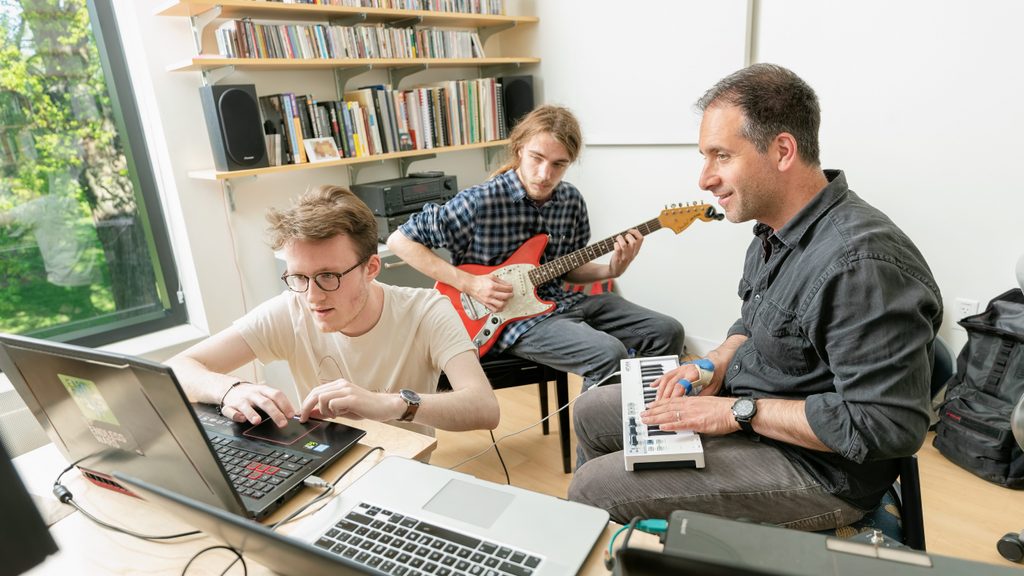 Locally Found Sound
"I think the kids at The Key are talked to a lot. I don't think they're listened to very much," he says. "So, to just show up and really pay attention can be really profound. That sort of presence says, 'You are a worthwhile human being and the things that you think about, the sounds that you hear, the things you are making are valuable.' " — Andrea Mazzariello, assistant professor of music
Over the past two years, assistant professor of music Andrea Mazzariello has facilitated artistic collaborations between Carleton students and young people from the greater Northfield community, ages 12 to 20, who hang out at the Northfield Union of Youth, colloquially known as "The Key."
During winter term, the still-evolving alliance, funded by Carleton's Mellon Public Works program, as well as the Humanities Center's Student Research Partners project, yielded a mesmerizing, non-notational soundscape made up of collectively created digital samples. "What you hear are snippets of conversation, performed music that we all created, and playback of original tracks the kids were working on," Mazzariello says. "At one session, we brought in pizza [to The Key] and people were singing and banging on tables and doing whatever else they were moved to do. That event became an inspiration for many of the recordings, because the students found the creative process particularly compelling."
Mazzariello learned about The Key from a family babysitter and came to appreciate that many of the 700-some youth who use the space every year to meet with friends, make art, study, and relax are dealing with mental health issues, hunger, and even homelessness. So, while he was pleased that the seven Carls taking Composition Studio during winter term managed to help produce a truly memorable and collective piece of music ("I thought it was going to end up being some kind of installation art," Mazzariello allows), that wasn't the central reason for initiating the project.
"I think the kids at The Key are talked to a lot. I don't think they're listened to very much," he says. "So, to just show up and really pay attention can be really profound. That sort of presence says, 'You are a worthwhile human being and the things that you think about, the sounds that you hear, the things you are making are valuable.' "
What the professor didn't anticipate is that both he and his students would end up being the primary beneficiaries of the process, which Mazzariello imagines will continue to evolve as long as he's at Carleton. "Our students would show up and I'd think, 'What we're doing is getting expertise into this room.' And what was actually happening is that the kids at The Key were making these insane, amazing tracks and our students were like, 'How did you do that? Can you show me how to do that?' So, they were allowed to be teachers as well as mentees, which was empowering for everyone.