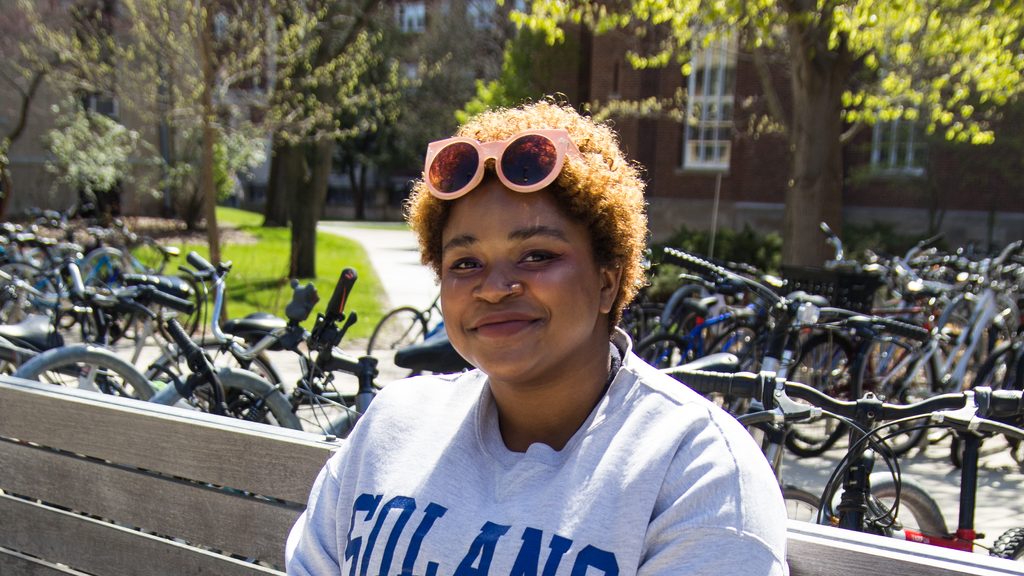 Senior Reflections: Kayla Toney
When Kayla Toney arrived to Carleton four years ago, she planned on majoring in biology and French.
She hasn't taken a single class in either subject.
Instead, Toney became intrigued by physics thanks to a freshman Argument & Inquiry seminar led by Joel Weisberg. But solely focusing on a science track felt incomplete. Photography and art were two of her biggest passions in high school. Those weren't subjects worth studying at an academically demanding school like Carleton, right?
"I guess it's just how I was raised. Art was a hobby. Nothing more than that," Toney says. "You couldn't become an artist, not for a career. How would you make a living?"
Toney, a Mississippi native who now calls Houston home, had always been self-taught in photography. She was president of her high school photo club, loved exploring and editing since first picking up a camera to stave off boredom. But no one ever explained sophisticated photo concepts to her — at least not in a way that gave photography the same classroom depth as her science studies.
Feeling slightly boxed in, Toney decided on physics as her major by the end of sophomore year. But she also had a nifty trick up her sleeve: Petitioning for a special major in photography and optics — the scientific study of how light behaves and interacts with matter. This way, what she had always felt the need to keep separate at Carleton, could be combined for her final two years.
It's taken awhile for me to understand what coming to Carleton really meant to my development. I learned at Carleton that I have all of these interests and I don't have to limit my options to

a few.

Kayla Toney
"I knew that I could declare physics as my major and still take art classes. No big deal, I guess. But I kept wrestling with the idea of why it had to be that way," Toney says. "No, I'm going to petition for a special major and be the only one studying photography and optics here.
"I get that rebelliousness from my mom," she adds, laughing. "I also have this issue with doing something everyone else is doing — which sounds so millennial and hipster to me — and I will admit, sometimes I am like that. But honestly, it shows that if I can't have what I want here, I'm going to do it on my own."
Four years at Carleton has inevitably shaped Toney. Likewise, her presence on campus helped shape Carleton.
In a series of interviews with senior students, we asked Toney to reflect on life as a Carl and the road to graduation.
How I Got To Carleton
"I had an English teacher in high school who knew about Carleton. Her daughter, who was my best friend, wanted to go to Carleton. I wanted to go to Reed. It turned out the other way, which is kind of funny to look back on, and definitely was the right choice for both.
"I always knew I wanted to be somewhere else, somewhere away from home. But it's taken awhile for me to understand what coming to Carleton really meant to my development. If I went to another college with the idea of being a biology and French double major, I probably would have stayed on that track and not realized other things about me. And it's not like doing that would have been a bad thing. But I think that I internalized a lot, kept these ideas in the back of my mind, and they finally came to the forefront here. I learned at Carleton that I have all of these interests and I don't have to limit my options to a few."
My Turning Point
"Making my own major showed me that I didn't have to do one thing academically, which also means that I don't have to do one thing as a career. I never looked at it like that before. I always felt like I had to keep science and art separate. But wait, what if I think about how these two subjects are related?
"Petitioning for a special major is an interesting process. You have to research what other schools have done, what courses you would take to build the major. Then you find two professors to be advisers who can help you through the process. The first person I reached out to was (chemistry professor) Deborah Gross. She was such a great help to me. Together, we really figured out what the academic standing committee might be looking for.
"It's very interesting to have your own major. Few people get to do it, so I definitely feel lucky. I also get a lot of questions, which is great because I can talk about hyperspectral imaging and optic lenses — how physics is helping art, art is helping physics. But a lot of (the questions) still come from a place of, 'Wait, why are you doing both?' You kind of feel cornered. I always have to explain that it's not just a photography major. It's photography and optics. So yeah, maybe I won't be a great physicist, but I absolutely see myself as part of the science community here. I don't want people to take that identity away from me."
Now That I'm About to Leave
"It's sad. But I've also moved around a lot in my life, so I'm not one to settle down in the same spot (Toney will be working in Omaha next year as a Weitz Fellow). More than anything, I'm just really happy that I've had these opportunities. Coming from a low-income background — where not having much means you can't study abroad or take art classes, you always have to search for the things you want to do — it was very weird to be at Carleton and see all of these resources right in front of you. Here, I always had access to a dark room. Or for physics, access to experiments. If I needed something, the art department was always so gracious about waiving fees for me. I didn't have these options in high school, so it's still surprising to me. And, of course, it's great. I wish everyone could have the same experience."