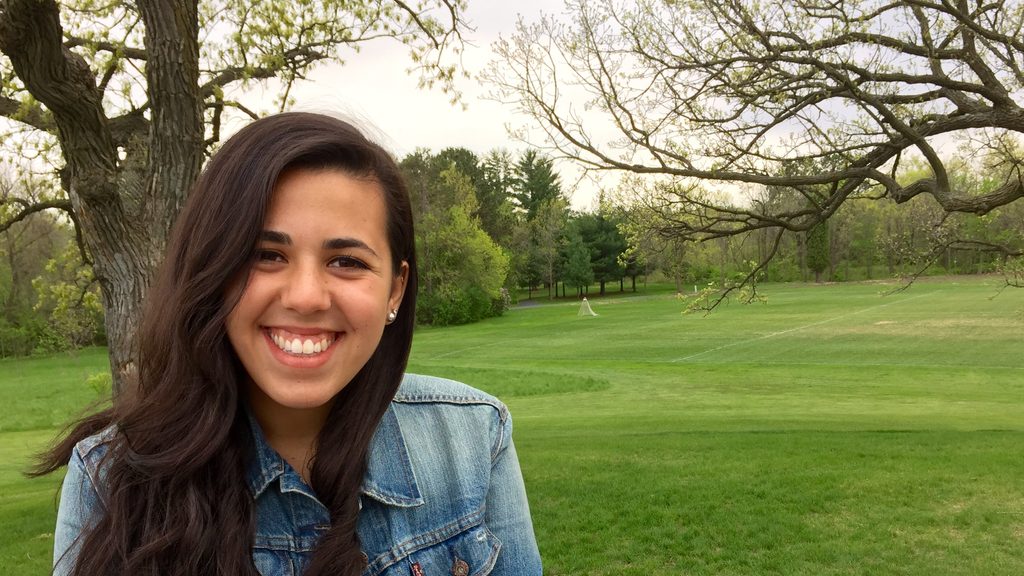 Five Questions with Brittany Brookner
The first time junior Brittany Brookner got hit by an opposing player on the rugby pitch, she felt "surprised."
As in, surprised by how much she liked it.
Admittedly, Brookner isn't drawn to aggressive or overly physical sports. But the Bethesda, Maryland native wanted to find something at Carleton that would replace her rowing experience in high school. When a former crew member mentioned that she joined rugby at her small liberal arts college and loved it, Brookner became intrigued.
"Except I remember my parents saying, 'Yeah, Brittany, I don't think that's for you.' And of course, that just made me want to do it more and prove to them I could," she says, laughing.
Playing rugby has not only given Brookner a greater sense of confidence and accomplishment, it is also the social center of her Carleton experience. It encapsulates her philosophy upon arriving in Northfield: Don't be afraid to try new things — one of the major reasons she wanted to attend a liberal arts school.
"I think the beauty of Carleton is when you feel comfortable being yourself in every aspect here—it's in the classroom, outside the classroom, in your room, in the dining hall, everywhere," Brookner says.
"A lot of students feel pressure to go to college and do one thing or think one way to get on the career path they want. I like that Carleton is more versatile and offers more choices. Because so much can change once you get to college. Sometimes you just have to go with the feeling you get while on campus."
Brittany Brookner '18, Bethesda, Maryland
Major: Chemistry, with concentration in biochemistry
Campus involvement: Rugby, tour guide, radio host on KRLX, chemistry department assistant, Career Center assistant, College Buddies volunteer, Jewish Students of Carleton board member
Favorite spot at Carleton: Hill of Three Oaks
Fun fact: Brittany specifically wanted to attend a college where she could enjoy snow in winter
1. Why did you choose Carleton?
"It was one of the first colleges that I had a gut reaction to. I remember after I visited, my dad and I had the same reaction: We just felt a lot of warmth here.
"I tend to see Carleton as self-selective. You have to be drawn to wanting to be in a rural, smaller setting like Northfield. You have to want this kind of campus environment. So I think that fosters a lot of curiosity from students who come here. They want to learn about each other and explore new things. That carries over to the professors, who aren't just here to teach but really love to have a real back and forth with students."
2. What kind of student thrives at Carleton?
"Someone who is really comfortable with who they are. Carleton students take academics seriously, but not taking yourself too seriously here is also really important. I think the people that excel at Carleton are the ones who want to meet new people, who can put themselves in other people's shoes, and are open to walking past someone on campus and being friendly, maybe having a random conversation."
3. Does the size of campus play a role in shaping students?
"Definitely. Carleton is small enough that you'll always recognize someone in every place that you're at. If you're in the dining hall, you're going to see at least one person you know, so it makes you feel more comfortable in those settings. I think it also allows students to be extra friendly to people they don't know and embrace just giving them a wave or a smile.
"It's a Midwest thing, too. I'm an East Coaster, and it's a faster pace of living. You don't stop and say hello to people. But there's a sensibility here, with a lot of Midwest students at Carleton naturally, that's a big factor in how friendly everyone is."
4. What has surprised or challenged you about Carleton?
"The academics are fast-paced here, so you have to take advantage of resources. I didn't realize the Math Skills Center was a thing until I went there while taking a Calculus class. They answered all of my questions.
"That was a big thing I learned early on: Seeking out help doesn't mean that you're not academically prepared. It's not a weakness. That, coupled with taking advantage of a professor's time, is actually a sign of being really in tune as a student. Professors love talking to students in their office. I mean, I go to the office of one of my professors, Palmar (Alvarez-Blanco), just to talk in Spanish and get more knowledge from her."
5. What advice would you give to a high school student who is considering Carleton?
"The process of being present on campus was important to me. When I was going through the decision, I remember having coffee with a Carleton student who was three years older than me, and while he was talking about his own experience, I remember looking around Sayles (Campus Center) and glancing at all the people interacting with each other. That was equal to, maybe even more important, than the actual conversation. I just liked watching people and seeing the vibe. I trusted that I knew what I wanted that to look like."