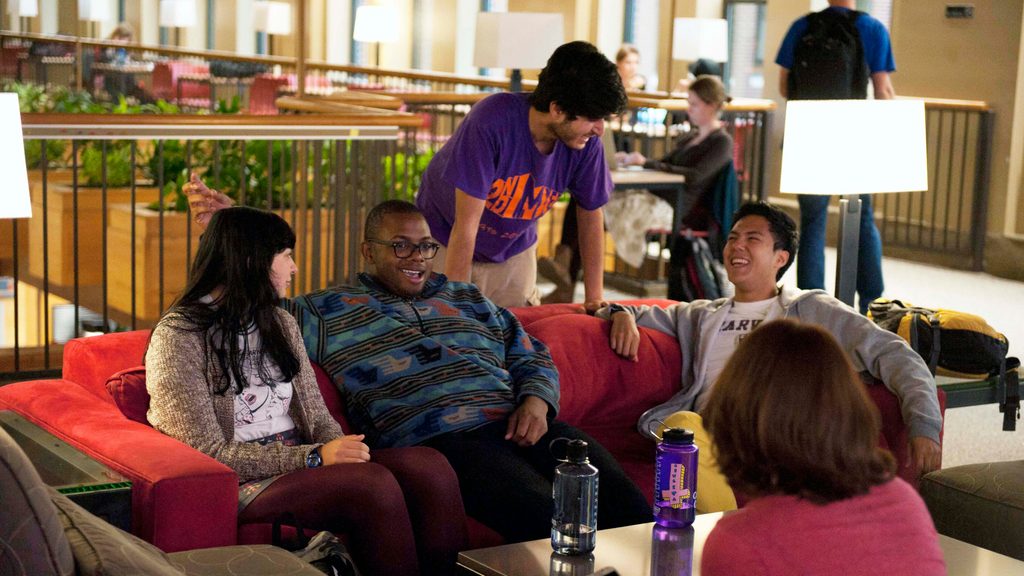 Find Your People
Building community on a college campus requires some effort. But Carleton students do whatever it takes to make deeper connections with their classmates.
Students Lead, Staff Facilitate
A few years ago, one of Carolyn Fure-Slocum's chaplain associates approached her with a request. She wanted to start an Interfaith Social Action group at Carleton.
The student came to her office with a long list of reasons to support a faith-based platform for social justice. But before she could tick any of them off, Fure-Slocum interrupted.
"I stopped her and said, 'Yes, absolutely let's do it. This is exactly what we're about,'" Fure-Slocum says.
"And I think she was not only surprised, but a little disappointed because she was prepared to argue all her important points!"
Building community is inexorably linked to Fure-Slocum's job as chaplain at Carleton. But she merely aims to advise, facilitate, and provide a common space inside her home base of Skinner Memorial Chapel. Students are the ones who get to shape how sub-communities look and thrive on campus.
During a recent fall term, eighteen student religious groups were listed at Carleton, among them, Baha'i, Buddhists, Christian Athletes, Druids, Hindus, Muslims, Quakers, and Unitarian Universalists. Interfaith Social Action continues in the blended faith tradition of its founding by three Carls — a Catholic, Jewish, and Muslim trio — during the late 2000s. Other initiatives — like the weekly Theology on Tap discussion at Goodbye Blue Monday coffee shop in downtown Northfield — use conversation in a casual setting as its main draw. Carleton even has its own Christian praise band.
"There's always been a tradition at Carleton to learn and grow from others, which I think helps deepen connections because of what can be gained from those broader conversations," Fure-Slocum says. "At the same time, for those who don't come to Carleton with a religious affiliation, I still see a strong desire to seek out information and find meaning and purpose in life. In that case, there are plenty of opportunities for students to jump in and hear how others put it together for themselves. It never looks like one thing."
Finding a Happy Home
Searching for community on a college campus comes in all shapes and forms. But at its core, students are trying to find deeper connections beyond roommates and classmates they've been randomly placed alongside in rural Minnesota.
There also has to be more to four years of college than writing papers and burrowing in the library. Bonding over mutual interests is an ideal place to expand much-needed social horizons.
In high school, Abby Easton organized local student bands to play fundraisers in her hometown of Nashville. When she came to Carleton, Easton knew music would be an important part of her life — she just didn't know how.
Starting with jazz ensemble, Easton found a way to scratch her itch for performing. Then she began spending time at The Cave, Carleton's longstanding live music club in Evans Hall, where she met her true tribe — the campus musicheads.
Easton was especially fond of open jam nights where Carls would put their names in a hat and randomly get assigned a "band" for the evening. While most of the time it was a joke performance, she says, it fostered a sense of camaraderie that extended to campus acts with real aspirations to play live.
"Just hanging out at the Cave introduced me to so many interesting people. It was the place for anyone who was musically-inclined or interested in music could mingle or perform together," says Easton, who fronted Northern Riot, a horn-heavy funk-rock hybrid, during her time on campus.
I didn't come to Carleton saying that I wanted to be in a band. I came here saying that I wanted to be around music, period. That's where I feel at home. That's where I

feel happy.
Connecting to Discover
A similar impulse motivated Decker Schneider to join and eventually lead Black Student Alliance, one of Carleton's multicultural organizations.
When he saw a flyer for BSA during his freshman year, Schneider had zero expectations for his first meeting. However, inspired by strong junior and senior leaders who stressed community building and having fun with fellow students of color at Carleton, he marveled at how different the vibe was from his private high school in Omaha.
"I came to Carleton with no sense of my black identity," Schneider says. "But I realized that college is a place where a lot of people can start to find it. I wanted that."
At a recent ice cream social to kick off fall term, roughly 50 students interested in BSA hung out in the Watson Hall game room to swap stories, listen to music, and plan activities for the academic year.
It seems like an easy way to bring people together under a common banner. But without students taking the leadership reins and working hard to build lasting social spaces on campus, too many other parts of the college experience can take priority, Schneider says.
"Everyone is busy and life can get crazy here, so it makes sense that not everyone can get to everything they want at Carleton," he says.
"But being with a group of people that share the same identity has not only been helpful to me, it's been empowering. That sense of discovery has been transformative to my time here."