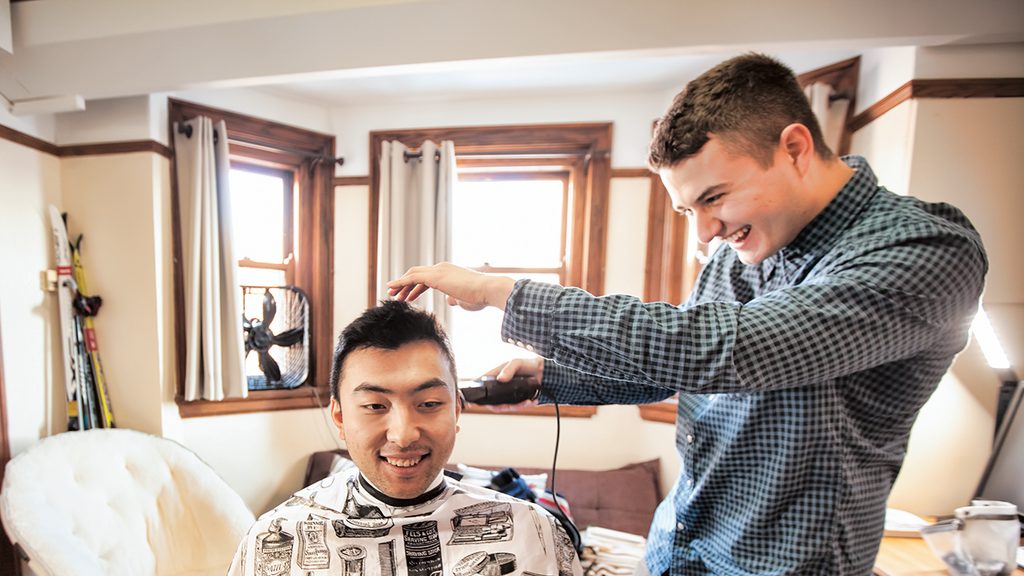 The Barber of Severance
Junior Simon Orlovsky makes house calls. Orlovsky, a computer science major from San Jose, California, teamed up with a friend to launch Dormcuts, a barber service for men that offers students $15 haircuts in their own dorm rooms.
Is Dormcuts a million-dollar idea?
I'm the only barber at Carleton right now. I do four or five haircuts a week, and I have about 15 regular clients. Right now I'm reinvesting all the money I make back into the business. I have a lot of fun doing it, so I'm cool as long as I'm, like, ramen-profitable.
How do you market your services?
Our brand really lives in social media. If I do a good job, people take a selfie and tweet, "Just got a Dormcut!" Then people retweet that, or tweet at them like, "Nice haircut."
Why not make people come to your room?
You feel most comfortable when you're in your own castle. Plus it's really convenient.
What's been your most memorable cut?
One guy wanted to be totally bald. I convinced him not to do it. I don't know, maybe I should have let him, but I was like, "Dude, you don't want to do this."
What was your highest-stakes haircut?
Last summer I was working for a lawyer and I cut his hair the day before he went to trial. But, honestly, I want to do a good job for everyone. I feel like every haircut has high stakes.
Who cuts your hair?
I do. The last time someone else cut my hair was five years ago.
What's next for Dormcuts?
We'd like to scale up the operation: hire licensed barbers, offer women's haircuts, and eventually create an iPhone app for on-demand haircuts that allows you to push a button and a barber comes to your dorm room. But really, my goal is just to make sure that people look good.