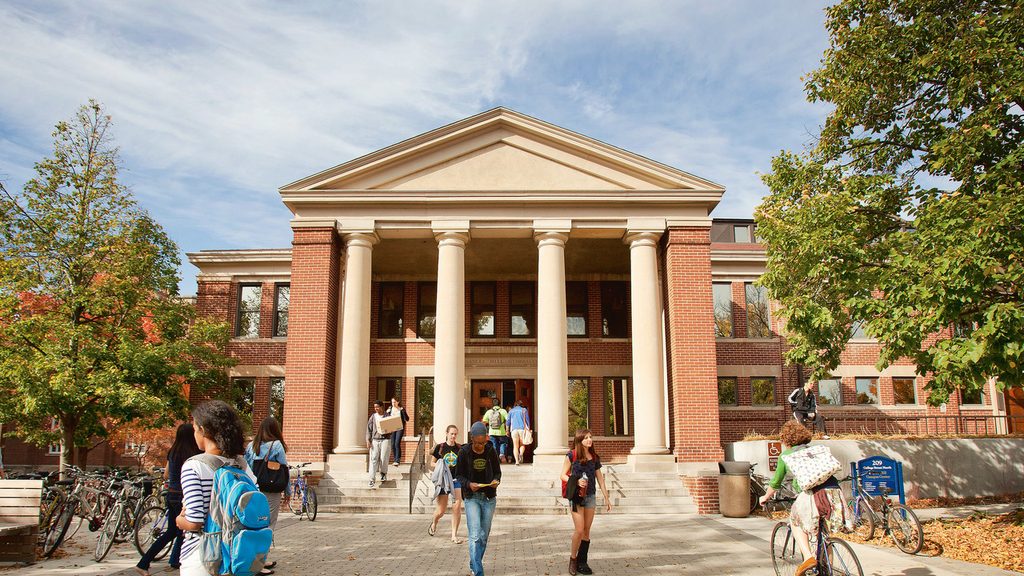 Access for All
Paul Thiboutot, former Dean of Admissions, and Art Rodriguez '96, current Dean of Admissions, grew up in very different times from very different places, but they both ended up at the same Carleton that every Carl is intimately familiar with.  Now, years after graduation from Carleton, Art finds himself in the same shoes that Paul used to don.  Hear from both Art and Paul about their history and vision for Carleton
Art Rodriguez '96, Carleton's new dean of admissions, talks to his predecessor, Paul Thiboutot, about what it takes to turn a small midwestern campus into a global community.
---
Last spring, while Art Rodriguez '96 was packing for a career move to Northfield, he stumbled across a couple of boxes of mementos all but buried in his basement in Poughkeepsie, New York. The unexpected bounty included photographs from his childhood in Baldwin Park, California; a recruiting brochure from Carleton, to which a high school tutor encouraged the Upward Bound graduate to apply; a copy of his financial aid reward (without which, Rodriguez says, he wouldn't have been able to attend Carleton); and an acceptance letter signed by Paul Thiboutot, then dean of admissions.
Rodriguez plans to frame Thiboutot's congratulatory correspondence and hang it on the wall of his new office—an apropos bit of interior decorating given that he left a dean's position at Vassar College to succeed Thiboutot, who retired recently after 32 years of service, as Carleton's vice president and dean of admissions and financial aid. Today, Rodriguez sits at Thiboutot's old desk on the third floor of Scoville Hall.
In May, at about the same time that Rodriguez and his wife, Annie Tseng '97, and their two young daughters were packing their bags, a roomful of students and staff and faculty members gathered in the Great Hall to celebrate Thiboutot. President Steve Poskanzer called his colleague a "visionary" and the "personification of Carleton." Trustee Bill Craine '70 echoed the praise, as did a longtime college counselor for Blake Schools in Minneapolis. And then, after Thiboutot's wife, Diana Postlethwaite, tenderly roasted her husband for a few minutes, the guest of honor led the assembly in a rendition of "Carleton, Our Alma Mater." (For the record, Thiboutot is a proficient second tenor.)
In the months since, the two deans, both first-generation college students, have had plenty of chances to reminisce together about the late nineties and early aughts, when Rodriguez was a student worker in admissions and then, after graduation, served for a time as Carleton's director of multicultural affairs. They've also chatted informally about Thiboutot's well-documented dedication to diversity, as well as both men's hopes for their favorite college's future. This fall, they agreed to sit down and chat again—on the record. The resulting exchange, which took place in Rodriguez's new (and Thiboutot's old) office, proved equal parts enlightening and entertaining.
---
David Schimke: A central goal of the Every Carl for Carleton campaign is to increase funds for financial aid. When that subject is tied to admissions, the word access is emphasized. Why is that concept so crucial?
Art Rodriguez: We're trying to create a community at a small residential college that, as much as possible, reflects society at large. And to build that community, we have to pay attention to the financial components involved. That way we can be sure that all young people and their families, no matter their economic situation, are in a position to consider Carleton.
Paul Thiboutot: When I hear the word access, I think about what it means to couple an offer of admission with the financial feasibility to attend. For me, that translates to meeting 100 percent of need. I remember the [race] riots of '68 and '69. At that time, young people were being told, "Oh, anyone who qualifies can be admitted to the school of their choice." But financial aid didn't follow. As the civil rights era played out, colleges eventually caught on and began to say, "Oh yes, you're admitted and here's a financial package that makes it possible to attend."
Rodriguez: The worst thing is to receive an offer of admission but not be given the resources to actually attend.
---
Thiboutot: Exactly. And it's not just about tuition, it's about making sure that every student has access to the entire Carleton experience. If we have a program for students to study abroad, it's no different from when we have an event on campus. Everyone should have an equal opportunity to take advantage of the experience.
Schimke: What is the difference between access and diversity?
Rodriguez: Diversity and access are terms that are often associated with one another. And when you look at U.S. demographics, you're going to find that people of color are more likely to require financial aid. When we're talking about access, though, we're ultimately focused on socioeconomic diversity, which involves providing opportunities to both low- and middle-income students from a variety of urban and rural settings.
Thiboutot: The more diverse a student body, the more energetic and engaging that student body will be. To me, that involves defining diversity in the broadest of ways, which includes sociocultural, geographic, and even political difference. It's not just racial and ethnic. Access, to me, is more purely about a person's economic situation, experience, and need. Now, when there's an overlap between the terms, that's more a reflection of what's happening in our society at any given time, particularly in relation to the uneven distribution of resources. So, the words access and diversity often intermingle, but they're not the same.
Rodriguez: I would add that access is tied to outreach. Oftentimes family members who are helping their children choose a college just don't have the vocabulary or experience to know what institutions like Carleton have to offer—or what type of financial assistance is available. We're always looking for ways to demystify that process.
Schimke: As that process plays out, how does Carleton differentiate itself from other top-tier liberal arts colleges?
Thiboutot: Clean. Cold. Air.
Rodriguez: (Laughs)
Thiboutot: Initially, I'm not sure you need to differentiate Carleton from other top colleges. Instead, we focus on how great it is to attend a small liberal arts college. Once a student is a little farther along in the decision-making process, we find that a campus visit can help highlight a variety of things: We offer a rural campus with easy access to an urban environment; we are a vibrant community unto ourselves; and we're part of a unique two-college town. We also stress our strong study abroad program, talk about the advantages of a trimester system, and then work our way around to saying there's a real centrality to the students in our programs.
Rodriguez: The campus visit is essential. Carleton students represent who we are, and I don't think I can say that for every small liberal arts college. They have pride in their institution. There's also a cultural component that comes from being located in a small town. And visitors get a real sense of that when they're here.
Schimke: What kinds of students are most likely to succeed here?
Thiboutot: First-generation Hispanic students out of LA.
Schimke: Exactly!
Rodriguez: No, no. [Laughs] Of course it's important that a potential student can handle the academic rigor. For me, though, it often comes down to whether or not a student is going to have a positive, energizing impact on the broader community, which includes faculty members and other students. I also think those who come here need a desire to expand their horizons and work hard.
Thiboutot: We always strive to find evidence that a young person is ready to engage in new ideas, thoughts, experiences, and adventures. And will find sustenance and growth in that process.
Schimke: The admissions process can seem pretty mysterious to students and their parents. Is there a basic formula you begin with?
Thiboutot: Uh-oh! He wants to see the formula, Art.
Rodriguez: That's top-secret stuff. [Laughs] Seriously, because every application is unique, and we treat each applicant uniquely, there really is no secret formula. I do think colleges like Carleton have always tried to find individuals who will contribute to the community—academically, socially, and culturally. At Carleton, that means a student has to have demonstrated an ability to be excited about learning and have a certain track record of curiosity. How do you get to that? It's a combination of factors, and those factors always add up differently. For me, it often comes down to a gut feeling, just the sense that somebody is ready to thrive.
Thiboutot: You're looking for the genuine sound of a cymbal ringing true. It isn't as simple as the days of President James Woodward Strong [1870–1903], who said, "Give me young men and women of moral character and Christian aptitude." But we are looking for genuine character traits that have that ring of truth.
Rodriguez: And that can emerge in different ways.
Thiboutot: Yes. In some ways, we're still looking for moral character, but it's not defined the same way. One can now define moral character as the bravery of a young person stepping forth to his or her true identity, which in the days of Strong may have been viewed as immoral activity. That's why there's no formula. The social landscape is always shifting.
Rodriguez: The question we often get from parents is: What is that one thing that's going to get my child noticed in the process? I often say it's not that one thing. It's a compounding of complementary information. What the students share about themselves in their essays is often echoed in the recommendation letters or comes out during an interview. Ideally, it's a two-way street. The applicants learn something from the process and, along the way, we come to appreciate the journey that brought them to our door.
Thiboutot: And how that journey can intersect with what Carleton offers—in that they can benefit from what Carleton offers, but also contribute to Carleton. It has to be mutual that way. And it's not for everyone. Sometimes, in fact, it's easier talking about who it's not for than who it is for.
Schimke: Paul, do you remember what made Art stand out as an applicant and a student?
Thiboutot: Like Art, I was a first-generation student. So, to see anyone for whom English is a second language attempt to be the first in their family to attend college always resonates for me. I also remember that when he was a junior or senior, I could see Art becoming a college administrator. The temperament was there. He liked speaking in public. He liked organizing things. And—I'm going to embarrass him now—he was one of the better-dressed student workers. Sometimes he actually would come to the office wearing a tie.
Rodriguez: My defining memory of Paul is from new-student orientation. All the first-year students had gathered in the chapel. The president spoke. The dean of the college spoke. And then Paul got up to welcome us. He told each of us to look to the person on our left, then look to the person on our right, and then he said, "There was a mistake in the admissions process and one of you got the wrong letter." We all just froze.
Thiboutot: I used to do that. I did that for about 10 years.
Rodriguez: I think everybody was like, "Oh, no. It's me."
Thiboutot: It was my way of acknowledging everyone's anxiety.
Rodriguez: It definitely got our attention. It also ended up being a comfort. When my new-student group got together later, we talked about how we all wondered if we were the one who wasn't supposed to be there. It revealed who Carleton students are: students who are smart and ambitious, but also have humility and, ultimately, a great sense of humor. Hopefully, I carry those traits with me to this day.