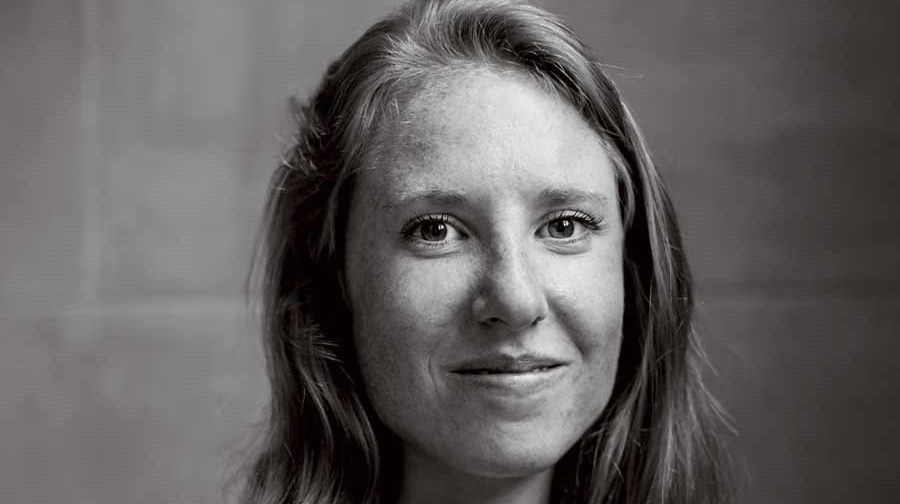 A Kind Word
At a time when much of the conversation about Syrian refugees is focused on closing borders and keeping them out, Bailey Ulbricht has found a way to bring people together through simple conversation.
All Bailey Ulbricht wanted to do was read her book.
It had been only a week since Ulbricht, then a rising Carleton junior, arrived in Turkey to teach English to refugee children. Already, it felt like months. Ulbricht's limited Arabic would only go so far in Reyhanli, a war-torn border town overflowing with Syrian refugee camps. Most nights, she could see plumes of smoke rising from bombs in nearby Aleppo. She was sleeping on the floor of a women's sewing center.
Scared, lonely, and nervous about riding a bus or speaking English in public, she wanted to bury herself in something that didn't require so much thinking.
"I was reading a book at the sewing center, and a girl came over and said, 'Hi, Bailey, do you want to come drink tea with me?' I had this moment where everything inside of me was screaming, 'No, no, no, no.' I'm exhausted. I don't want to talk to anyone. I don't want to interact with anyone," Ulbricht says. "Then it hit me. Wait, why am I even here? I'm not going to sit in this room for two months and read a book. Yeah, I'm teaching English to Syrian children, which is great, but that's not why I came to the Middle East. I came to meet and talk with people, and learn about them."
The chat over tea turned into an overnight stay at the home of Raghda, a 20-year-old Syrian woman who spoke impeccable English and shared Ulbricht's love of Louisa May Alcott. The next morning, Ulbricht bonded with Raghda's Arabic-speaking mother, siblings, and in-laws. They became her second family and opened their door to her for countless dinners and sleepovers. The simplest of gestures became an exercise in trust and a lesson in human connectivity that Ulbricht never forgot.
A year later, back at Carleton, Ulbricht unofficially launched Paper Airplanes, a one-on-one tutoring program that uses Skype to teach English to Syrian refugees. She never intended to expand the tutorials beyond the one or two Syrians she knew personally from Reyhanli. But as word spread and more refugees requested her help, she realized the need had outgrown her own capabilities. Ulbricht asked her fellow Carls to volunteer, which led eventually to a network of 125 tutors at 26 colleges and universities across the United States.
"It was really that organic," Ulbricht says. "One person tells another or posts something on Facebook, and that's how we'd get onto another campus. It was so exciting to give American college students a chance to meet and connect with Syrian students. Many of these Syrians had never even talked to an American, and now they could make a connection over education. That is valuable in so many ways — both culturally and, potentially, politically."
The program is simple: A tutor meets via Skype with a Syrian student twice a week for between half an hour and an hour. Sessions are a blend of language exercises, speech instruction, and everyday conversation about hobbies or American sitcoms. Paper Airplanes has since partnered with a national organization — Students Organize for Syria — and Carleton's Center for Community and Civic Engagement.
Ulbricht applied for official nonprofit status for Paper Airplanes in spring 2016, a move prompted, in part, by an unexpected shout out. Speaking at a major technology conference for refugee awareness in February, Samantha Power, the U.S. ambassador to the United Nations, cited Paper Airplanes as an example of innovative outreach that "takes advantage of the readiness of so many Americans to help."
Since the Syrian civil war began in 2011, roughly 5 million refugees have fled across the border, with another 6.5 million displaced internally. Turkey alone has taken in close to 2.5 million refugees, more than any other country.
"The refugees I spoke to that first summer said, 'More than anything, we want an education,' " Ulbricht says. "They saw that as the way to a better future. They spent their childhoods dreaming of going to a university, knowing that many of their parents didn't have the opportunity."
Ulbricht, who grew up in Severna Park, Maryland, had never traveled outside the country before coming to Carleton. A political science and international relations major, she visited Turkey three times — including a trip during her senior year that was financed through a $10,000 Davis Projects for Peace scholarship to build computer labs for refugees studying to take English placement exams. She spent the past year in western Turkey on a Fulbright scholarship, teaching English at a university.
In May, Ulbricht returned to Reyhanli to visit Raghda and her new baby. The friends talked books and poetry, disagreed passionately about politics and religion, and, of course, drank plenty of good tea.
"It might be small. It might be idealistic. But I truly believe that by making connections and listening to each other's stories, we can diminish the power of violent extremism in the Middle East," says Ulbricht. "The more we can bring individuals together, even if it's just for an hour a week over Skype, the more likely we are to change the world."