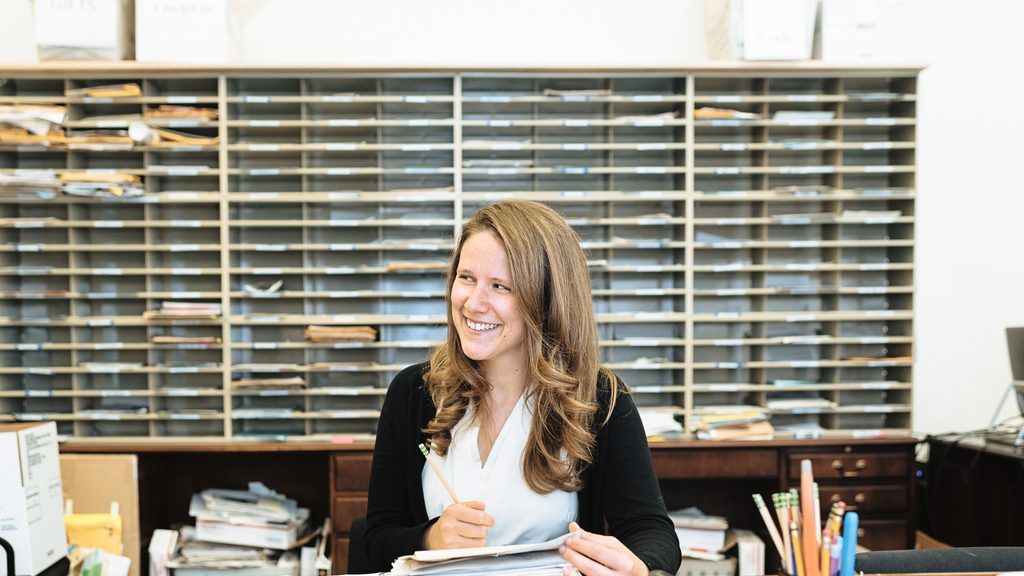 10 Letters a Day
Although her job in the Office of Presidential Correspondence ended when President Barack Obama left the White House in January, Grace Strome '11 won't soon forget the powerful impact of a single letter addressed "Dear Mr. President."
Late last summer, six-year-old Alex tore a piece of yellow paper off a legal pad, picked up a pen, and began writing a letter. "Dear Mr. President," he wrote, "Remember the little boy who was picked up by an ambulance in Syria? Can you please go get him and bring him to our home?"
The letter was Alex's response to a widely published image of five-year-old Omran Daqneesh, bloodied, despondent, and covered with ash following an airstrike in Aleppo. President Barack Obama read the letter out loud at the United Nations Summit on Refugees in September.
"The humanity that a young child can display—who hasn't learned to be cynical, or suspicious, or fearful of other people because of where they're from, or how they look, or how they pray—we can all learn from Alex," said Obama.
Alex's letter represents a small yet powerful gesture that shows how even a six-year-old boy from Scarsdale, New York, could communicate with the most powerful man in the world.
The outcome was no different for an aging prison inmate who somberly wrote that his letter probably wouldn't be read because he's a convicted felon sitting in a jail cell.
Or a worried mother who couldn't make sense of the latest national tragedy—be it Sandy Hook, Charleston, or Orlando—yet felt compelled to express her grief.
Or an angry dissenter who hurled insults at the people he held responsible for a world he viewed as fundamentally broken.
Sending those messages off to 1600 Pennsylvania Avenue didn't guarantee a direct response from the president, but it did guarantee that someone would read them.
For three years, Grace Strome '11 passed through several security checkpoints before arriving at her desk in the Office of Presidential Correspondence (OPC). In the Obama administration, the office comprised several units spread throughout the massive, fortress-like Eisenhower Executive Office Building, just west of the main White House living quarters. A mission statement tacked to the wall read:
The Office of Presidential Correspondence:
To listen to the American people, seek to understand their stories and concerns, and respond on behalf of the President.
A political science and international relations major at Carleton, Strome worked for President Obama in several capacities after she graduated, but her final appointment was the most personal: she read the president's mail before he did.
"I think the Office of Presidential Correspondence is one of the most important offices in the White House," says Strome, who was a deputy director there. "Washington is such a bubble and it's important to hear how the actions of those inside the beltway affect those who live outside of it. Democracy means all voices get heard, not just those coming from people with power or access to power. The letters we saw provided an unfiltered connection between the president and his people, and between the people and their president."
The OPC originated in 1897 with the unassuming career of Ira R. T. Smith, who opened mail as part of his duties as a clerk to President William McKinley. Smith was one of 12 White House staffers, and McKinley received roughly 100 letters a day.
Under Obama, that number reached into the thousands—a mind-boggling mélange compounded by the daily phone calls, e-mails, and Facebook messages that required the full attention of 46 staff members, 35 interns, and hundreds of volunteers.
The preferred method of contact today is e-mail, but many Americans still chose to express themselves with pen and paper. Inside the OPC mailroom, incoming mail was read and sent on appropriate paths of action: a policy response, a card acknowledging a birthday or wedding, review by a federal agency, delivery of a child's artwork to first lady Michelle Obama.
Secret Service staff members prescreened mail, which generally created about a two-week lag before letters reached the OPC, where every piece was read by a staff member or a volunteer.
"People who sent letters took the time to sit down and, in most cases, pour their hearts out," Strome says. "We tried to honor that."
Basically, the mail never stopped coming. Major news events and dramatic issues like the Supreme Court ruling on same-sex marriage all led to an avalanche of incoming envelopes.
The messages contained human stories from all corners of the country—sometimes the world—and represented a microcosm of society: everything from pristine missives on personal letterhead to a rumpled scrap of paper with "Dear Mr. Precedent" scrawled across the top.
Some didn't even use paper.
"People get pretty creative when they send messages to the president," says Strome. "We saw letters written on everything from paper towels and newspaper clippings to baseball bats and mannequin legs. You really never knew what was going to be in the next envelope or box."
Each president tailors the office to his own preference. From President Obama's first day in office, he asked to receive 10 letters a day—"10LADs," as Strome called them—so he could "stay in touch with the voice of the people." Strome had a direct hand in selecting those 10 letters, which typically contained a mix of supporting and dissenting voices that represented what staffers were seeing on a given day. She then received notes from the Oval Office on how to respond. Sometimes Obama asked for more information on an issue. In the case of Alex's letter, a child's words became part of a speech and reached millions of people.
When a volunteer first brought Alex's handwritten letter to Strome's attention, there "wasn't a dry eye in the room," she says. Moments like that happened often: a foster kid wrote asking for advice on how to forgive his dad for leaving, a high school student invited President Obama to his graduation ceremony because he beat cancer three times and never thought he'd make it, an elderly woman requested a birthday card from the president because all of her friends and family had passed away.
"Before coming to the White House, it never would have occurred to me to write a letter to the president," Strome says. "I was blown away by the personal stories people shared. Whether it was their personal experience with a policy the president enacted or a hardship they endured, the level of trust and hope they placed in him astounded and humbled me every day."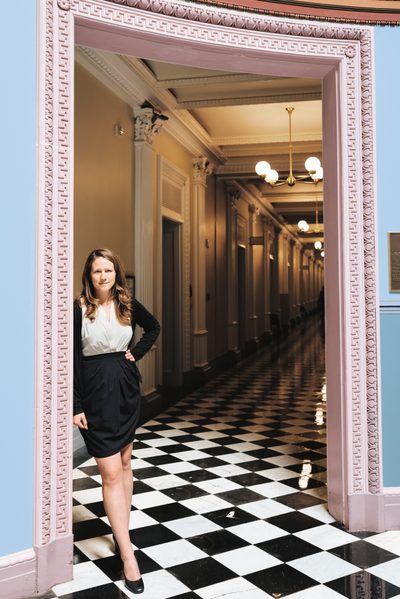 "Presidential mail reader" didn't show up on any career assessments Strome completed while she was growing up in Chicago. Instead, her path to the White House started at the bottom—with an unpaid internship after she graduated from Carleton.
Although she received a generous offer from a D.C.–based think tank, Strome ultimately turned down the job, returned to Chicago to live with her parents, and began volunteering with Obama for America to ensure his reelection. Two months later, she was hired full time to coordinate celebrity engagement with the campaign. (After the election, Strome stayed on to organize talent for the Presidential Inaugural Committee.)
Tracking down A-list celebrities for the president's cross-country campaign stops, Strome relied on skills she'd gained through her student job overseeing off-campus work-study programs for Carleton's Center for Community and Civic Engagement (CCCE).
"One day I had to charter a helicopter for Pitbull and I remember thinking, 'What Carleton class prepared me for this?' " Strome says, laughing. "CCCE taught me to take ownership and be confident in overseeing multiple projects. It was the best practical job experience I could have had. I know how to coordinate schedules—so what if it's for Carleton tutors or Katy Perry, right?"
After Obama won reelection, Strome was hopeful that her work for the campaign would lead to a White House call-up. It came in 2013 from the Office of Presidential Correspondence, the kind of job most recent college grads can't apply for and often don't even know exists.
Strome and her colleagues joked that their office was guarded by the "Santa Claus effect": no one is supposed to know how the toys are made. It was up to Strome and the other White House elves to keep the assembly line moving.
"You don't get into public service for the glamour," she says. "It was about the honor of working for the president and the American public, and the privilege of reading the stories they sent in every day.
"We would try to be empathetic. I read many well-argued letters from a point of view that wasn't my own, which opened my eyes and my heart to the idea that it's not 'us versus them' or 'liberal versus conservative,' as people try to make it. We all have different experiences, and that makes us interpret the world through different truths."
During Strome's last months in the White House, the letters became more reflective and often were full of gratitude.
"People were saying 'thank you,' " she says. "I read a lot of heartfelt thanks from gay women and men who hadn't thought they'd be able to marry their partners, and from people who appreciated finally having health care."
As a political appointee, Strome left in January along with the other Obama staffers. Though she isn't sure what's next, it was a privilege to be part of the first African American president's administration, Strome says: "I've spent my entire career in service of Barack Obama, and I can't think of a better person to have worked for."
In his 1949 book, Dear Mr. President, Ira R. T. Smith—the McKinley clerk who became the godfather of monitoring presidential mail—wrote, "I spent fifty years in the White House reading the President's mail, and let me tell you right now that even after you've opened a million letters addressed to somebody else, you can still be curious about what's inside the next sealed envelope."