Zoom Yoga
Erin describes her experience taking an online yoga class.
Erin describes her experience taking an online yoga class.
---
Lifestyle Yoga
I didn't originally sign up to take a PE course my first term at Carleton. I was worried it would be too much to balance with everything else going on. One week in, however, I talked to a friend in a class called Lifestyle Yoga, and decided to try and join in!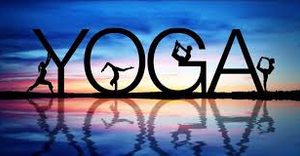 Our class meets on Tuesday and Thursday mornings, and is through Zoom because of COVID. I had originally planned to join the class from the Arb (because yoga + nature = good vibes) but have mostly been practicing in my room. I figured doing downward facing dog in the snow wouldn't be very much fun — although it would wake me up! My roommate has gotten very used to finding me bent in random stretches on our floor…
I am really glad that I ended up signing up for this class because it's hard to get to the gym… Not only because of COVID, but because it can be very easy for me to procrastinate exercising. With a PE class on my schedule, I have to be active — there's no avoiding it! Yoga has been great in terms of getting me active. It's also helped keep my mental health on track. Yoga very mindful, and has been a great way to start my mornings.
Though sometimes I would definitely prefer to stay in bed instead of practicing, I really recommend taking the course. I'm glad I signed up for it now instead of waiting—it is very manageable to balance it with my other classes.
PE at Carleton
Four terms of PE are required to graduate from Carleton, and it's best to complete them before your junior year. I plan to take two PE classes this year — Yoga Lifestyle, and a second yoga class next term — and then two more my sophomore year. That way, my junior and senior year schedules will be more open for opportunities in research, internships, and study abroad programs.
Everyone is different, and I definitely recommend listening to your brain and body when initially enrolling in your first term — don't push yourself too far. But you can take it from me, adding in your PE requirement isn't as scary as it sounds.
---
Erin grew up catching salamanders, recklessly climbing trees, and running around barefoot in the Appalachian Mountains in a small town in North Carolina. This is her first year at Carleton, and she's looking forward to meeting new people, exploring campus (especially the arb!), and experiencing her first Minnesota winter. She is currently interested in studying psychology and gender, women's, and sexuality studies. Meet the other bloggers!