Work Study!
Avery goes over her experience with work study...
Avery goes over her experience with work study...
---
Paying for College
One of the biggest reasons I decided to come to Carleton was that my financial aid package here was significantly larger than other institutions. Paying for college is a very stressful idea, and it was important for me to have a financially logical education.
As I mentioned, Carleton's aid package was substantial, with a series of types: direct student loans, grants, scholarships and work-study… I was least excited about taking out loans (because WOOF, that's a whole different story) and most excited about getting a campus job!
 I got not 1 campus job, but 2 (even better)!
Obviously, this is one of my campus jobs! It has been so sweet working in the admissions office with the other bloggers and awesome staff. But this part of my work-study only comprises 2 of the 8 hours that I work on campus! When I am not blogging, I am working in the Mail Room.
And oh my goodness, I love mail.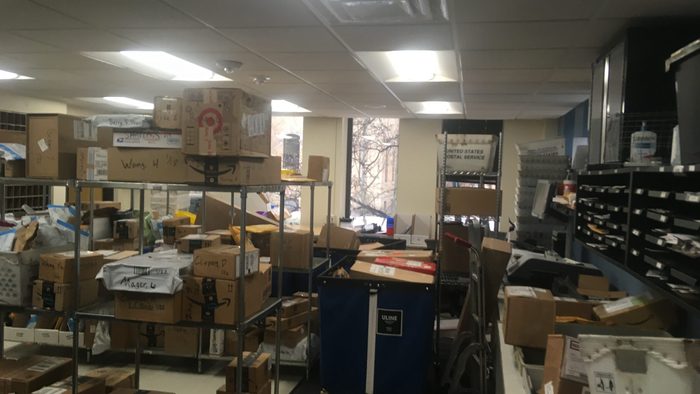 What a treat it is to work in the mailroom! I am someone who is always sending letters to the people I love, and it has been so exciting to work on the back end of the mail supply here at Carleton! A day in my life in the mailroom consists of scanning in packages, delivering mail to campus departments, serving fellow Carls their packages, sending out packages, etc…
It is awesome to work in the Mail Room because you get to meet so many people on campus!
While I didn't intend on having two campus jobs, I can say that it has seriously been a blessing! The balance of in-person manual, (sometimes mindless) labor in the mailroom vs. the quiet, thoughtful online job in admissions has treated me right.
Paying for school while having fun is possible!
I am thankful to have gotten these work-study assignments, and if you are also thinking about getting a campus job, I would 100% recommend finding something that you are passionate about! Here is a list of some of the options. 
---
After taking a gap year and exploring the world outside of the classroom, Avery is ready to start her freshman year at Carleton! You can find her out in the Arb trying to identify plant species or in the Libe reading about abolitionist education theory and working-class movements of the 20th and 21st centuries. Her passions and interests align most with American Studies, Education Studies, and History. Meet the other bloggers!