Winter Term Review Pt.II
Ethan (finally) reflects on his first Carleton winter term; Pt.II: The "usual" stuff
Ethan (finally) reflects on his first Carleton winter term; Pt.II: The "usual" stuff
---
Welcome back to my blog again!
This is part two of me recapping my past winter term; make sure you go read part one here.
Halfway through recapping my winter term in my last blog, I realized that I was going into so much detail that I would need a part two to talk about all the other stuff besides the heavily-winter-related once that I focused on in part one. Looking back at my earlier blog "First Term Review" that I wrote at the end of fall term, I will probably follow that general structure here as well!
People
Whenever people ask me, "what's your favorite thing about Carleton?" I always answer "the people," and I always mean it. As cliche as it sounds, all the wonderful people here make Carleton my home away from home. So many sweet memories of this past term were made because of the wonderful people around me! From receiving and giving Friday Flowers, to struggling with homework together, to having those past-midnight-roommate-chats, my friends really made my winter term so wonderful!
And obviously I am grateful not just for my peers! But I had the fortune of having three wonderful and helpful professors instructing my classes who helped me a lot! I also got to know many of the staff in the dinning hall better after spending more time working for them, chatting with them and learning about their stories. They (along with my student colleagues and student managers) really make the tedious dinning assistance job a lot more enjoyable!
Academics
This past winter term, I carried on with my "science + hobby-related" course selections and took Intro to Computer Science, Global Change Biology, and an introductory Cinema and Media Studies(CAMS) course called Digital Foundations. I learned some really handy basic information about Computer Science and especially the programming language Python, learned a whole lot about how the changing environment affects biological systems around the world, and explored with film productions including how to film, record, edit, etc. I wrote twice about this last course, Digital Foundations, in my blogs on how we made a very short film as a class and how I utilized campus resources to make my final project. (Ironically, I got the worst grade in this class that I spent the most time in, but that's okay!)
The most interesting part of all three of these courses were their final projects. My partner and I designed a "simple" computer game based on "Chinese Checkers" from scratch with Python (shoutout to my partner who didn't really agree that the game was "simple" haha) and made it work (at least most of the time). My Bio class group wrote a two-sided argumentative paper on the use of gene drives to remove invasive rodents from New Zealand's islands. And, I asked many of my friends to help me with my CAMS final product in which I made a fake commercial for a fake product that I made up. It was so much fun doing all these projects (mixed with painfully de-bugging, writing the paper, and editing 60 GB of footage), and I am satisfied with my academic achievements from winter term.
Music
Music is still a huge part of my life! There are amazing music ensembles and groups at Carleton, ranging from student bands to a capella groups to jazz ensembles to the Carleton Orchestra. Most of these groups perform at the end of each term (you can read my blog on the end of the term concerts from fall term). I am part of the Carleton Choir, and we were joined by two amazing professional soloists and Carleton community member singers this past winter term to perform Carmina Burana by Carl Orff. Beyond from Choir, I also took on Voice Lessons and kept on utilizing resources at the fantastic Weitz Center of Creativity. Unfortunately, I wouldn't bee able to keep doing that during remote learning, but I sure am super excited to continue with the now virtual Carleton Choir gatherings (stay tuned for some amazing virtual Choir performances hehe)!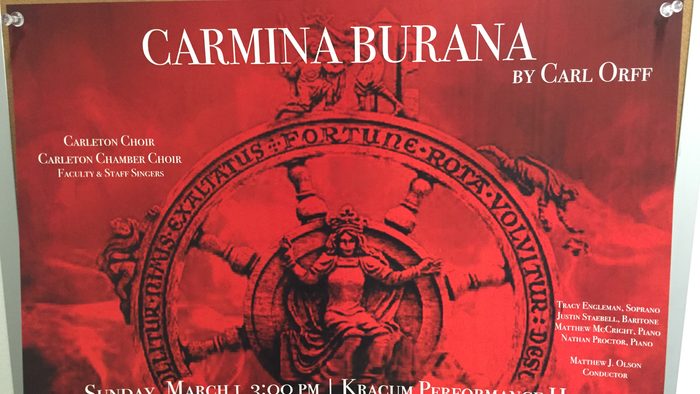 Soccer
Besides playing Intramural (IM) Broomball, as I have described in my Pt.I blog, I continued playing Intramural Soccer as I have last term. Because of the weather, there is only IM Indoor Soccer inside the Recreation Center during winter term. During the warmer fall and sprint terms, IM soccer games are held outdoors. Feel free to read my post last term about Soccer at Carleton!
In winter term, my team once again placed first out of 6 teams at the end of the regular season, like we did in the fall term, before losing to the eventual champions 0-1 in the semifinal of the play-off. Sadly, we couldn't continue playing the beautiful games now that we have transitioned into remote learning, but I really enjoyed all those games with my friends! We will be back in the fall!
Annnnd I think this will wrap up my winter term recap! I know, it's almost May, but, ehh, better late than never yeah?
Anyways, thank you for reading my blog! I want to once again express my utmost respect and appreciation to all the healthcare and essential workers around the world as we keep battling this pandemic. The situation in China is much better now, the same will happen here in the US as long as we keep following CDC guidelines and keep the social distancing Stay inside, and stay healthy in the meantime!
---
Ethan is a first-year international student from Beijing, China, and is exited to embrace the environment and winter in Minnesota. Ethan is a huge soccer fan as he watches and plays it as often as he listens to music, especially a cappella music by Pentatonix and other artists. Although his passions in Environmental Studies and Chemistry flow through his veins, Ethan is thrilled to explore other areas like Music and Computer Science in his time at Carleton. Meet the Other Bloggers!