Where in the World is Greta Hardy-Mittell?
In which Greta discusses her many housing situations over the past year, and gets excited about her hopes for the future.
In which Greta discusses her many housing situations over the past year, and gets excited about her hopes for the future.
---
I'm writing this post from home. I flew from Minnesota to Vermont on Tuesday; on Wednesday, I took my last day of online classes from my bedroom; I've been studying for a final exam and writing two final papers there, too. I just took a break from working to help my mom rake leaves—with a mask and at a distance.
My home state, Vermont, has a quarantine requirement for all travelers coming into the state. This includes college students returning for Thanksgiving! So I've been staying in my room since Wednesday, masking whenever I'm in the rest of the house and keeping a more-than-six-foot distance from my family.
I got tested on Thursday, and I'll take another one on Monday. Hopefully, both will come back negative, and I'll be able to spend a safe Thanksgiving with my parents and siblings (then, thanks to Carleton's long winter break, stay home through Christmas and New Years, too).
The past year has been a whirlwind filled with the question: where am I going to live?
In January 2020, I was living in Goodhue, expecting to stay there until June. Then March rolled around, and we all know what happened… This fall, I was lucky enough to be on campus, living in Cassat with one of my best friends. And now, here I am, back at home. With COVID cases rising to frightening new heights, I can't help but wonder whether I'll have to stay here next term (January-March) once more.
It's all a lot to ponder. And a lot of it is out of my control. But I feel grateful that, this past term, I've been able to figure one of my own questions out:
In an ideal world, where would I want to live?
The first part is easy: during school terms, I want to be at Carleton. I love my family dearly and I'm so excited to be home for the holidays. But: emphasis on the holidays. Although there were some silver linings to the remote term last spring, it wasn't ideal. Just being on campus was such a step up for my learning this fall, even with all online classes, and my social life, even with COVID restrictions. Plus, I had so many more opportunities for outside activities, including electoral work and activism!
Even still, there was a lot that wasn't ideal about this term, too. Especially during the colder weeks, it was hard to see other people while still being COVID-safe. I ended up spending a lot of time in my room, alone or with my roommate. Although she's one of my best friends and I loved getting super close with her, I realized: I'm someone who needs to spend time around more than one person to thrive.
Back when I could spend time with whoever I wanted, wherever I wanted, whenever I wanted, that was no problem. But this term, I ended up being pretty limited to small and occasional groups of close friends. Community is central to me, and that's really hard to find during COVID.
That's why I decided, a week before coming home, to apply to live in an interest house next term: specifically, Wellstone House of Organizing and Activism, or WHOA.
If you couldn't tell already, I'm an activist. Social justice is so important to me, and it's become even more so this term. While working with Sunrise Carleton, a climate justice organization, I ended up spending a lot of time outside of WHOA House.
I made banners…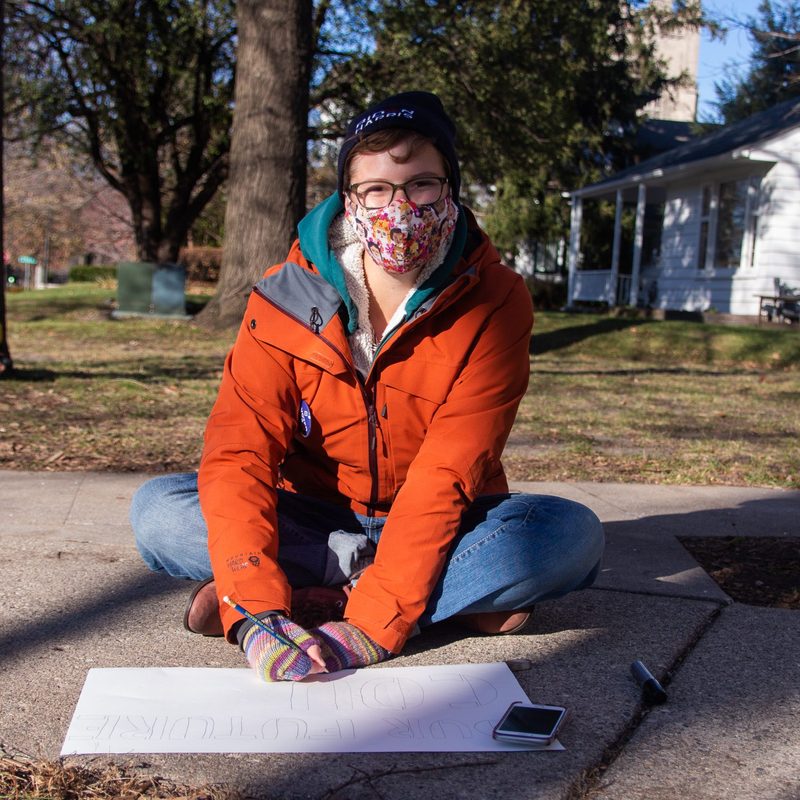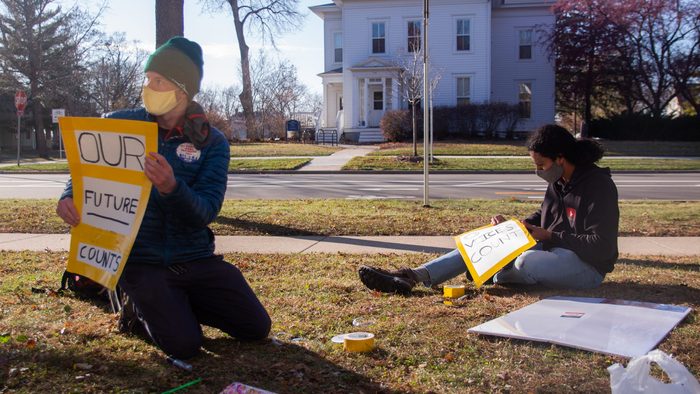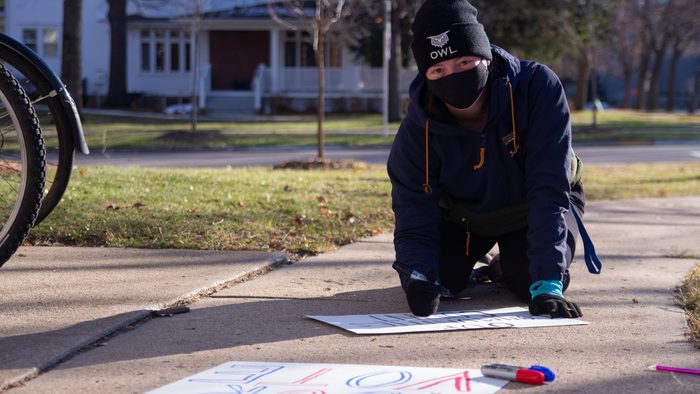 And posed with the folks who live there…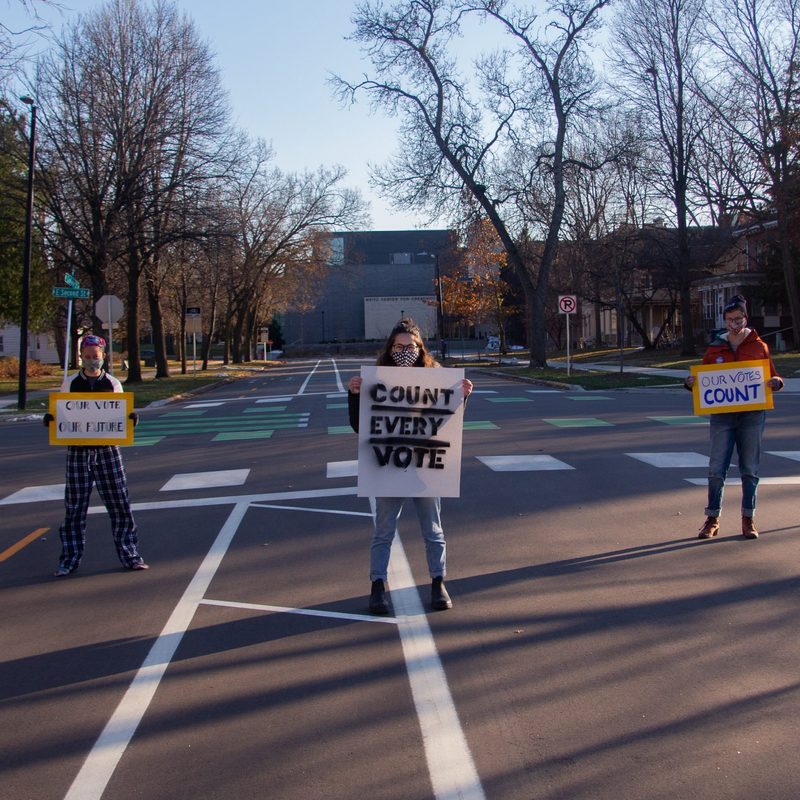 And even posed with the house itself.
And eventually I realized that even though I had never been inside, I was starting to think of the place as home.
So I applied. And I got in. I talked to my roommate, and it turned out that she had a friend who wanted to move into my side of the room. Then I confirmed: as long as I'm safely able to come back to Carleton next year, I'm going to live in WHOA!!
Next term, I'm going to be in a house where activists live together, form a community, cook vegetarian meals and learn about social justice issues and have fun. After the initial quarantine, the extrovert side of me will have a pod of 11 people to hang out with. My introvert side will have a room where I'm not expected to spend time with a close friend. What more could I want in the world?
And yes, I know that it's all super dependent on the state of the world. But what isn't? For now, I'm just excited to be back home for the holidays, and to know: whenever I go back to Carleton, it will be somewhere I belong.
---
Greta is a proud Vermonter who is nevertheless so excited to be back at Carleton this fall! She's making it through the pandemic by writing constantly, playing piano, and spending time outdoors. Then eating lots of chocolate. She wants to learn everything, but is particularly interested in Sociology/Anthropology, American Studies and, of course, English. Meet the other bloggers!