What Are My Classes, Anyway?
In which Greta learns about family, literature, and rocks
In which Greta learns about family, literature, and rocks
---
It's Week Three.
And you know what that means? Yep; I've been in college long enough that I've actually learned something! A lot, in fact, between my three amazing classes. And now you get to learn all about them, too!
My first class is a 1A, which means I start every Monday, Wednesday and Friday bright and early (8:30 AM, baby!) in Sociology. But despite the early hour, I don't regret this class decision in the least. As someone who passionate about social justice, I've been excited to take a sociology class since high school, and it hasn't let me down. So far I've learned about perceptions of the "traditional family" across American history; marriage and divorce as institutions, and how they differ across class lines; and how race, gender, sexuality, and class play into all sorts of union formation, including marriage, cohabitation (living together out of marriage), and even college flings.
My sociology class has also been lucky enough to welcome a guest speaker to campus: Dorothy Roberts, a professor of sociology and law at UPenn and the author of numerous books about race, including one that we read excerpts from on black mothers and children in the foster care system. Today I got to have lunch with her and attend a lecture she gave, and tomorrow morning she's coming into my class. Just one example of the amazing academic opportunities I'm already getting as a first-year student at Carleton!
From sociology, I go straight to my A&I Seminar, an English class about how authors "write back" to classic works of literature. For example, we read a short story by Angela Carter that puts a feminist spin on Little Red Riding Hood. I am an English person and I always have been, so I savor every discussion we have around our round-table classroom. I've also been excited to read literature that I love but wouldn't have picked up otherwise. I just started writing my first essay for the class, about a short story called "Gurov in Manhattan" (a revision of the famous Chekhov short story "The Lady with the Dog") which is quickly becoming one of my favorites. I've already reread it so many times that when I went into my professor's office hours (which are great, by the way! professors here want to talk to you!), she asked if I had memorized it yet. Maybe…?
Another perk of the class is that because it's an A&I Seminar, all of my classmates are also first-years, and I've gotten to be friends with a number of them. Two are also in my sociology class, so we have plenty of readings to bond over. And one is in my last class:
Tuesdays and Thursdays are science days for me. I have lecture in the morning and, on Thursdays, lab all afternoon. This is the meat of the class. We go outside, pile into a van, and our professor drives us around the area and takes us to cool rock formations. I'm not joking. Last week we saw various formations from the Ordovician period, including one that was under a beautiful waterfall and one that was full of fossils. (See below for one I found!) But it's not all fun and games; it's actually the class that's pushing me furthest out of my comfort zone. The class is about learning in the field, so with our limited knowledge of rocks, we have to piece together the geologic history of southern Minnesota based on the sites we visit.
Spoiler alert: it won't just stick to Minnesota! Over mid-term break, the geology department is taking a field trip to the Badlands and Black Hills in South Dakota! So, okay, it is a lot of fun. More reason for you to keep reading my blog, at least for the rest of October…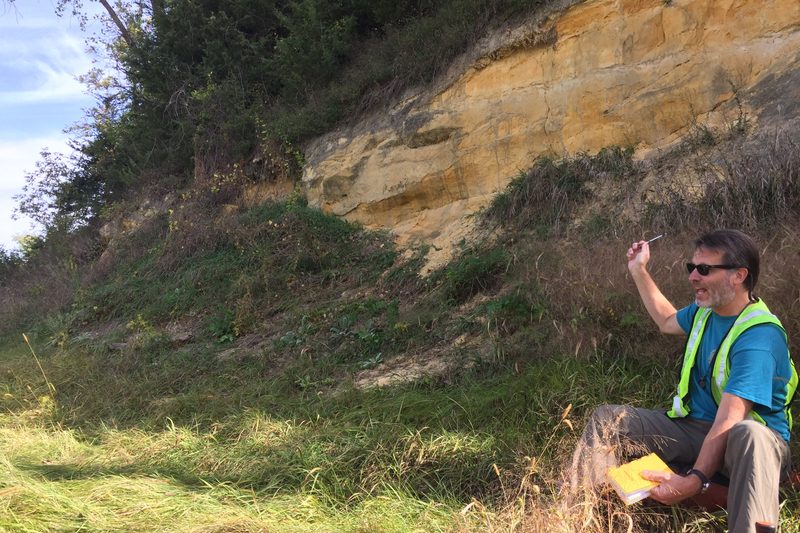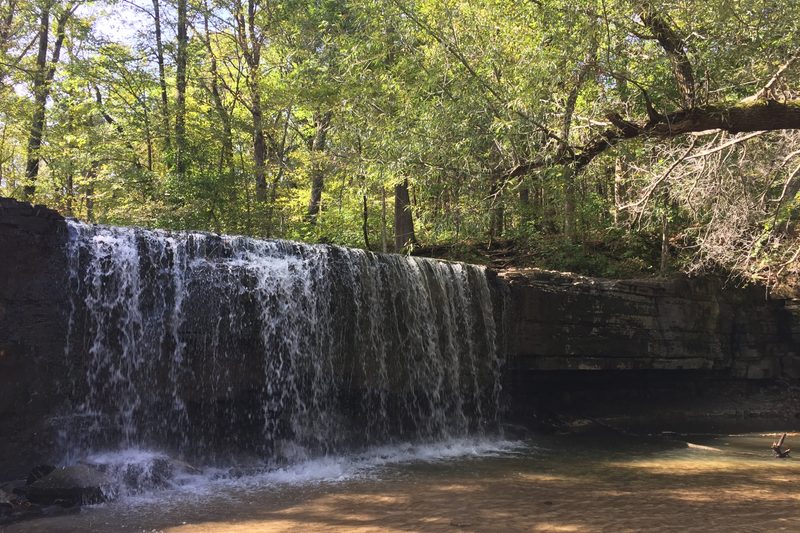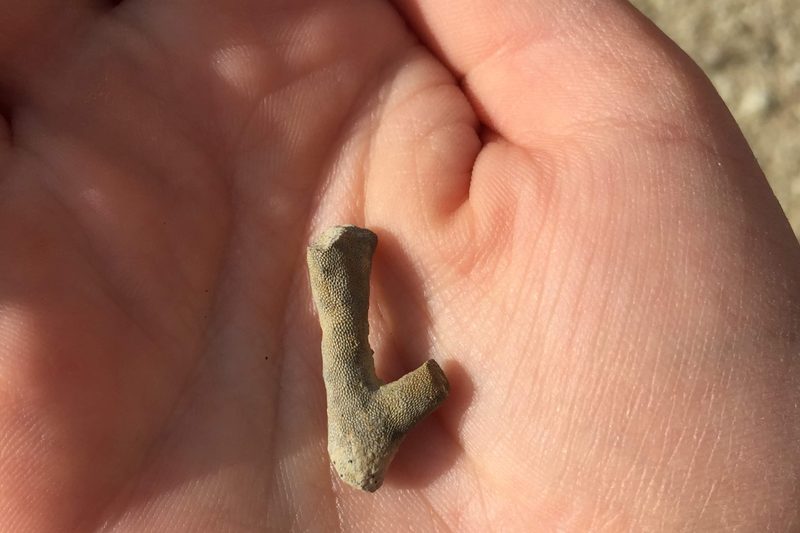 And speaking of October:
Happy fall! It wouldn't be a third week post without an apple picking picture. And who doesn't want to end this post with the smiling faces of my RAs?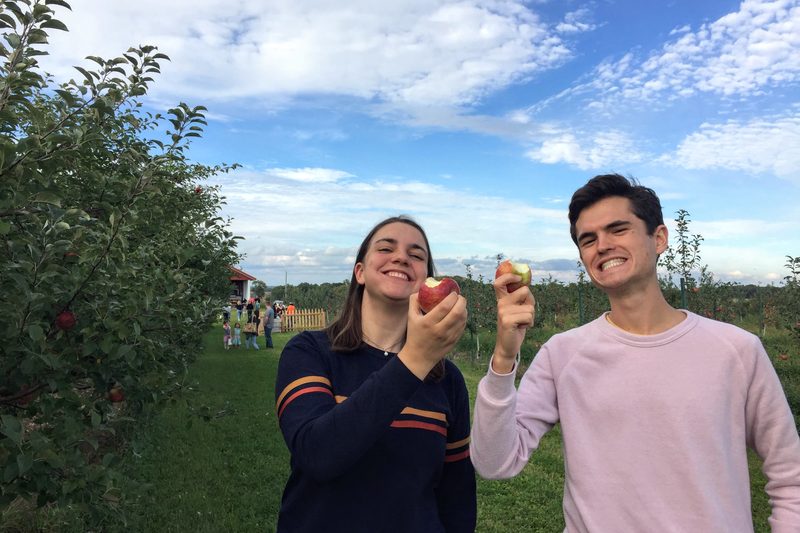 ---
Greta is a proud Vermonter who must have fallen hard for Carleton if she's choosing to spend the next four years without mountains to hike. Instead, you'll probably find her wandering the Arb with a book and a journal and a pen behind her ear, playing piano in Weitz, or telling another unsuspecting soul about her gap year. And eating dark chocolate. She wants to learn everything, but is particularly interested in Sociology/Anthropology, Environmental Studies, and, of course, Creative Writing. Meet the other bloggers!