Welcome New International Students! — A Recap of ISO
Sherry talks about the International Student Orientation as a Peer Leader!
Sherry talks about the International Student Orientation as a Peer Leader!
---
Hi everyone, welcome back to my blogs! Can't believe summer went by so fast and I'm here blogging (read: working) again. I hope you all had an enjoyable and relaxing summer break and are prepared for the new academic year.
To explore more possibilities and step out of my comfort zone, I started working as a Peer Leader for the Office of International Student Life this year. As expected, our first and foremost task was the International Students Orientation. As someone who went through all the activities (for the second time), I'd like to share some highlights from the ISO 2022.
Training before ISO
The international student orientation is about a week long, just like New Student Week. Before ISO started, all the ISL peer leaders had an entire day of training, in which we read through various handbooks intensively— the mission of the peer leader, the meaning of mentorship, and the key to facilitation… all of which are very theoretical but critical to our work. We also split the specific tasks among ourselves and did some event programming. The one-day-long training was somewhat rushed, but we familiarized ourselves with each other very quickly and all got excited for the next day.
The arrival day
The arrival day for international students this year was August 31. While we were continuing with our training in the morning, we could already see new students moving around with their luggage. But the first big bus from the airport did not arrive until around 4 pm. To be honest, it was sort of overwhelming when they all rushed into our small office. But as I talked with some of them when helping carry their items into their dorms (lucky kids got Burton, less lucky kids went to Goodhue), I found most of them very nice.
In the evening, we had the ISO welcome dinner — a pizza party — in Sayles (Maybe having a lot of pizzas is the first step in adapting to the U.S.?). Seeing the new students opening up themselves and making their first friends, I was contented and relieved. While chatting with some students, I overheard an adult saying to a group of students, "All your parents did not sleep until they knew that your plane has landed safely. " Recalling my experience last year, I thought that all parents are actually the same.
Fun activities during ISO
Carleton and Northfield tours are indispensable activities to get to know the new environment. The campus did not change much, except for the renovated Hasenstab Hall near Olin. As for the town of Northfield, which in fact only consists of one street, we succeeded in extending the 20-minute walk to a 1-hour tour for the new students, thanks to the coffee shops, the vintage stores, and a market at the plaza that morning.
An ice-cream social event also took place at the famous/renowned Dacie Moses House. The house director demonstrated the process of making ice cream and shared two buckets of freshly made ice cream and cookies with the students. I had to put the spotlight on the special soft ice cream, which was much better than the ones in LDC and even at the Blast.
One night, the traditional bonfire was lit on Mai Fete island. It was chilly in the evening (yes, it's Minnesota), but the bonfire kept us warm. Students roasted marshmallows and chatted in a circle around the bonfire.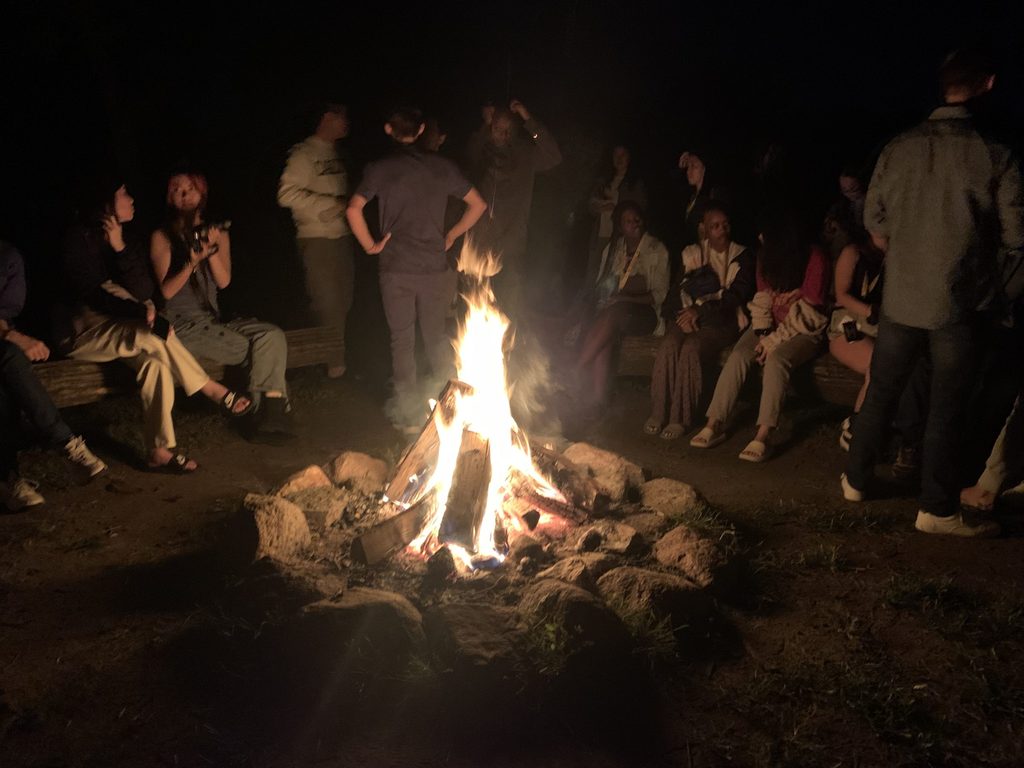 The most exciting event during ISO must be the day trip to the Twin Cities. This year, the first-year students were lucky to join the cruise on the Mississippi River. The two-hour-long cruise perfectly represented the Midwest's laid-back lifestyle. Along the river, you could only see green trees and some families doing picnics; on the boat, you felt like time was standing still and the tour was never coming to an end.
After that, we headed to the Mall of America. As expected, many students were fascinated by the roller coasters and numerous shops, whereas my colleague and I just sat on a sofa and chatted for two hours.
Unexpected moments
All in all, it was a fabulous experience organizing ISO this year. I really enjoyed working with my talented colleagues, all the new students, and my kind boss Liz. One thing I did not anticipate was that during the ISO, two students came to me, saying they actually read my blogs and simply wanted to say hi. I was so flattered when I heard this. I know that some other bloggers had such incredible encounters, but I never expected those things to happen to me. I couldn't be more grateful for all your support. To those of you who followed my blogs: I'm sorry that my writing might disappoint you from time to time just as how it disappoints my professors, but feel free to email me or talk with me in person if there's anything I can help with.
Hope all new international students enjoyed the ISO, and wish everyone a brilliant fall term!
---
Sherry is a sophomore from Hangzhou, China, and holds a real passion for travel and food. She is thinking about majoring in Mathematics, but would also like to explore more in Economics, English, and French. Things she likes to do in her free time include hanging out with friends, taking photos, writing random stuff, and finding the funny in everyday life. She also got started with alpine skiing and is always ready for the trip to Welch Village every Friday! Meet the other bloggers!