Transforming Walks Into a Cinematic Masterpiece
Here are multiple songs that will help create the perfect scenery for the season! Some of these songs might even find a place on your playlist.
Here are multiple songs that will help create the perfect scenery for the season! Some of these songs might even find a place on your playlist.
---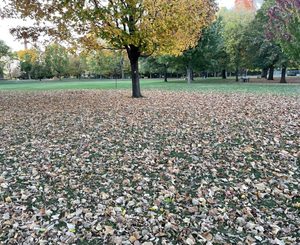 I couldn't help but notice we are heading into autumn. The wide array of warm pastel-colored leaves has me wanting to bring back the hoodie and sweatpants aesthetic. The cold gust of wind in the mornings paired with a hot cup of coffee has me feeling as if I'm in a 2000s romantic comedy.
I hope most of you can relate, and similar to me, all you're missing is a soundtrack to elevate your cinematic experience. I have handpicked a couple of songs that will bring a new variety to your playlist, as well as get you into the spirit of the season.
Songs for your playlist
1. "Wait a Minute" by WILLOW
Willow's vocal performance and catchy chorus will have you dancing and singing along. Enough to bring you to the sixth dimension.
2. "Strawberry Letter 23" by Shuggie Otis
It may be old, but surely it's gold! The production and the catchy vocals will have you skipping along in the Arb.
3. "Running Up That Hill" by Kate Bush
If you love the nostalgia of the 80s, then this song is for you! It gets your adrenaline pumping–just try not getting caught singing along!
4. "To All the Girls I've Loved Before" by Julio Iglesias & Willie Nelson
Do you ever reminisce about a previous relationship? This charming and heartwarming song will have you with your hands in your pockets reflecting on what could've been!
5. "Talking to the Moon" by Bruno Mars
This is a beautiful song; Bruno Mars will make you feel heartbroken. Hopefully, though, you will feel better soon.
6. "Pain" by PinkPantheress
The nostalgia from the early 2000s pop will have you singing along. This is a perfect song for a late-night drive from the Twin Cities.
Where I go to listen to music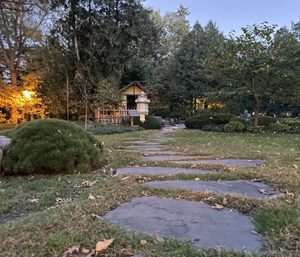 I go to the Japanese garden for a sense of serenity, as the atmosphere is calm and quiet. The privacy allows me to take a deep breath and gather my thoughts. The beauty of the garden reminds me of a safe space–there is truly no better place to relax than the garden itself.
Every time I listen to a song, I always imagine myself being a part of the narrative. I do this in hopes of returning to reality when there's an abundance of things to do. The garden just happens to amplify the feeling.
---
Norman is a freshman from Pawtucket, Rhode Island, who is excited to experience the Minnesota winters and Northfield's culture. His curiosity for quantum mechanics has caused both a headache and an interest in Physics, Chemistry, Engineering, and Economics! At Carleton, he wants to participate in a variety of clubs and indulge himself in the unknown. In his free time, Norman can be found reading a book with a cup of green tea on the side, listening to the Weeknd, or excessively online shopping. Meet the other bloggers!