The Underrepresented Student Experience at Carleton
Erin discusses the resources at Carleton for LGBTQ students, BIPOC students, students with disabilities, and first-gen students.
Erin discusses the resources at Carleton for LGBTQ students, BIPOC students, students with disabilities, and first-gen students.
---
Finding an inclusive college environment was a top priority of mine. Carleton really fit this, and it's one of the reasons I became a Carl! I wanted to give a rundown of some of the best programs (in my opinion) to incoming students who may be worried, like I was, about representation on campus.
LGBTQ Resources and Representation
Carleton has a vibrant LGBTQ community, and lots of support for students. The Gender and Sexuality Center is the home to our queer resources, events, and information: they have a lot of queer literature, flags, pronoun pins, and even a closet full of free gender-affirming clothes.
They also have programs for questioning students, a mentoring program for first-year students called Queer Peers, a GSC Bookclub, and so much more. Through all of these initiatives, it's easy to meet like-minded and supportive students.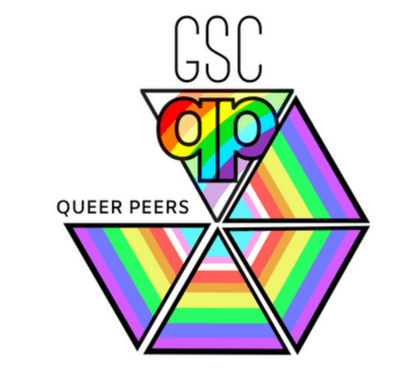 Carleton is a place where I feel comfortable having a pride pin on my backpack, and where introducing yourself with pronouns is completely normalized. It's also a place where exploring and setting your own path is encouraged, something I could not be more thankful for.
Resources for BIPOC Students
OIIL stands for Carleton's Office for Intercultural and International life.
2. The Black Student Alliance is a student run organization at Carleton that creates pathways of change. It promotes political and social action, advocates for a bigger community of BIPOC students at Carleton, and is a place where people can meet other like minded individuals.
3. The Ujamaa Collective is a collective of BSA and other Black student organizations: its focus is to create unity at Carleton, and combat racism on campus.

To hear first hand experiences about being BIPOC at Carleton, or to learn more about the BSA or other organizations, contact sophomore Jancyn Appel (appelj@carleton.edu).
Disability Resources
Disability Services at Carleton is led by Samantha Thayer and lots of peer leaders! Resources through Disability Services include:
One on one peer support, either with a student mentor or staff. This can include extra support for classes and more accountability, and help with making social connections.
The ability to make sure Carleton is accessible (both physically and mentally) for you. Professors and staff want to hear your experiences and what you think would improve accessibility here. Disability Services is a great way to get involved in this at Carleton.
Low-Income/First-Generation Resources
Though the majority of Carleton students come from fairly wealthy and educated families, there is also a lot of representation here for those who haven't always had their path set towards college.
From step one in the admissions process, Carleton makes campus very accessible to lower-income and first-generation students by partnering with QuestBridge and being almost completely need-blind.
There are also several opportunities for low-income students once at Carleton, for example…
In addition, professors are all very understanding and accommodating! They won't let you sink—if you aren't able to afford their textbook or other class materials, they will do everything in their power to help out.
My roommate and I attended a first-generation faculty Zoom call last week, and it was great for both of us to see first-gen/low-income people who have succeeded!
One of the things the panelists said was that it's so important to remember that if accepted, you do belong here: the admissions team doesn't accidentally decide to accept students. They see your potential to succeed, and want to hear and learn from your experiences.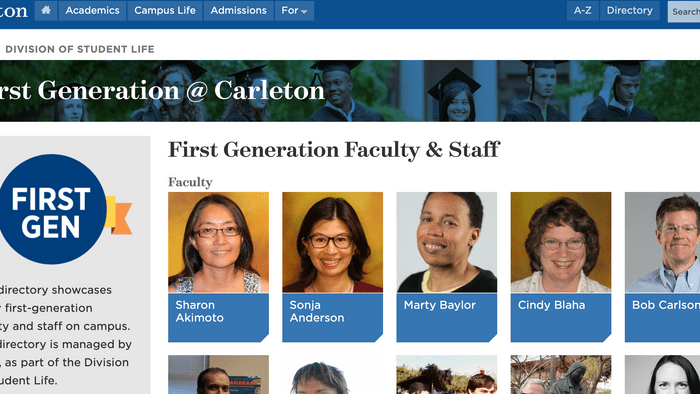 If you have any other questions, don't hesitate to reach out to me at manuele@carleton.edu! My roommate is also willing to talk to anyone about representation here, specifically around being first-gen: their email is candalariab@carleton.edu.
---
Erin grew up catching salamanders, recklessly climbing trees, and running around barefoot in the Appalachian Mountains in a small town in North Carolina. This is her first year at Carleton, and she's looking forward to meeting new people, exploring campus (especially the arb!), and experiencing her first Minnesota winter. She is currently interested in studying psychology and gender, women's, and sexuality studies. Meet the other bloggers!