The Many Faces of Sayles
McKenna teaches you about Sayles, the campus student center!
McKenna teaches you about Sayles, the campus student center!
---
Any visit to Carleton's campus is not complete without a stop at Sayles-Hill Campus Center. Affectionately called Sayles, this building is central to student life on campus. As visits are rather difficult given the current pandemic, I'll try to give you a sense of some of the ways students use this building.
To get letters and packages…
Sayles is home to Mail Services, our campus post office. It's staffed by students and staff who receive, sort, and send mail for Carleton. When a package is delivered for you, they'll hold it in their office and send you an email so you can come pick it up. Carleton students get a lot of emails, but emails from the post office are probably the most popular! You can also ship items home from the post office (and if you've never sent an item before, they'll help you through the process).
Or to receive a flower from a friend!
Right next to the post office are our student mailboxes. The exact number assigned changes each term, but every student has one and they're assigned alphabetically by last name. Any letters you receive will be put in your mailbox, and some professors return work via the mailboxes. There may also be a fun surprise! Every Friday, a florist from town comes into Sayles and sells flowers. It's a campus tradition called Friday Flowers.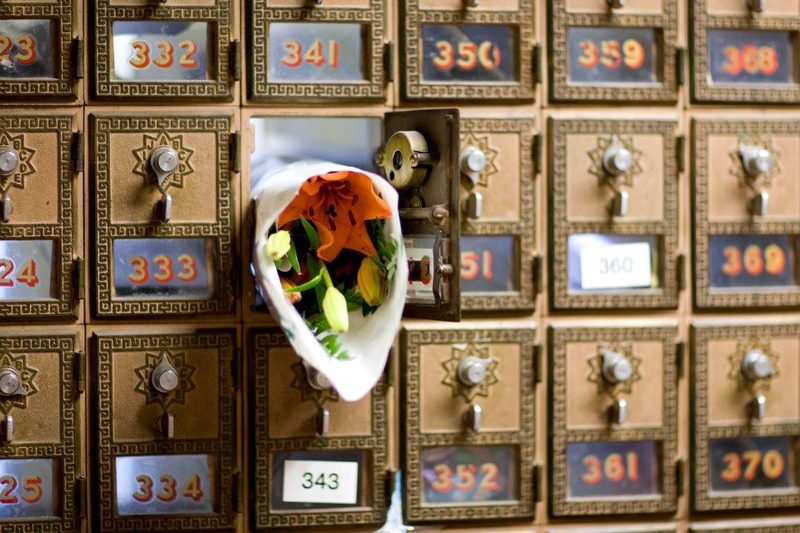 Onecard services are in the basement…
At Carleton, your Student ID (the Onecard) has a lot of features — they let you into buildings, allow you to use your meal plan, and manage your printing. Campus Services, in the basement of Sayles, handles Onecards, as well as a few other things. It's probably going to be one of the first places you go as a student!
Along with our radio station.
KRLX, our campus radio station of Parks and Recreation fame, is also housed in the basement of Sayles. Students can sign up for a radio show each term, which listeners can tune in to by using a radio near campus or via an online stream. KRLX has hosted a variety of programs, from strictly music to an ASMR baking show to The Amateur Cryptid Survival Guide (now a podcast)!
If you're feeling snacky, Sayles has your back!
Sayles is home to one of the three campus cafes. They serve mostly drinks, snack items, and some grab-and-go items like sandwiches. Unlike the other cafes, they also make hot grill items (like pretzels, fries, and onion rings) and have a taco bar at lunch. I've gone a few times in the morning and gotten an amazing breakfast sandwich there. Plus, all of the items here can be paid with the dining dollars you get as part of your meal plan!
You can dance your heart out…
Midwinter Ball is one of the best parts of Winter Term. After picking up a shuttle from elsewhere on campus (you shouldn't have to freeze in your fancy clothes!), students arrive at Sayles for an evening of fun! There's a room for swing dancing with a live band from Northfield, a salsa area downstairs, and an area staffed by student DJs. Because Sayles is connected to a few other buildings, dancers don't have to go outside to get from one to the other. It's definitely a highlight of my college experience!
Or visit a therapy dog just down the hall.
Sayles is also home to the Office of Health Promotion, more commonly known as OHP. OHP is a great campus resource — although more serious concerns can be discussed with staff at Student Health and Counseling, you can stop by OHP if you need some chapstick, for a fun weekly "corner activity" like making a card for a friend, or if you want to play with a therapy dog. Therapy dogs (or SWA dogs) come to visit each week, with the schedule announced beforehand. 
Sayles is home to a lot of different activities, which is what makes it such a staple of student life. I love going there to get a package or a drink and stopping to chat with a friend before heading off to my next activity. It truly is a great space.
---
McKenna is a Russian and Psychology double major who is suffering from major Minnesota-withdrawal (her favorite season is, in fact, winter). On campus, she's often designing lights for a student performance, speaking Russian in Parish house, or grabbing a meal with friends. She's also a proud member of the Carleton Equestrian Team and is currently playing Witcher 3: Wild Hunt in her free time. Meet the other bloggers!