Spring Term Milestones, Pt. 2
In which Greta attends her friend's two senior comps presentations!
In which Greta attends her friend's two senior comps presentations!
---
Spring at Carleton is a time of new beginnings but also endings. Most seniors will be graduating after this term, which is so bittersweet! I've felt really fortunate this year to get to know more upperclass-people, and saying goodbye to new friends will be hard.
But first, I get to be a part of one wonderful pre-graduation ritual: the senior comps presentation!
Comps is a long-term project that all students must complete before graduation. For science and social science majors, this will likely be a research poster and paper; for humanities majors, it might be a long essay; for arts majors, it will probably be an extended creative work. Some majors also have the option of a colloquium comps, where a group of students read, discuss, and compose a course syllabus together.
Comps generally happen in the fall and winter of senior year, often in conjunction with a 300-level course. Spring is for the nerve-racking but celebratory part: presentations!
I'm learning that it's a tradition for seniors to send fun comps presentation email invites to their friends, classmates, and mentors. It's been so exciting receiving a few of these emails in my inbox this spring! Presentations are all online this year, but I've still enjoyed attending. And some of them have really cool in person components…
…like my friend Rebecca's two comps projects!
Rebecca is a wonderful human being and also a double American Studies and Music major. For her comps (compses? compss?), she did a colloquium project and composed a piece of music. As it happens, both had interactive components about grappling with the pandemic and both were installed in the Weitz Center for Creativity! I took a trip to visit them this week and…..wow.
Pandemic/Portal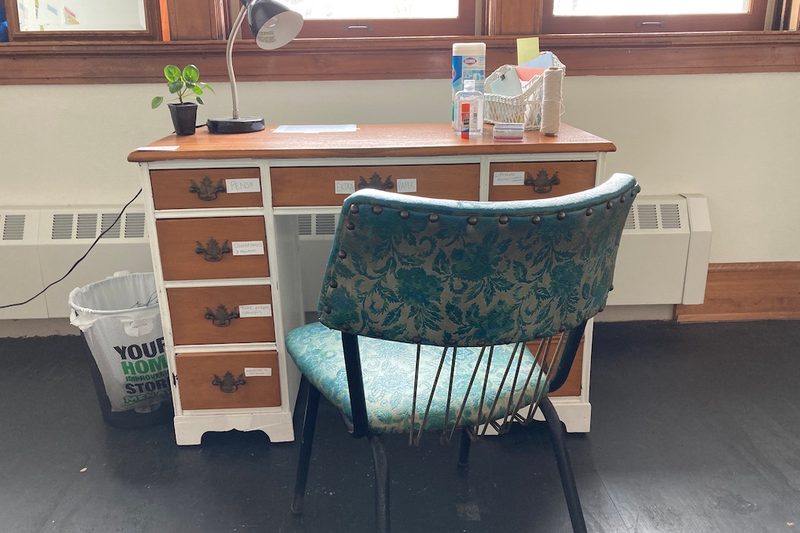 That's the name of Rebecca's American Studies comps. You walk into a room with the walls covered with prompts about pandemic experiences and text and art, and there's this adorable little desk to make your own creations. Here's a few of my favorite parts, with close-ups on what I added: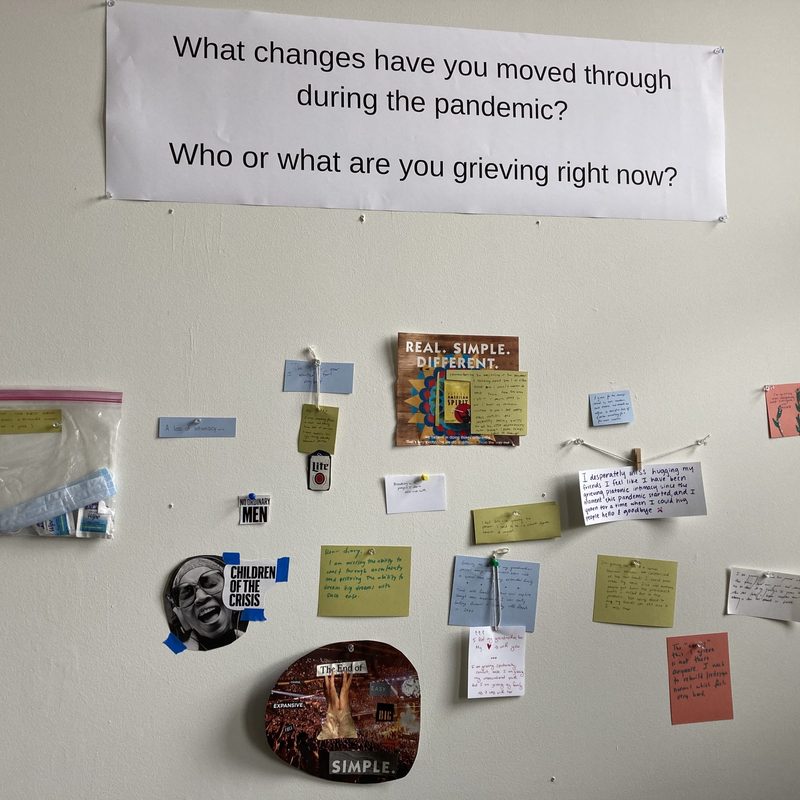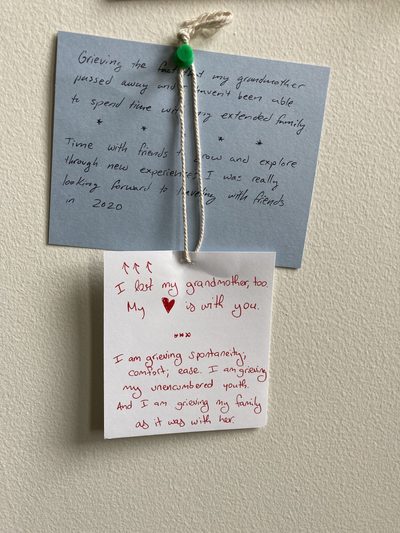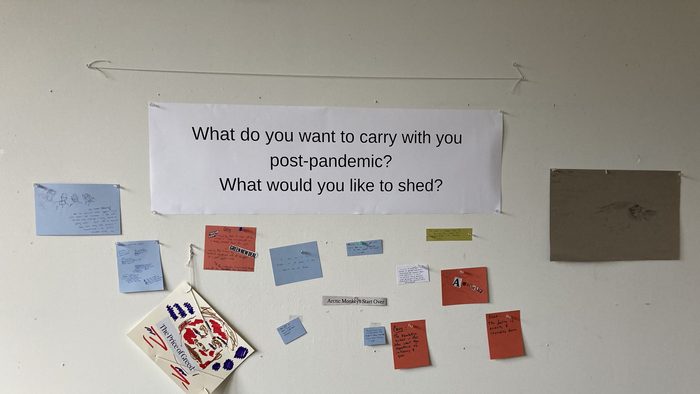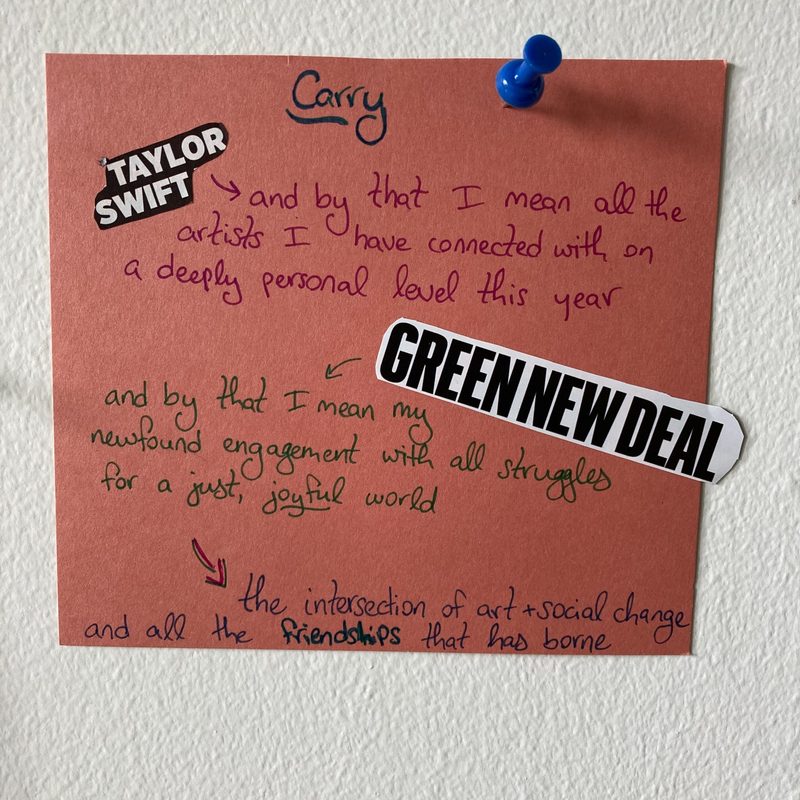 I absolutely loved having this opportunity to reflect and engage with other people who had visited the exhibition. It felt so personal and meaningful — such an example of using academics for social good. When I attended Rebecca and her three classmates' comps presentation, they described their hopes right along the same lines!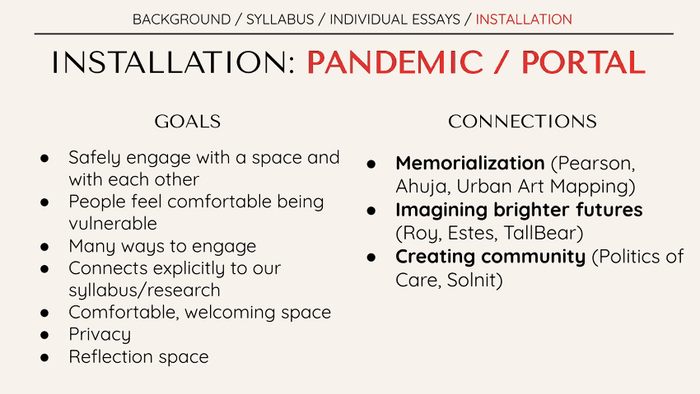 Better For It
That's the name of Rebecca's music comps. It's a piece that she wrote in homage to her grandfather, who passed away recently, and all the grieving that we've done (collectively and individually) during the pandemic. If you'd like to experience it, check out this video! The music is set to lovely old footage of her grandparents.
At Carleton, the piece was installed on repeat in a dimly lit room. I don't have any pictures because none would do it justice. I just went in and lay on the floor and listened to it and cried. It was that moving. Her music made me truly feel my own loss of my grandmother this year. It was an intense testament to the power of art.
I'm so proud of Rebecca for presenting two absolutely stunning projects to round out her senior year.
And to all of the seniors who are finishing comps projects — bravo, brava! I can tell that so many of you are personally invested in your research and creation, and it's such an inspiration. Thank you for proving the value of comps.
---
Greta is a sophomore and a proud Vermonter who loves the Minnesota prairie almost as much as the Green Mountains. She enjoys writing constantly, playing piano, and spending time outdoors. And eating lots of chocolate. She wants to learn everything, but she's a major in Latin American Studies and a minor in Creative Writing. Meet the other bloggers!