Something for your phone
Chi talks about the Carleton app that helps her find her ways around college life following her college-survival series.
Chi talks about the Carleton app that helps her find her ways around college life following her college-survival series.
---
Happy Finals, everyone!
I found it very hard to believe that it's already the last week, and that Winter Break officially starts next week. I am even more astonished that final weeks are not as hectic as final weeks back in Vietnam (yet). However, my roommate already had a fair share of me complaining about how I have 2 papers due on Monday, November 19th plus an exam from 7pm to 9pm. This has never happened before, but I am very excited for the exam.
(the rest is eh…)
I cannot believe that classes are already over. It's such a whirlwind trying to maneuver my way around college life, but I think I am getting a hang of it. Love it even, all thanks to the help of the unofficial mobile app for Carleton College Students called CARLS (and I'm not paid to do this, don't worry *winky face*). What I like about this app is that it is very convenient, with multiple functions and hyperlinks that help you with navigating around the various Carleton pages and websites, for it only include the most essential sections that a Carl might need throughout (insert proper pronouns here) college journey (and oh yeah, we are super WOKE about genders and identities). Not to mention the interface is super pretty and aesthetically pleasing.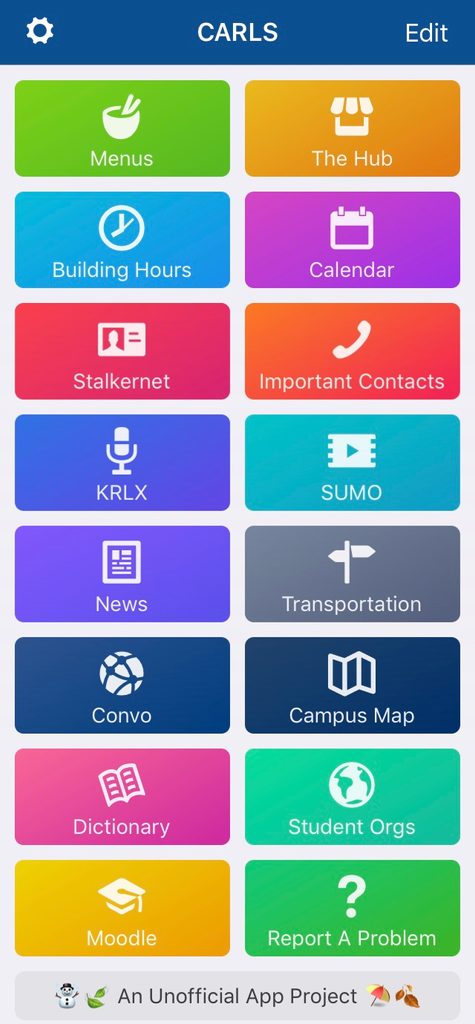 1. Menu
Having troubles deciding whether or not you should go to the Dining Hall for meals, but you don't want to go to the troubles of awkward: "Hey you going to the Dining Hall? Mind texting me what they are having?" or dragging yourself out of the cozy blanket to venture into the cold? Torn between the two dining halls or Sayles Cafe if you decide against cooking your own meal or ordering? Take a quick look at the MENUS section of the application!
Here, you can view all of the menus from the different dining halls and cafes, including Burton, LDC, Sayles Hill, Weitz Center (with a very classy wine glass icon) and even St. Olaf! Oh yeah, we care about what our neighbour is having for brunch alright?
2. The Hub
This section acts like a hyperlink, basically directing you to the website without having to go through the trouble of visiting the LANDING PAGE first. For me, it is a bliss because now I can save my time and a lot of effort.
3. Building Hours
Oh gosh, you have a 6a class and you are afraid that the post office might close down before you get out of class, thus stripping you of the ability to receive that particular package that you have been waiting for since forever and thus, keeping you up at night in suspense? No worries, for BUILDING HOURS is here to provide you with all of the hours of operations of all the halls, offices, buildings, etc. I myself profit from this a whole lot for I manage to build my daily schedule around it. (this is how I know when to show up at Burton Dining Hall in order to claim seats.)
All of the buildings in this section are categorised nicely, leaving you with little to no trouble to locate the building hours that you need.
4. Calendar
Worrying about the cool upcoming International Relations and International Affairs Graduate School Fair that people have been talking about but without any mentionings of time and place? Fear not, cause CALENDAR is here to back you up!
Facts have shown that this wonderful little thing accounts for everything that might happen any day, from German Lunch Table in the LDC Dining Hall to Write-In Jerry Brown to Thanksgiving! You will never miss out on any cool events anymore. CALENDAR will point out to you exactly where to go and when to go.
5. Stalkernet
Ah, everyone's favourite: STALKERNET. Seriously, this is the perfect tool for the people looking to set up their roommates with potential students from around the campus. All you needs is a name (doesn't matter which one, first, last, same thing — make sure that it is spelt correctly though), and STALKERNET will spit out everything, from the phone number and home address (should the students choose to display them, of course!!), to the residential hall, room number and major. Pretty cool, right? You can dig up more information about a person on STALKERNET (provided that they attend Carleton College, as a matter of fact) than on Facebook.
6. Important Contacts:
Like the name suggests, this comprises of the important numbers that you might need while staying on campus, including the security number, HOPE Center, CAASHA (Campus Advocates Against Sexual Harassment and Assault — oh yeah, we LOVE abbreviation), and so on so forth. Personally, I have been managing myself pretty well for the past 9 weeks, so I have never found myself in a situation where I have to use one of those numbers. But it is super helpful, because you would not have to go through the troubles of looking the numbers up online (though I kinda wish they add the emails and numbers of the other offices as well.)
7. KRLX
Here we go!! Carleton's own personal radio. This is where you can listen to Carleton's radio (without having to look it up). Again, personally, I have never listened to the radio, so I will leave the judgment to you.
8. SUMO
No, it's not watching the Japanese wrestlers wrestling (it'd be pretty cool though). But no, SUMO stands for Student Union Movie Organization. And they are really awesome. I went to one of their screenings (Incredibles 2), and I had a lot of fun watching outdoors.
SUMO is the section of the app where you can view all of the schedules for screenings (movie, time, place).
9. News
Basically everything that is going on around the campus. If you are too lazy to read the (extremely helpful) weekly campus announcement emails, you can always look up the events in NEWS. It's basically CALENDAR, but more focused on the more relatable events.
10. Transportation
FINALLY, my favourite. Want to go to Target? Or Cub Foods? Or the Cinema?
TRANSPORTATION is the place for you.
Seriously. Check the schedule and wait for the bus in front of Willis Hall. This is one of the most useful sections of this app in my personal opinion (besides MENUS and CAMPUS MAP).
11. Convo
Ah yes, Carleton's Convocations. The one and only explanation for the weird schedule every Friday. But hey, to each his own.
This part of the app let you know the exact time and date of the Convocations (which is basically every other Friday at the Chapel anyway) and the people who are going to talk at the convocations. I personally adored the speech by Professor Hagstrom. Absolute master (refer to my old blogpost on printmaking to see my utter adoration for him).
12. Campus Map
Carleton is a small liberal art college sitting on a HUGE plot of land. You will definitely need a map to navigate around (at first, and then you will get used to it and stick to your own little established territory — which, in my case, is Musser-Burton-Sayles-Libe-CMC-Boliou and that's where my little plot of land ends) and CAMPUS MAP is the best tool at hand. No need for Google Map or Map on iPhone because seriously I tried using them once and I got terribly lost. I had to pull up a pdf version of the school map to see where I was at (this happened before I got the CARLS app, of course, shame on me).
13. Dictionary
Did I say that we ADORE abbreviations? Because we truly do (A&I, SHAC, ACT, KRLX, LDC, CMC, Convo, Libe, TRIO/SSS — like seriously, look at them!! You name it!). I was so confused at first when I encountered the abbreviations, and seriously? DICTIONARY really saved my life.
14. Student Orgs
Looking to join a club/organisation? Then tune in to STUDENT ORGS. We have a long list (prolly longer than your toilet paper roll) of all of the organisations at Carleton. Alphabetically organised, very descriptive.
15. Moodle
Last but not least, the think you will be using the most: MOODLE. Moodle is like a legend around here already. This is where you will interact with your professors the most outside of Office Hours or in class, because you will be browsing through homework, submitting homework or just reading through announcements here. It is a required thing already, so there is no way around it. So using the "hyperlink" on CARLS will really help saving your time, honestly.
---
Chi is a self-proclaimed insomniac freshman zombie that always complain about not getting enough sleep, even though she deliberately goes to bed at 2am and wakes up spontaneously at 6am thanks to her roommate's closet door. She constantly talks (obsessively) about how much she yearns to major in Chemistry and German, yet she's starting to eye the awesome dark art that is called Geology with much desire. Meet the other bloggers!