"Shopping" for Winter
Chisom talks about the Winter Wardrobe.
Chisom talks about the Winter Wardrobe.
---
To finish off the term, I am going to talk about the Winter Wardrobe. If you have read my previous post, you know that winter is coming. As someone who had never seen "real" snow until I came to Minnesota, I was definitely not prepared with my not-thick-enough jackets and long-sleeved shirts when I came to Carleton two years ago.
What is the Winter Wardrobe?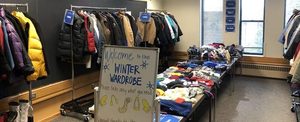 The Winter Wardrobe, run by the Student Activities Office (SAO), is a program which helps students get clothes for the upcoming winter. Early in the term, they ask for donations (a.k.a. wardrobe drive) from the Carleton community in order to collect a number and variety of wintery clothes. The program then runs for about a week, during which students are able to go to Upper Sayles and pick winter jackets, sweaters, shoes, gloves, hats, and the like. You don't have to pay for the clothes that you get from Winter Wardrobe, which helped me a lot financially.
My Experience
Not gonna lie, I've gone there every year since I've been at Carleton. Winter Wardrobe started in the fall of my freshman year, so imagine my relief when a program like this came around. Coming from the South, I had no idea what real snow was like and I was nervous about not having the right jackets. I had the shoes for the snow, but I needed clothes to keep my upper body warm.
Well, thanks to the Winter Wardrobe, my worries are gone! To be completely honest, I have become dependent on the Winter Wardrobe. I go every year and I find new jackets that fit me. I also return items that either didn't fit me or that I never really wore, so that other Carleton students could use them.
To Low-Income Students and Southerners:
Low-Income Students
If you are in need of winter gear, don't worry! The Winter Wardrobe is here to help! Don't worry too much about the upcoming winter and the cold weather because you are able to suit up through the Winter Wardrobe. They've got your back!
Southerners
Don't freak out too much when you experience five-degree weather for the first time, because the Winter Wardrobe will be there to support you! They have a great variety of items that you can choose from and they are all really comfy. It will take some time to get used to bundling up in two, three, or four layers, but know that the Winter Wardrobe has got you covered (literally!).
---
Chisom is a junior Computer Science major, prospective Japanese and Educational Studies minor from Houston, TX, and Little Rock, AR. While struggling through classes, Chisom sends out weekly emails to the Anime Club (since she's the president), listens to KPOP, and takes pictures around campus (especially during the fall). Chisom enjoys hanging out with her friends, learning about other cultures, and crafting. Meet the other bloggers!