Residential Living: The Basics of Dorm Life
Questions about dorm living as an incoming first year? Kelly, the former RA for 5th Watson, gives an overview of the basics of what to expect from dorm living.
Questions about dorm living as an incoming first year? Kelly, the former RA for 5th Watson, gives an overview of the basics of what to expect from dorm living.
---
Residential Living: The Basics of Dorm Life
As a Resident Assistant (RA), I love talking about all things Residential Life (ResLife) and community building. The following is a brief overview of the basics of what to expect from living at Carleton, especially during your first year. Part two to come with more on community building within your residential community (like I said, I love talking about ResLife, so I could not fit it all into one post!).
How do I know where to live my first year?
Luckily, Carleton makes the process of choosing where to live your first year very simple – by choosing for you!
All first years are placed in one of the eleven dorms on campus. Most dorms host first years through seniors, but as a first year you can be placed in Burton, Cassat, Goodhue, Musser, Myers, Nourse, or Watson. Other housing options for sophomores through seniors include on campus interest houses and townhouses (townhouses are typically just seniors). A small portion of seniors live in Northfield option housing off campus, though these houses are still in super close proximity to campus.
Carleton is a residential campus, and 90% (though it feels like 99%) of students live in campus housing. The remaining 10% live in Northfield option housing, which includes apartments and houses within walking distance of Carleton. I am currently living in an off campus house for the summer and I can see the Weitz Center for Creativity from my front yard, so even those living off campus are immersed in our welcoming and communal campus culture.
It is important to note that all on campus housing costs the same, which means that all students have equal opportunity to live anywhere.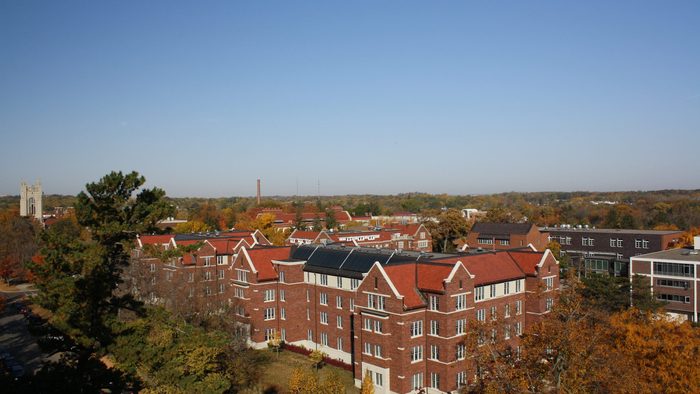 The view of Cassat, James, and Meyers dorm buildings from Watson, the building I lived in this past year. Watson is the tallest residential building on campus with seven floors and beautiful views of campus from the upper floors.
Roommates as a first year
Incoming first years are asked to fill out a form listing their preferences and interests, such as when they go to bed or what they are looking for in a roommate. From this form, the Carleton ResLife staff pairs you with another first year (sometimes two!) who they think you will live well with. This process works well, and many people end up living with their first year roommates for their sophomore year and beyond.
I really appreciated this process because it meant I did not have to spend hours combing through Facebook pages to find a roommate. With all of the stressors of Senior year of high school and starting college, I found it to be a relief that Carleton made this difficult decision for me.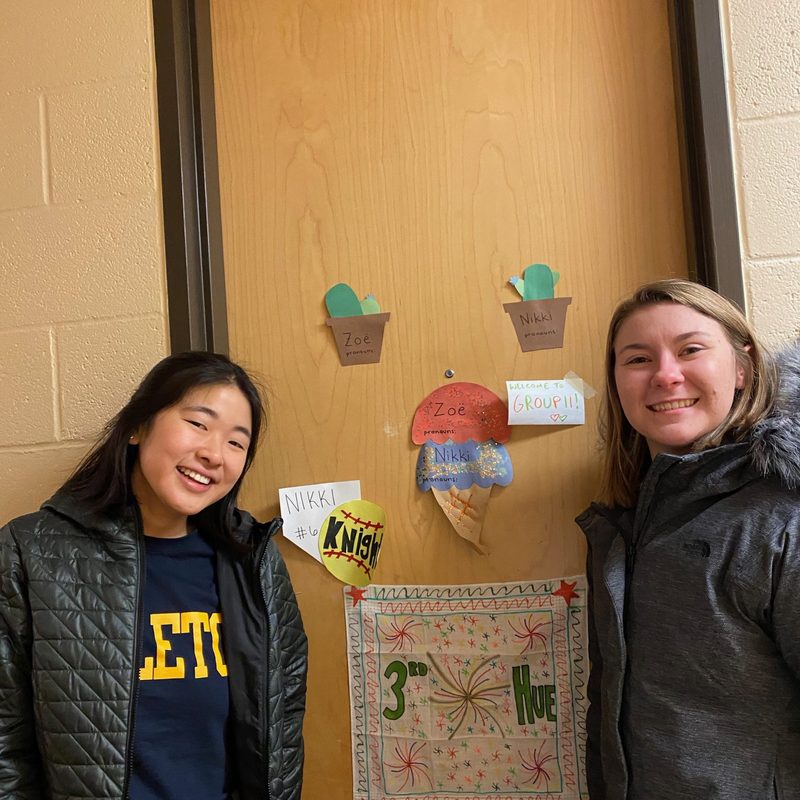 My friends, Zoë and Nikki pose outside of their first year dorm room on third Goodhue. Zoë and Nikki chose to room together their sophomore year and both studied abroad in Copenhagen as well!
Additional things to know
Laundry is free and available in every dorm building. It is usually not difficult to find a time to put your laundry in and the washers and dryers all work well.
The bathrooms and floor are cleaned by Carleton Custodial staff. This means there is always toilet paper and paper towels on the floor. However, Carleton students embody the "Carls help Carls" mentality, and help to ensure the living environment is clean and tidy. You are responsible for cleaning your own dorm room and cleaning up after yourself. There are cleaning supplies available in the hall closet, and the RA (Residential Assistant) provides dish soap in the kitchen.
On weekend evenings, RAs take turns walking through and around the residential buildings to ensure that everyone is safe. Carleton Security also does rounds on the weekend and throughout the week to make sure all residents are safe.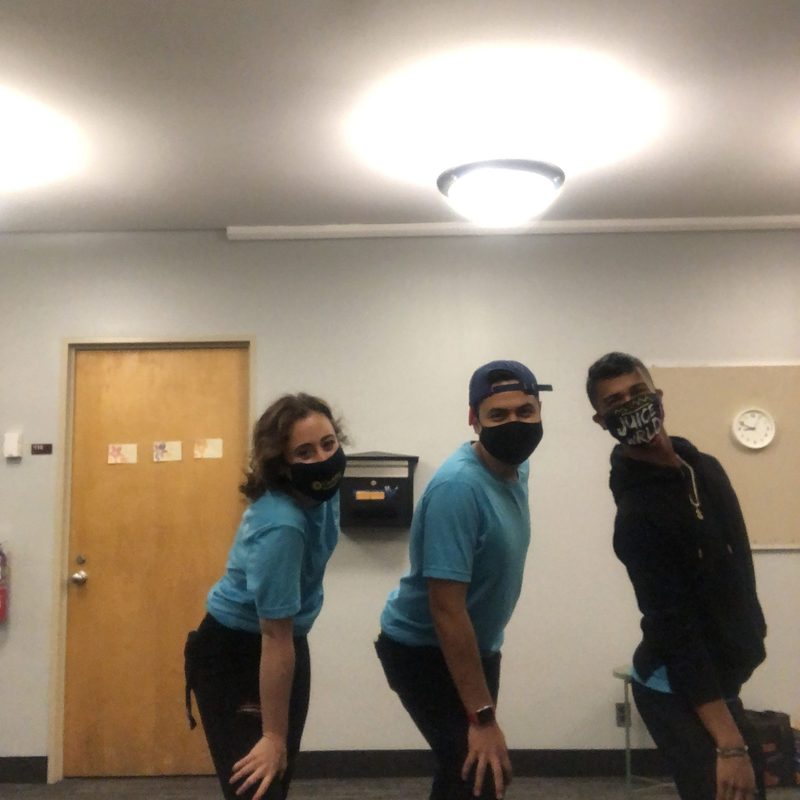 Myself, Carlos '22 RA of third Myers, and Sammy '23 RA of fourth Watson take a silly photo on first Watson as we wait for residents to arrive on move in day Fall '20. I lofted more beds than I ever hoped to in my entire life that day. The RAs are a great and welcoming resource for all Carleton students to go to for support.
What to bring with you
The ResLife office produced this list of what Carleton provides and what you should bring. Additional items that I found helpful:
Full length mirror (though most dorms have these in the hallways)
Desk lamp
A fan
A bedside storage caddy
Bathroom items:
Shower shoes (flip flops)
Bathrobe
Shower caddy
Miscellaneous:
Pictures or decorations
Something that reminds you of home/family/friends (I brought my stuffed bear!)
Command strips/hooks
What you do not need to bring:
A vacuum (there is one on the floor)
Too much stuff (I learned this the hard way – don't do it! The rooms are all rather large, so everything fits, but moving out will be a pain for you and your friends helping you move out)
Too much food – all first years start on the 20 meal plan, so having access to food is not an issue and ends up going bad in the fridge if people are not careful.
Stay tuned for Part Two of this blog sequence, Residential Living: Forming a Community coming soon!
---
Kelly (she/hers) is a rising Junior at Carleton, where she is a Psychology major. Kelly considers Northfield her home as she is spending the summer here as an Admissions Fellow, but originally hails from Downers Grove, IL, a suburb of Chicago. Outside of the classroom Kelly enjoys working as a Resident Assistant, leading the Womxn's Club Soccer team, playing the cello in the Carleton Orchestra, and hanging out with 9 year old buddy through Project Friendship. Meet the other Bloggers!