Readings, Music, and More
Chase has plenty of readings and finals to prep for in his classes, but maintains his work-life balance with a little music.
Chase has plenty of readings and finals to prep for in his classes, but maintains his work-life balance with a little music.
---
Readings
This week has been thankfully not as overwhelming in terms of the reading load. For my Japanese religion class I have about 45+ pages of reading per meeting although some of them are a bit more dense due to their occasionally more philosophical nature. For data science I have around 20+ pages which doesn't seem like much but it involves a lot of going through the example R code line by line or looking carefully at the graphs. Compared to a lot of other students my reading load is rather light. I have a history major friend who has upwards of 150+ pages per class a week!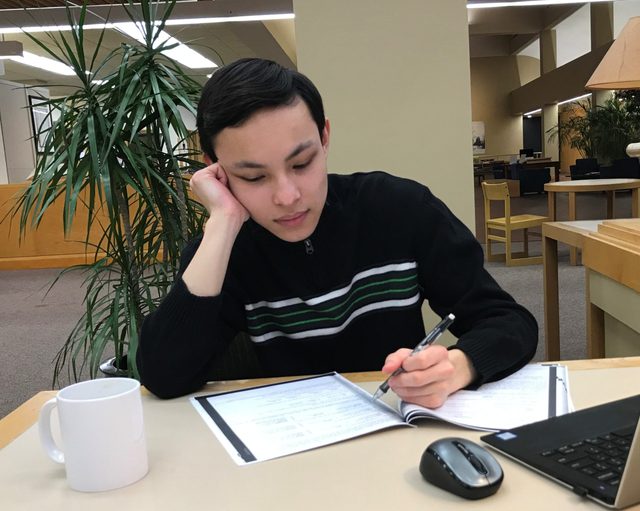 Back when I was a bright-eyed and energetic freshman, I used to have the motivation to do readings while exercising on the stationary bicycles. Times have changed and I usually do my readings in the library.
Music

When I'm not doing my homework or when I'm on the move between work shifts, classes, meals, and meetings, I get to take a "break" and listen to music. My recent favorites include an eclectic mix of the following, arranged chronologically:
"L-O-V-E" by Nat King Cole (1964) – cycling through Northfield makes me feel like I'm in another time, so might as well play a relaxing, jazzy song to go along with the nostalgic feeling


"Rainy Days and Mondays" by the Carpenters (1971) – captures the feelings I have for those mornings when I think it's a Friday but turns out it's a Monday

"Don't Stop Me Now" by Queen (1978) – helps motivate me to get places on time when I'm biking

"Love on Top" by Beyoncé (2011) – #1 pick for my own personal "songs to sing in the shower" playlist, to the chagrin of my floormates (s/o to Maddy '21, the freshman on my floor who got me addicted to this song)

"Move" by Taemin (2017) – gotta keep a little K-pop in my life plus the

dance

is cool

"All the Stars" by Kendrick Lamar and SZA (2018) – not sure why I listen to it so much, but I like the vibe and it makes me want to see

Black Panther
More
The term's end is coming up! Can't say I'm not excited, but it'll definitely be different. I have a presentation and a final exam for my religion class, a final group project for data science, and a graded performance of "出水莲" ("Lotus Flowers Emerging from Water") for my guzheng lessons. I also have a "final" this Wednesday for my hip-hop dance class in which students perform the choreo we've learned for Kendrick Lamar's "Humble" for our student instructors.
---
Chase is a junior linguistics major and is more than glad to exchange the year-round California heat for some Minnesota seasonality. In his free time, he enjoys directing K-pop dances for Karl-Pop, playing guzheng, and cycling around Northfield. When Chase doesn't have free time, which is often, he'll be in the libe or Sayles with a cup (or cups) of chai tea in hand.