Rating my Cold-Weather Gear
Ren discusses the best winter gear to get through Minnesota winters.
Ren discusses the best winter gear to get through Minnesota winters.
---
Winter in Minnesota can be daunting: here's a list (and rating) of all the cold-weather gear that keeps me warm!
My long blue coat from Eddie Bauer: 10/10 – keeps me very warm and was well worth the investment. This coat comes equipped with…
a warm, fuzzy inside
a removable hood (although I almost always use it)
lots of big pockets
And comes down past my knees so my legs don't freeze!
Cold weather tip: buy a good coat a size or two too big—this way, you can comfortably fit more layers underneath.
Gloves I got at the dollar section of Target last year: 8/10
These are perfect for warmer days and for being a base layer to mittens on cold days!
Mittens I also got from Target: 7/10
The perfect outer layer to my one-dollar gloves! I had to rate these lower only because I bought them in white and they are no longer white… I drink coffee every morning, okay?!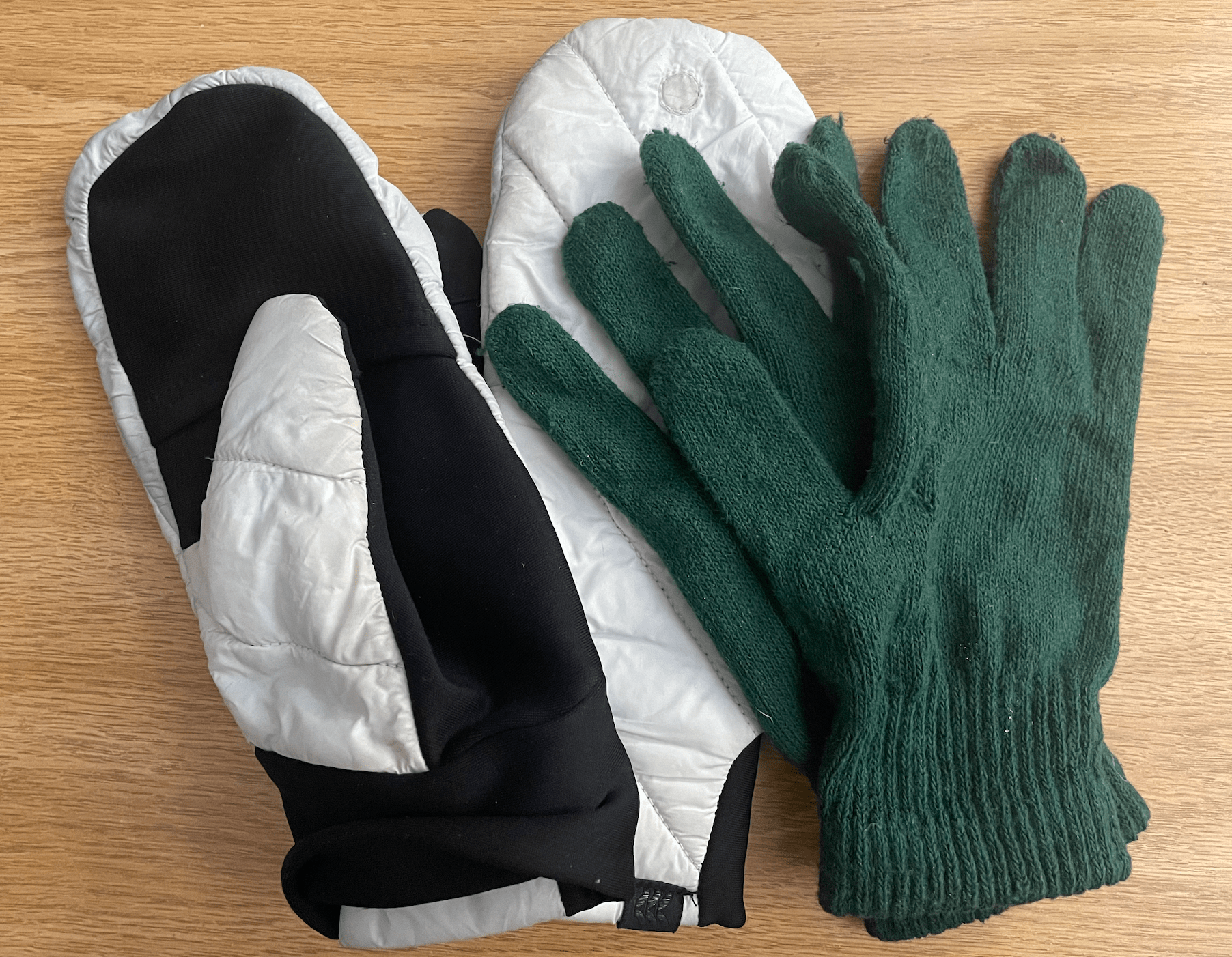 Merino base layer undershirt and leggings set: 4/10
Don't get me wrong, something like this will definitely keep you very warm! But, I don't like how wool feels on my skin, so I don't wear them a lot.
They're warm, soft, and made of a slick material that stretches and doesn't rub against my skin or on outer layers. They are also significantly less expensive.
Cold weather tip 2: whenever possible, invest in a good base layer! Though it's not absolutely necessary—I often wear a normal long-sleeved shirt and leggings under my clothes in the winter—they're very helpful to have, especially on very cold days. Currently, I own two of these thermal shirts from target and one really nice pair of thermal leggings.
Warm socks: 10/10 – I feel like this one is self-explanatory!
I love socks! More! More!
My family always gets me cozy socks for Christmas now, and I love them for it!
My scarf: 9/10 
This scarf has gotten me through every cold day for the past three years. It's soft, warm, and most importantly, very big (long and wide). This makes it easy and comfortable to wrap around my neck and face. I think I also got it at Target… this post is becoming an ad!
Cold weather tip 3: when it is very cold (below zero) it's usually necessary to have something that covers most of your face. Whether this means having a good scarf that covers your nose, a cold weather mask, or a Covid mask (what I used my first two years here!) it's important to cover as much skin as possible!
My Carleton hat: 20/10
It says Carleton on it! School pride, WHOO! Like my scarf, I wear this hat (one of my other Carleton ones, I have about eight at this point) every day.
My snow boots: 6/10
My snow boots are fantastic, but I had to rate them lower because I rarely use them. Though they're definitely good to have, I generally wear Doc Martins or my knock-off Timbs. Any long boot that is water-resistant is good! Most of the time, I don't have to walk through straight-up snow, so I mostly wear boots for warmth. Paired with a sock or two, they're perfect.
And now for two important disclaimers:
Firstly: this stuff is expensive! And, it can be hard to find if you're shopping in the South (like I was) because it can be hard to find Minnesota-warm clothes there.
To ensure that every Carl has warm clothes, Carleton offers the Winter Wardrobe program which runs at the end of fall term and the beginning of winter term. Everything at the Winter Wardrobe is completely free and available to all students. Throughout the year, our Student Activities Office collects donations from students, staff, and faculty—there's always a good amount of quality winter clothes here, including nice winter coats, boots, and homemade hats from a knitter in the community.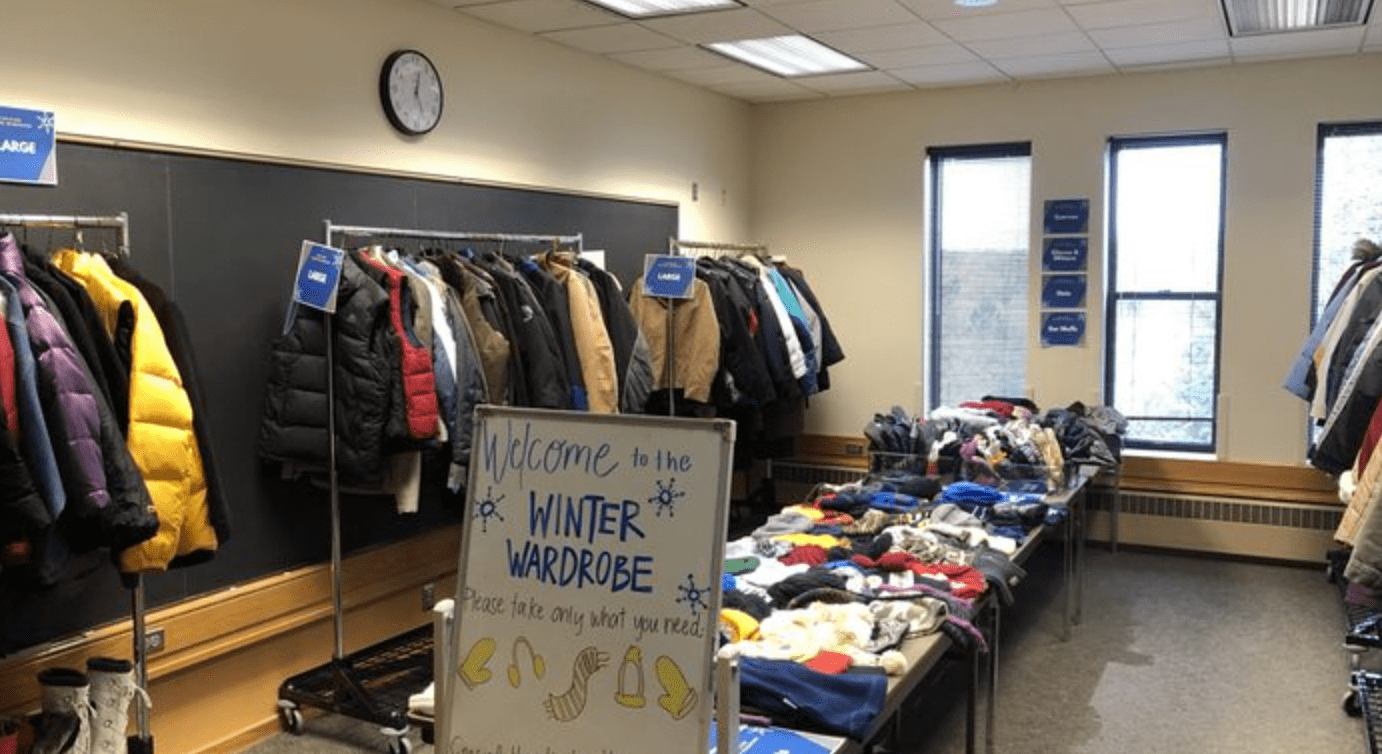 If you're still struggling to get ahold of warm enough clothes, you can check in with other resources on campus like the Emergency Fund that runs through the Dean's Office and Carleton's student-run Mutual Aid program.
No matter what, if you come to Carleton, you will not go cold.
And finally…
It definitely gets better! I come from the South and was terrified that I'd be freezing all the time. But, I just defrosted my car in shorts (because it's a swelteringly warm day at 23 degrees). While I don't exactly recommend doing this, know that you will get used to the cold!
---
Ren (they/them) grew up catching salamanders, recklessly climbing trees, and running around barefoot in the Appalachian Mountains in a small town in North Carolina. They are a junior double major in Art History and Studio Art, and love spending time in the arb, Sayles Hill Campus Center, and the Weitz Center for Creativity. Ren is the co-president of Carleton's QuestBridge chapter and works with other equity programs on campus.