Ode to Food: Carleton's Dining Hall Experience
Joe discusses food options at Carleton and provides an overview of the 2 dining halls.
Joe discusses food options at Carleton and provides an overview of the 2 dining halls.
---
Food at Carleton
During my college application processes, I was starry-eyed as I toured renovated buildings, learned about top-notch education, and saw the dorms where I could live over the next 4 years. But one thing was always in the back of my mind: the food. I was worried about no longer having home-cooked meals and was wary of college food's reputation. However, upon arriving at Carleton, I was pleasantly surprised with the food I encountered. 
On campus, we have two dining halls: the Language and Dining Center (LDC) and Burton Dining Hall. In addition to these dining halls, we have three cafes across campus where you can spend dining dollars. If you are craving some off-campus food, Carls can also spend Schillers (funds loaded onto your student account) at certain restaurants around Northfield. For now, let's jump into the nitty-gritty of the dining halls at Carleton. 
Burton vs. LDC: A Tale as Old as Time
One of the liveliest debates at Carleton is which dining hall is superior: LDC or Burton. There are some commonalities between the two, however. Both offer a salad bar, dessert station, and pizza station every day. The delectable desserts are a hidden gem when it comes to Carleton dining! However, beyond these, there are certain features which make each dining hall unique. 
LDC: A Sleek, Chic, Modern Dining Option
LDC, or the Language and Dining Center, is located on East Campus near the Mini Bald Spot. Also home to the language departments, LDC has a very open dining space, and gives off more of a cafeteria feel. With plenty of natural lighting, this is the perfect place to grab a scenic lunch with a friend. There are many food stations at LDC, including:
Chopsticks and Wok

: The first station you see as you enter LDC, Chopsticks and Wok has a variety of Asian dishes, often serving stir fry, curries, or some sort of noodle dish. They also serve white and brown rice every day. 

Cucina

: Regularly serving hearty foods, Cucina always offers pasta alongside other entrees. 

American Regional

: This station offers chicken, sautéed vegetables, and French fries every day, but they have a variety of sandwiches or meat dishes depending on what chef works that day. One of my favorite meals here is the chicken tequila sandwich with a side of tater tots—so good!

Wild Thymes

: Here is your one-stop shop for vegan and vegetarian food. Check out Zoë's blog for a rundown of vegan options on campus! Wild Thymes always has some inventive offerings, ranging from couscous salad to roasted eggplant to polenta lasagna. Everything they offer is vegan, and while I tend towards omnivorism, I always pick up something from here. 
Burton: A Cozy Corner for Campus Dining
Across campus, we have Burton Hall, our second dining hall closer to the main campus quad called the Bald Spot. Burton is much more of a cozy dining area. Located in the basement of the Burton residential hall, West campus dining is a more intimate option for your meals. I had weekly meals here with my friend group this past year, but also would trek across campus after my morning classes to grab a solo breakfast. The food stations at Burton include: 
Nourish

: This station will typically serve vegetables, fish, and some sort of grain. I love the lasagna they have to offer.

Grill

: Comparable to American Regional, this station regularly offers chicken, burgers, fries, and sometimes other savory meat options. I recommend their quesadillas!

Global Fare

: Global Fare frequently explores foods from different countries and cultures. This past year, they had a week dedicated to pineapple in different dishes, and I was soooooo here for it!

Pasta

: This one is pretty self explanatory. My favorite meal at this station? A bit of a toss up, but I'll have to go with the pasta. 
The dining halls are generally comparable in terms of type of food as well as quality. However, I must say I prefer to eat at Burton. I love the walk over from Myers Hall, my former dorm, as well as the tranquility of sipping on a coffee on a Sunday morning, pretending that there isn't homework to do. My friends and I frequently debate which dining hall is superior, but at the end of the day I'm happy with the food offerings at Carleton. If there's a particular recipe from home that you miss, you can submit a request to Bon Appetit (our dining services company) to make that recipe, and you may find it in the dining halls the next time you grab a meal!
Also important to note: we have 3 campus cafes as well! Though I didn't touch on them in this blog post, they are another popular option for meals and snacks throughout the day. Below is a photo of a delicious falafel bowl that I purchased from Sayles.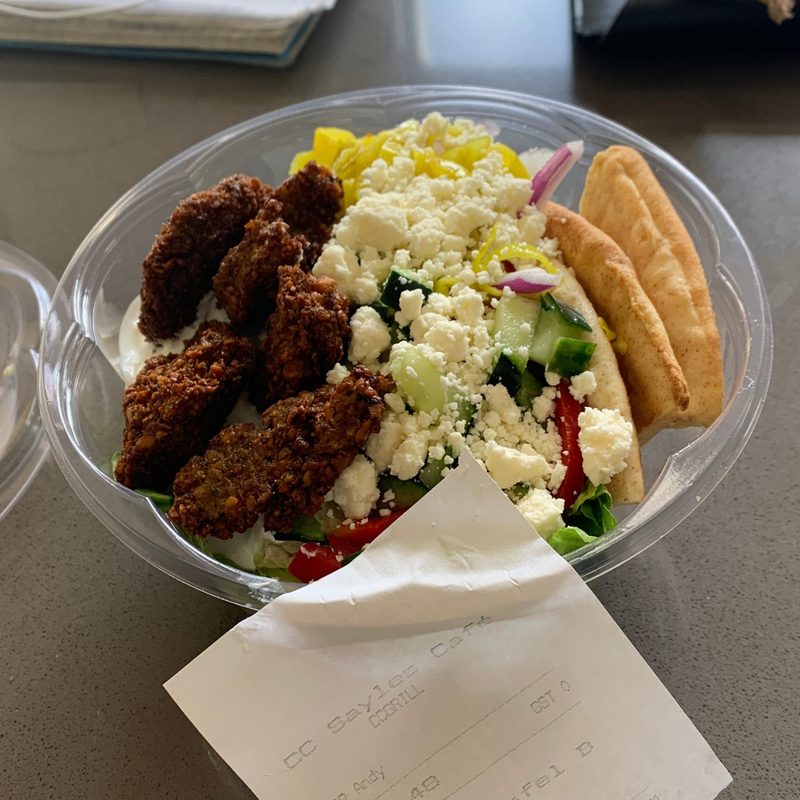 To sum it up, I have enjoyed my dining hall experience. Eating meals are the highlight of my day, and I love trying new things and meeting the staff and student workers whenever I go to the dining halls. I'm grateful for my food experience at Carleton and everything they have to offer!
---
Joe is a rising junior at Carleton from Chicago, IL. They plan on majoring in either Sociology/Anthropology or Computer Science, and enjoys studying public health, Spanish, and gender and sexuality. Outside of class, Joe is an RA on campus, and you can find them singing in Exit 69 A Cappella, doing makeup in their room, or drinking excessive amounts of coffee in Sayles. Meet the other Bloggers!