My Week In DC
Jacob enjoyed presenting his research at the AGU Fall Meeting in Washington, D.C. over winter break.
Jacob enjoyed presenting his research at the AGU Fall Meeting in Washington, D.C. over winter break.
---
Before winter break I wrote about my plans to go to Penn State and Washington, D.C. to present the research I completed over the summer. I am happy to report that the conference, AGU Fall Meeting, went great and I had a wonderful experience there!
I arrived in Washington, D.C. the weekend before the conference. I stayed with a friend at George Washington University one night, and with my Carleton housemate Saul the next night at his house in Bethesda, Maryland. Another Carleton friend, Austin, went to the same conference and stayed with Saul as well. On Sunday night, we had a Chanukah party at Saul's house with many present and past GoP players. It was a blast to see former teammates and friends and to hear about their lives post-Carleton!
I knew that the conference would be a bit overwhelming, but I was not quite prepared when we arrived at the convention center on Monday morning. Over 28,000 scientists, students, and other attendees filled the convention center and the hotel next-door. The sheer number of people was astounding, and the quantity of research was incredible too. Each day researchers presented over 3,000 posters, all while other researchers were giving oral presentations in rooms spread across the huge convention space. It was impossible to decide where to go and what to see. So much research sounded interesting, but we had to pick and choose which presentations to attend.
Over the course of the week, I lost track of how many posters and presentations I went to. I learned about ocean circulation, climate dynamics, geology, and paleoclimatology, among other topics. I also spent time in the Exhibition Hall, where organizations like NASA, Google, NOAA, and various universities and scientific instrument companies advertised their goods, services, and academic programs. I visited many booths that gave out free souvenirs such as stickers and keychains, but I also focused on universities with graduate programs I am interested in. I met a few professors over lunch and through connections who invited me to check out their programs, so I visited those booths when I had time.
On Thursday afternoon, I had the opportunity to present my own poster. My poster's location was almost too ideal, as I was in the exact center of the poster hall, facing an open space with a lot of foot traffic. While I was nervous to present my research to people who had been conducting similar research for far longer, it turned out to be pretty fun! Many people who just happened to walk by decided to stop and listen to my short presentation. Besides getting the experience of explaining my work, I received valuable feedback about my presentation and my research, including good ideas for future work.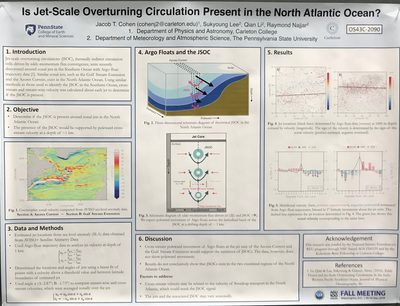 My short trip to Washington, D.C. was a great way to spend a week of winter break. I learned so much about the topics I hope to study and research in the future, and had a wonderful opportunity to present my summer project. I look forward to attending conferences in the future to present new research!
---
Jacob is a senior physics major interested in climate science and oceanography. Jacob enjoys eating, sleeping, and hanging out with friends — the simple things in life. At Carleton, Jacob works in the physics department and captains the Gods of Plastic, Carleton's nationally competitive Division III men's ultimate team. Meet the other bloggers!