My Parisian Summer (Part 2)
In a previous blog post, I shared about my summer study abroad experience at Sciences Po. In this blog, I'm sharing some of the most unforgettable moments when I was…
In a previous blog post, I shared about my summer study abroad experience at Sciences Po. In this blog, I'm sharing some of the most unforgettable moments when I was…
---
In a previous blog post, I shared about my summer study abroad experience at Sciences Po. In this blog, I'm sharing some of the most unforgettable moments when I was in Paris, hopefully encouraging you to consider an off-campus study program while you're at Carleton!
La Fête de la Musique (The Festival of Music)
If you ask Parisians where the performances would be, they would tell you that they were everywhere. Walking along the Seine River, I watched all types of bands. Seeing pedestrians dancing to the music in circles, I wondered what could possibly be better than seeing the art being respected, embraced, and celebrated.
Le Jour de la Bastille (The National Day)
I woke up early and joined the crowd to get a viewing spot for the military parade on Champs-Élysées. Hundreds of soldiers and armored vehicles passed by, and military aircraft and helicopters flew right above our heads. The fireworks we saw launched from the Eiffel Tower was the most outstanding firework show I've seen in my life.
Soccer Match at Parc de Prince
Sitting fifty meters away from Messi, Neymar, and Mbappé just added to my Paris summer dream. Ici c'est Paris. Paris est magique.
More Paris Highlights
I love the numerous museums there: the royal corridors of the Louvres, the rose window of Notre Dame. I can feel the art diffusing through every corner of the city. I saw the Seine River that flows through the city, reflecting domes in the day and the Eiffel tower's glaring light at night. I love the numerous boulangeries along the street, where croissants and baguettes originated and gradually became the symbols of France. I had picnics in the park and watched pigeons and there were even peacocks around. I love late dinner at 9 pm, sitting in an exquisite café that faces the street, and chatting with friends until midnight.
I particularly adore the rectangular trees on the sides of Champs-Elysée, which are so orderly and neat, combining great dignity and vitality. I love watching the red and gray sky above the rooftop darkening and Parisians hastening home for dinner. Everyone I met in Paris loved the city because of its elegance and happiness.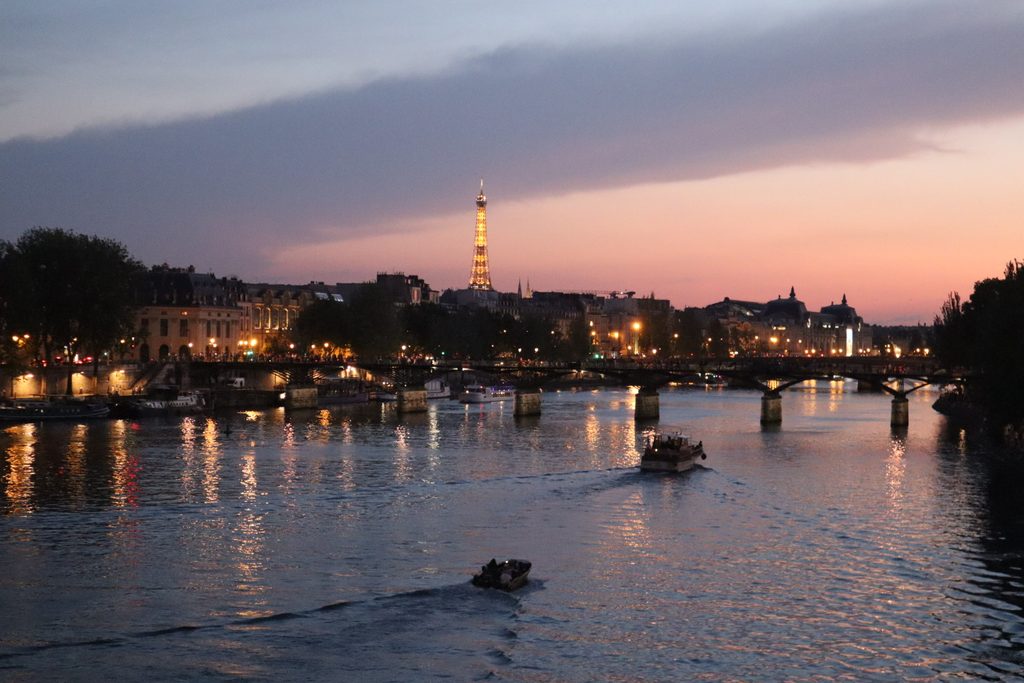 ---
Sherry is a sophomore from Hangzhou, China, and holds a real passion for travel and food. She is thinking about majoring in Mathematics, but would also like to explore more in Economics, English, and French. Things she likes to do in her free time include hanging out with friends, taking photos, writing random stuff, and finding the funny in everyday life. She also got started with alpine skiing and is always ready for the trip to Welch Village every Friday! Meet the other bloggers!