My Fall in Photos!
A scroll through the best of Kai's camera roll gives a look into a great Fall Term!
A scroll through the best of Kai's camera roll gives a look into a great Fall Term!
---
What a term it has been. Coming back to campus this fall, I was among the many excited to experience "normal" campus life. It didn't disappoint. How to describe it: exciting, busy, fun, challenging, intellectually stimulating, etc. Ultimately, I can't fully sum up my fall, so I'll just have to leave y'all with some of my favorite pictures from an amazing term. I hope it gives you a glimpse of our beautiful campus and offers insight into campus life.
Scenes of Campus
I am no photographer, but there are times where I pull out my phone to take a pic of the scenery around campus. The above photo is one example. We had early morning team lifts this term, which made waking up on Tuesdays and Thursdays tough. But it also came with perks like enjoying the sunrises.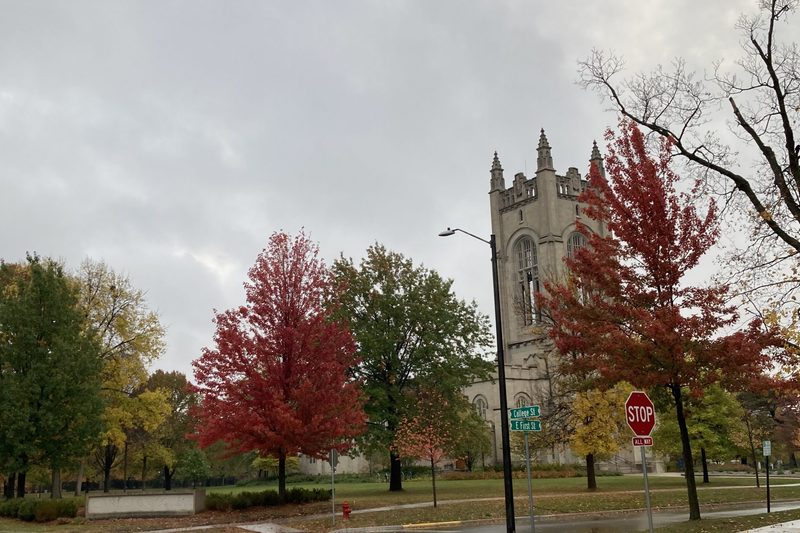 Another example is this photo I took of the Chapel as I walked back to my dorm. The Chapel always looks good, even in the rain. The fall leaves only add to the picture. Speaking of looking good in the rain…
Our Japanese garden, Jō Ryō En, is another great, peaceful spot on campus that looks great in the rain. You can sit in the rustic shelter called a Koshikake while enjoying view.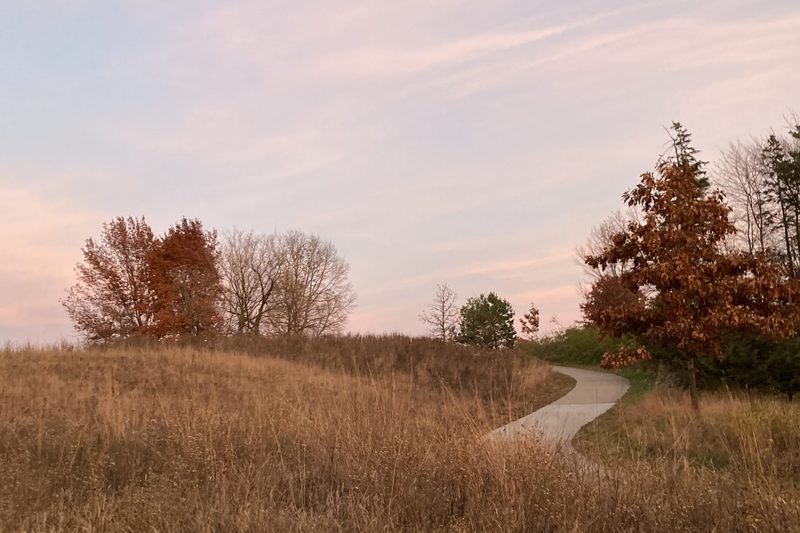 Walks back from my baseball practices at our field or the Recreation Center (affectionately called "the Rec") are enjoyable thanks to the company of my teammates and flicks like the one above. The path pictures goes to the Hill of Three Oaks and serves as an entry to the 800-acre Arboretum.
There are so many pictures I could include of the Lyman Lakes, which I cross every day to go to practice. I can even see them from the balcony of my dorm, Evans Hall! The lakes are undoubtedly one of the prettiest parts of campus.
And speaking of views from my dorm, my roommates and I have loved living in Evans. Here's a gallery of our wonderful home.
No selection of my favorite photos from this term without including my favorite building to spend time in, the Weitz Center for Creativity. It is just such a cool building.
And last but not least, here are pics of some of the people that have made my term.
I hope y'all have enjoyed my blogs this term; if you have any questions, feel free to email me at oishik@carleton.edu!
---
Kai is entering his second year at Carleton; though born in the Twin Cities, he lived in Kobe, Japan for a year, moved to New York City halfway through high school, and now calls Northfield home (plus Charlottesville, Virginia, his hometown). In true liberal arts student fashion, he's interested in anything from American Studies to Economics to Psychology; hopefully, double minoring in Japanese and Music Performance. He enjoys walks around Lyman Lakes/in the Arb, seeing friends at Sayles, playing piano at Weitz, and pitching/playing infield for the baseball team. Meet the other bloggers!