My Experience Studying Abroad — And Why You Should Too!
Zoë shares her experience abroad in Copenhagen, Denmark, and how Carleton's Off Campus Studies Office makes studying overseas accessible. 
Zoë shares her experience abroad in Copenhagen, Denmark, and how Carleton's Off Campus Studies Office makes studying overseas accessible. 
---
When offered the opportunity to study abroad as a sophomore earlier this year, I jumped at the chance! The pandemic made me feel a bit uninspired, so I loved the idea of pushing myself outside of my comfort zone. Exploring and studying in Denmark for a few months was a thrilling prospect. Before delving into my personal experience, I'll touch on why studying abroad is a common feature of the average Carl's experience.
Popularity of OCS at Carleton
About 70% of Carleton students participate in Off-Campus Studies (OCS) programs. Many even study abroad twice (sometimes even three times)! There are ample periods during the year to do so—fall term, winter term, and spring term are all prime opportunities, as are winter break, spring break, and summer break. Some Carleton faculty-led programs are tailored to specific majors such as "Cross-Cultural Psychology in Prague," "Geology in New Zealand," and "Women's and Gender Studies in Europe," while others are focused on language immersion, such as "Linguistics and Culture in Japan," and "Spanish Studies in Madrid." Carleton students may participate on non-Carleton programs as well.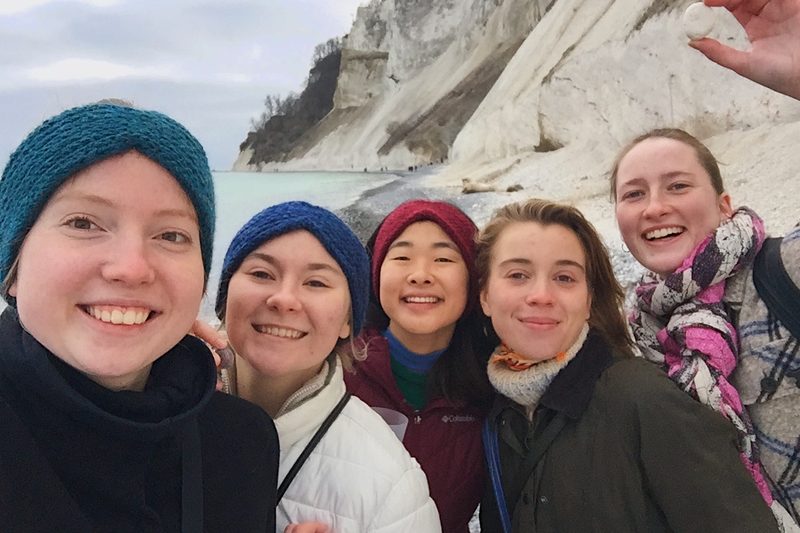 Studying Abroad Made Accessible
A significant reason why the majority of Carleton students go abroad is because of the financial aid students may receive. For students who rely on financial aid, the same financial aid package that they receive during the school year extends to any Carleton study abroad program and one non-Carleton program. This meant that my study abroad experience with the non-Carleton program "DIS Copenhagen" was financially feasible for me, since the financial assistance I received for the academic year transferred to my program overseas. Aside from my plane tickets and personal expenses, the cost of living in an apartment and taking classes in Copenhagen was comparable to being on campus in Northfield.
My Experiences in Copenhagen
About forty Carleton students participated on the DIS Copenhagen trip during winter term of this year, and all of us lived in the Nimbus Kollegium, an intercultural apartment-style living complex that hosts students of different nationalities and a diversity of backgrounds. I shared a double with my roommate and the flat with five others—four of them Danish, one of them Norwegian. We ate dinners together, watched movies, explored the city, drove to a gorgeous cliff, and thoroughly enjoyed each other's company, which made for a particularly vibrant and social living experience.
Additionally, I took several interesting classes. My favorite, a class about "Travel Writing," taught me how to write engaging, polished travel writing pieces. I used what I learned from that class to start my own travel blog and publish weekly posts detailing my adventures in Denmark! 
Why Study Abroad?
While the prospect of traveling overseas and staying there for an extended period of time may seem daunting, I believe that despite the inevitable nerves it is entirely worth it. The sense of autonomy that I felt while navigating Danish life (from the transportation system to the grocery stores), a culture I was previously unfamiliar with, helped me grow as an individual and global citizen. After reaping the benefits of such an experience, and as now a more worldly, capable, and confident person, I encourage everyone to take advantage of Carleton's OCS office and find a program that best suits their interests.
---
Zoë is a junior Sociology-Anthropology major who loves traveling and studying abroad, taking photos, and luxuriating in long walks in the glorious Arb. At Carleton, some of Zoë's favorite pastimes include frequenting the various coffee shops in downtown Northfield, playing cello in the orchestra, participating in club soccer, and spending time with friends. Meet the other Bloggers!