Moving Back Onto Campus
After 7 weeks away from campus, Avery is now moving back in!
After 7 weeks away from campus, Avery is now moving back in!
---
10 Weeks of Class, 6 Weeks of Break!
That's right! The trimester system is fast paced, but Carleton understands that our brains need a rest after the Fall Term. I spent 6 weeks away from campus and I was starting to forget what life was like here… But, that's all because my sense of space and time has been altered since 2020 hit. What about you? Does time seem to both run past you but also slowly drip onto your head?
How long has it been?!
My sense of time in the last half of 2020 has been WONKY. The last 6 weeks of break FLEW by, mostly because I was having so much fun living with my grandma that the time all melted together into one big pile of joy. But! Being away from campus for so long felt surreal. I got used to being in my own space, following my own rules and schedule. It was an adjustment to go back home, though I am so grateful for the opportunity to be around my family.
Living on the 4th Floor & Moving…
These two things don't truly fit together like a happy little pair. At the end of Fall Term, students had to pack up their rooms entirely. This meant that I brought most of my belongings home with me, and I have been DREADING moving back in since. Climbing the stairs to 4th Cassat feels like climbing a mountain. And imagine doing it with boxes full of your belongings!
In the end, it wasn't even an issue though. A friend helped me out and we got everything up in the elevator (wow so helpful)?!
After spending the rest of my Sunday afternoon and evening unpacking, here is what my room looks like…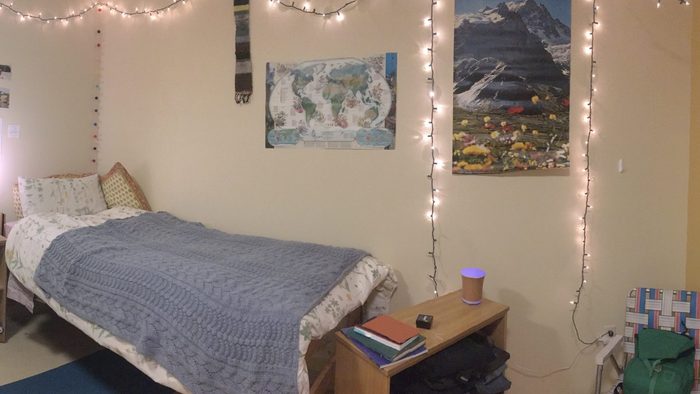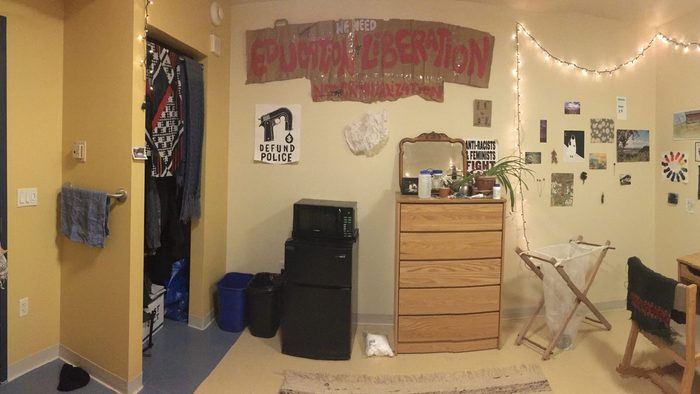 I really hope that we don't have to repack for Spring Break!
For more images of campus, check out this Virtual Tour.
Now I'm off to go do homework due tomorrow! Wish me luck in Winter Term 😉
Stay safe, wear a mask (taken from Amy Goodman of Democracy Now!) and be joyfilled in 2021! Maybe you will also get to have your own moving in story come Fall 2021.
---
After taking a gap year and exploring the world outside of the classroom, Avery is ready to start her freshman year at Carleton! You can find her out in the Arb trying to identify plant species or in the Libe reading about abolitionist education theory and working-class movements of the 20th and 21st centuries. Her passions and interests align most with American Studies, Education Studies, and History. Meet the other bloggers!