Meeting Your Future Classmates
Hannah provides advice about how to connect with your future classmates as an admitted student.
Hannah provides advice about how to connect with your future classmates as an admitted student.
---
As we head into the spring, college admission decisions are beginning to roll out. Though Carleton's regular decision notifications aren't typically until around late March, that date isn't too far off! On top of that, those who have been accepted through the fall and winter early decision process already know they are in. As someone who was accepted into the class of '25 through fall Early Decision, I couldn't wait to meet my new classmates. So how did I do it? Keep reading to find out.
Wisr
There are many ways to meet people before actually meeting them in person. When I was first accepted, Carleton alerted us to a new student platform called "Wisr." On it, you can contact other students and ask current students and staff questions.
Through the use of these discussion posts, many students make introduction posts about themselves. They often post their accounts for social media such as Snapchat or Instagram. I was able to find and follow a lot of people this way on Instagram, and we ended up having conversations through the direct messaging. That is how I first met my friend Audrey!
Instagram
In past years students typically like to make a class Instagram page so that students can make an introduction post with fun photos and facts about them. This is not an official Carleton account, just something run by students. After a quick search I believe there is one for the Class of 2026 as well!
Other Platforms…
There have also been giant group chats created on other apps like Snapchat, WhatsApp, and Discord. A warning: you will get a lot of notifications! If that is not what you're going for, that is totally okay. There are a lot of other ways to get involved. Personally, giant group chats were not my thing.
Summer Send Offs
Summer send offs are official Carleton meet-ups all around the United States! This summer some were in-person and some were over Zoom. I went to the one hosted in Minneapolis (because I am from Minnesota) and it was awesome to meet some people before I got on a campus. There was food, alumni, current students, families, and various activities for people to participate in. You can watch a rundown and the highlights of the Class of 2025's summer send off here.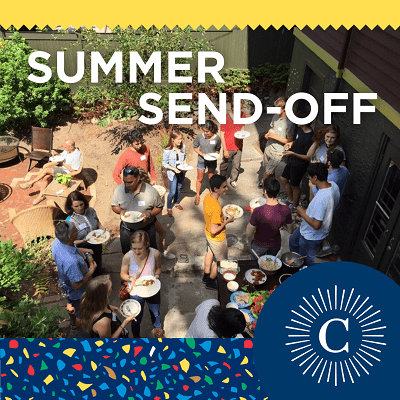 Other Avenues
I am sure that the incoming Class of 2026 will find new ways on top of this to connect with each other. Something to keep in mind: if you don't meet anyone before you come here, no worries! I know plenty of people who did not connect with others online. Instead, they started meeting people as soon as they arrived to campus. That's one of the reasons we have orientation evens like New Student Week.
If you do want to reach out to others, go for it. Carleton is known for friendly and curious students—we all came here for a reason. Don't be afraid to reach out to current students as well (who you can typically find on social media, check out the official Carleton College Instagram account @carletoncollege). Want to learn more about learning at Carleton? Reach out to our amazing professors. You can even reach out to any of the bloggers (hint: our email is linked to our name in our bios).
To Conclude
In the end, whether you wait to reach out until you set foot on campus, or whether you want to start talking right now, its up to you. If you're worried that you'll miss out on making friends if you don't start now, that is simply not true. There are so many opportunities on campus to meet people, and I have a feeling I will be making friends up until I graduate, and maybe even after. We can't wait to meet you all!
---
Hannah is a freshman interested in Political Science and learning as much as she can about whatever she can. Born and raised in Minnesota, she considers herself somewhat of an expert on MN winters. She can't wait for ice skating on the Bald Spot and Nordic skiing in the Arb, along with exploring all of the other amazing opportunities and activities on campus! When Hannah isn't in class, she can be found reading, running for the Carleton Track team, watching TikToks, and tutoring with the Northfield Read and Counts Program. Meet the other bloggers!