Living the Libe
Aidan describes the floor culture of our campus library!
Aidan describes the floor culture of our campus library!
---
When considering which colleges I wanted to apply to, one thing I had not truly considered was the library culture. For me, the library is my primary (essentially only) study space on campus and is like my second home. Although our library's official name is William Gould Library, that name would frankly cause confusion. We simply call it the Libe. Concerning the Libe itself, it has 4.5 floors — the half will be explained later — for studying goodness. Every Carleton student has their opinion of the best Libe floor and today I'll break down the arguments of each side of the debate!
The Best One (In My Opinion): Fourth Libe
It might seem strange to start on the fourth floor, but when entering the Libe you actually enter on the Fourth floor! Located on a hillside, the building still gets natural light on all floors, but everyone knows fourth best for its huge wall-to-wall windows. I am also a big fan of standing desks, which helps me work out my enthusiasm. I will admit, this is my floor of choice. On fourth, you are able to chat at a normal level with friends. Admittedly it often gets quite noisy with everyone talking in addition to printer noises, but it is the best place on campus to study with friends. People particularly like the aforementioned .5 floor called fifth Libe which has plenty of tables set up for group work.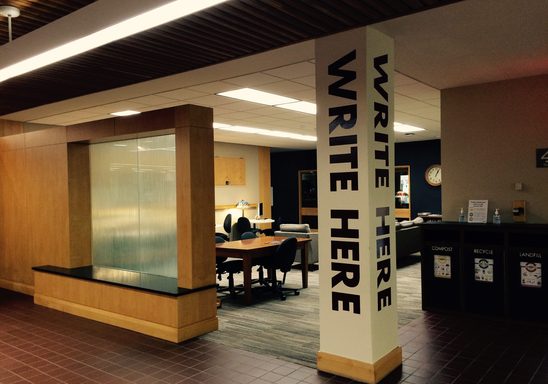 The writing center! Super useful for papers, they're epic!
My favorite part about fourth Libe is seeing all of my friends. If you are in the Libe and choose to wander up to fourth, odds are you will find a friend, or five, studying. It often serves as a nice study break for both of you. You can chat about your readings, get some essay advice, or just chit-chat. However, sometimes these study breaks are too plentiful and you end up not working effectively. 
Heading Down: Third Libe
This is where I go when I really need to grind. It is not quite silent, as people still do some group work on this floor and are allowed to talk quietly. I find the individual study tables by the windows particularly peaceful. You tuck yourself away in one of those and your reading flies by! I also really enjoy the various sofas scattered around third, which allow me to take a nap if walking back to my house seems like too difficult of a task.
I Really Need to Work: Second Libe
During finals, this is my favorite place to study. We have gone past the realm of people doing group work to a land full of individual study stations. Some people love the study rooms which offer a bit of privacy, but I like sitting in the individual study stations here as well. It doesn't feel as claustrophobic for me and everyone is silent anyways so the sound is not an issue. Usually, I come down here to write papers, so it always just gets me in a real writing mood.
I Don't Go Here: First Libe
I will be honest I have only actually been here once or twice usually to go to the special collections or take an online test. This floor is usually a bit too quiet for me— I get nervous about breathing too loud here. If I really need to get into the mood for studying or getting stuff done I come here. Yet, some people like my roommate really find solace in the dead silence and need it to get their work done. Maybe I'll get there one day… 
---
Aidan (he/him) is a junior from Batavia, IL coming back to Northfield after a semester off-campus in Paris. He is a Religion and French and Francophone Studies double major with a passion for ceramics. Outside of class, he enjoys spending his time cooking, hanging out with his housemates in the Culinary Interest House, and performing in Carleton's sketch comedy group. You can often find him at the campuses' two dining halls chatting with other students while working as a student dining hall manager.