Living in Goodhue (1st Hue Best Hue!)
Ethan shares his experience of dorm life on the first floor of Goodhue residential hall
Ethan shares his experience of dorm life on the first floor of Goodhue residential hall
---
Disclaimer: Carleton Admissions specifically requested that we share about our dorm room, in order to provide information for prospective students who are unable to visit Carleton or those unable to visit a dorm room during their tour, due to unforeseen circumstances. Why am I putting this disclaimer here? I am not entirely sure.
---
Welcome to another blog post of mine! Week 9 of winter term has been destroying me, but spring break is right around the corner and that is keeping me alive! Just as my last brain cells were dying from editing my Digital Foundations class' final project (be sure to read about how I utilized campus resources for the final project!) and I couldn't figure out a topic to write about this week, Admissions requested us to write about our dorm. How lucky! Thanks for saving my struggles Holly (shout out to my very understanding and kind supervisor)!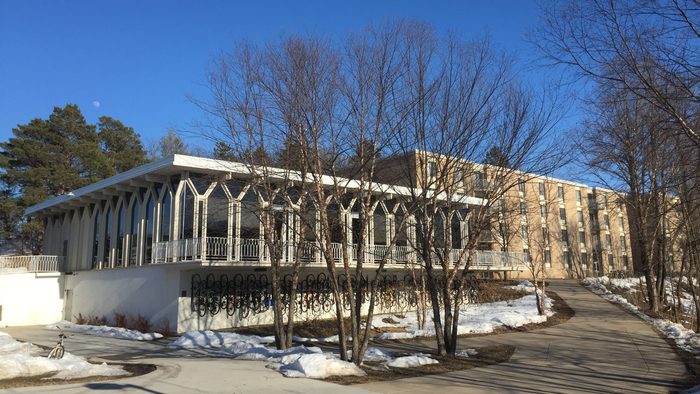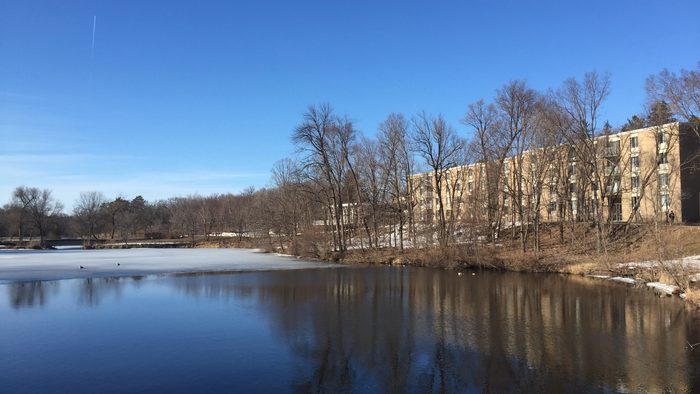 Our Dorm Room
Like most freshmen, I live in a double with another fellow freshmen. It just happens that I am lucky enough to room with Henrie, who is simply the best roommate possible. We live on the "lake side" of Goodhue, from where you can always see the beautiful lower Lyman lake behind the trees.
Guess which side of the room is mine? You would've guessed right if you know I am the messier one (I love puns).
Honestly I think our dorm room is pretty standard. Like any dorm rooms, the Office of Residential & Housing provides the essential furniture in all residential buildings.
Goodhue at a Glance
The Division of Student Life at Carleton has a web page about every residential hall on campus. They provide plenty of information on Goodhue so go check it out! From that web page, you can learn about the floor plans, room dimensions, and read this story about living in Goodhue published on Carleton Now.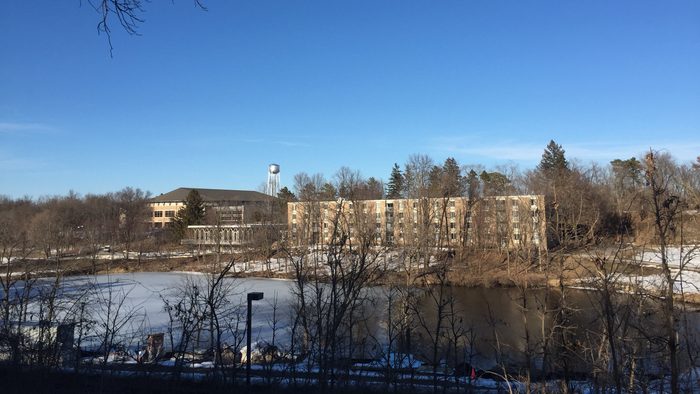 Since I am such a nerd, I've got some quick numbers for you about Goodhue:
Goodhue is 4 stories tall and has 1 basement level
Goodhue has 2 piano practice rooms and 1 band practice room (very cool) in the basement
Goodhue has 97 doubles and 17 singles (no I did not knock on every door to ask what kind of room it is)
Goodhue has the capacity to host 211 students (which is more than 10% of all students!)
Goodhue's 2nd floor is a substance free floor
Goodhue has 2 laundry rooms in the basement plus 1 kitchen and 1 lounge on every floor
Goodhue has the 1 and only Superlounge on 1st floor.
It takes less than 1 minute to walk from Goodhue to the Recreation Center.
It takes about 15 minutes to walk from Goodhue to the furthest academic building (Weitz Center of Creativity) on campus.
About that last one. Yes, Goodhue is one of the "less-close-to-center-of-campus" dorm building, but since Carleton's campus is so tight, it still only takes about 7 minutes to the center of campus, and only about 15 to Weitz, which is literally on the opposite corner of campus! Even if you are like me who has to go to Weitz 6 times a week from Goodhue, you are still fine!
1st Hue Best Hue!
My floor, 1st Goodhue, is an all-first-year floor (well except for our two RAs). I personally love it and I met many of my really good friends here through this community, starting in the New Student Week! My first blog post was about winning the 2019 Carleton NOlympics with my half of 1st Goodhue! We are so good that they had to split us in half for the competition, yet we still won! (just kidding, we have way too many people in our floor so that's why they had to do so.) I am so happy to become great friends with so many people on my floor!
Why I love Goodhue (even/especially its location)
I am definitely going to repeat myself from the above passages.
I really enjoy living at Goodhue. I made so many friends and had so many sweet memories in my on-going first year at Carleton. I am sure others have similar experience at their dorms, but Goodhue really feels like my home away from home.
One of the things that Carleton students say about Goodhue is that it's quite far away from the rest of campus, and I totally agree with that. However, Goodhue has many positive aspects for its location in my opinion, and here are a few of them:
"I live in Goodhue" is quite a legit excuse for complaining about most time-sensitive subjects, because everyone understands what it means.
We are so close to the Carleton Cowling Arboretum, so it is very easy to go embrace the nature whenever you feel like it.
The view walking past Lyman Lakes every morning is just gorgeous
Because Goodhue is not very close to academic buildings, I would study somewhere else on campus rather than going back to my room and procrastinate during the day.
Because we are somewhat "isolated," we are more independent with our own music practice rooms and super lounge with a ping-pong table and a pool table. People from other dorms actually come to hang out in Goodhue quite frequently!
You will always be on time for events happening at the Recreation Center, and you can tease all your friends from other dorms who come in late because they live so much further away from it than you do.
But yeah, this is my experience of living on 1st Goodhue. I really love it and I am so happy to share about it! Hope you have a wonderful day and week my dear reader! Stay safe and healthy!
---
Ethan is a first-year international student from Beijing, China, and is exited to embrace the environment and winter in Minnesota. Ethan is a huge soccer fan as he watches and plays it as often as he listens to music, especially a cappella music by Pentatonix and other artists. Although his passions in Environmental Studies and Chemistry flow through his veins, Ethan is thrilled to explore other areas like Music and Computer Science in his time at Carleton. Meet the Other Bloggers!