Life at Carleton: Wednesday Edition with Kai
Get a tour of a Wednesday in Kai's life!
Get a tour of a Wednesday in Kai's life!
---
You could say my weekdays at Carleton are a bit busy… here's a peek at my Wednesday during ninth week:
9:00 a.m.
Hit snooze.
9:09 a.m.
Finally get out of bed and get on with the day.
9:30 a.m.
A quick breakfast at LDC!
9:50 a.m.–11:00 a.m.
Intro to Psychology! This is the first of my three classes, and is held in Anderson Hall. I'll take this as an opportunity to show off our cool new science complex.
Carleton College, Anderson Hall | Northfield, MN | EYP Architecture & Engineering
.#carletoncollege #andersonhall #northfield #minnesota #eyp #eyparchitectureandengineering pic.twitter.com/kujHEmNhMX

— petesieger (@petesieger) December 9, 2019
I enjoyed my psychology class, taught by my professor, Mitch. He is a Carleton '14 alum, and always makes an effort to make class engaging. Quizzes are more provocative and check understanding rather than total memorization; homework is similarly designed. This includes "featured scholar" articles, where we read, respond to, and discuss an academic article related to our unit. Plus, there's no physical textbook! Just a mix of online resources that are all free (e.g. online textbooks, articles, videos, and podcasts).
11:10 a.m.–12:20 p.m.
Japanese 204. Class is even more fun with your friends, and I take 204 with my first-year roommate. Habuka-sensei is energetic, entertaining, and enthusiastic, which helps us get through a class that meets every day!
12:20 p.m.–12:30 p.m.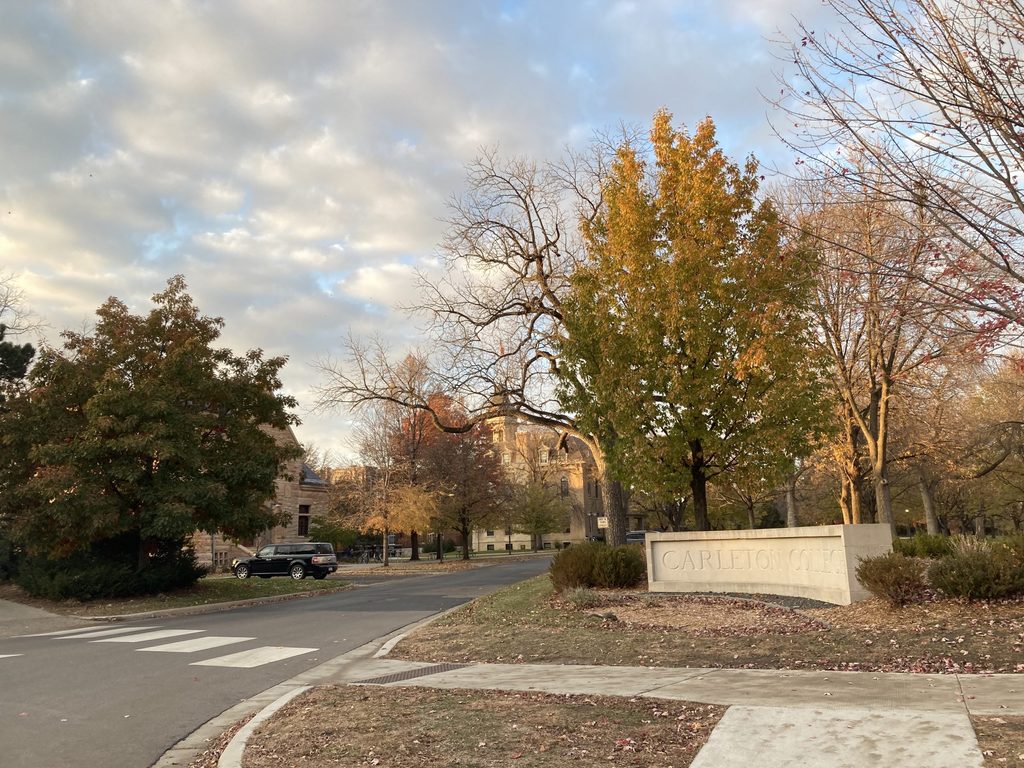 Time for a class transition. An underrated part of my day is saying hi to the many friendly faces I run into while walking to class! It's also just another excuse to drop a nice photo of campus (view from the "entry" of campus).
12:30 p.m.–1:40 p.m.
Education 250: Public Policy and Public Schools. Our professor, Jeff, is a wizard at facilitating class discussion, which starts with the readings. These consist of interesting articles he handpicked and put into a course-reader for us (along with the occasional podcast). From these readings, he generates thought-provoking questions for our discussion that help us probe deeper into the issues surrounding our education system.
Among the main focuses: goals, flaws, challenges, and key debates in our education system. The course has inspired my interest to consider the influence of outside factors, like neighborhoods and home life, on education, as well as the greater societal implications of our education system.
1:50 p.m.
Done with classes for the day! Now, lunch is the time to fuel up, relax, and catch up with various friends. Today, I caught up one-on-one with Annie (my next door neighbor from last year, volleyball player, and orchestra member), though sometimes I eat with a group of friends.
4:00 p.m.–5:30(ish) p.m.
Time for baseball! In the fall, we take full advantage of the 16 practices with our coaching staff (usually four practices per week for four weeks) that the NCAA allows us to have; for the remainder of the term, we have captain's practice. While practices with the coaching staff last two to three hours at the field, captain's practices are at the Rec and wrap up by 5:30. There's also cardio at the end of some of our practices: pickup basketball games.
6:00 p.m.
While I often grab lunch with different friends, on practice days, dinner is with my teammates.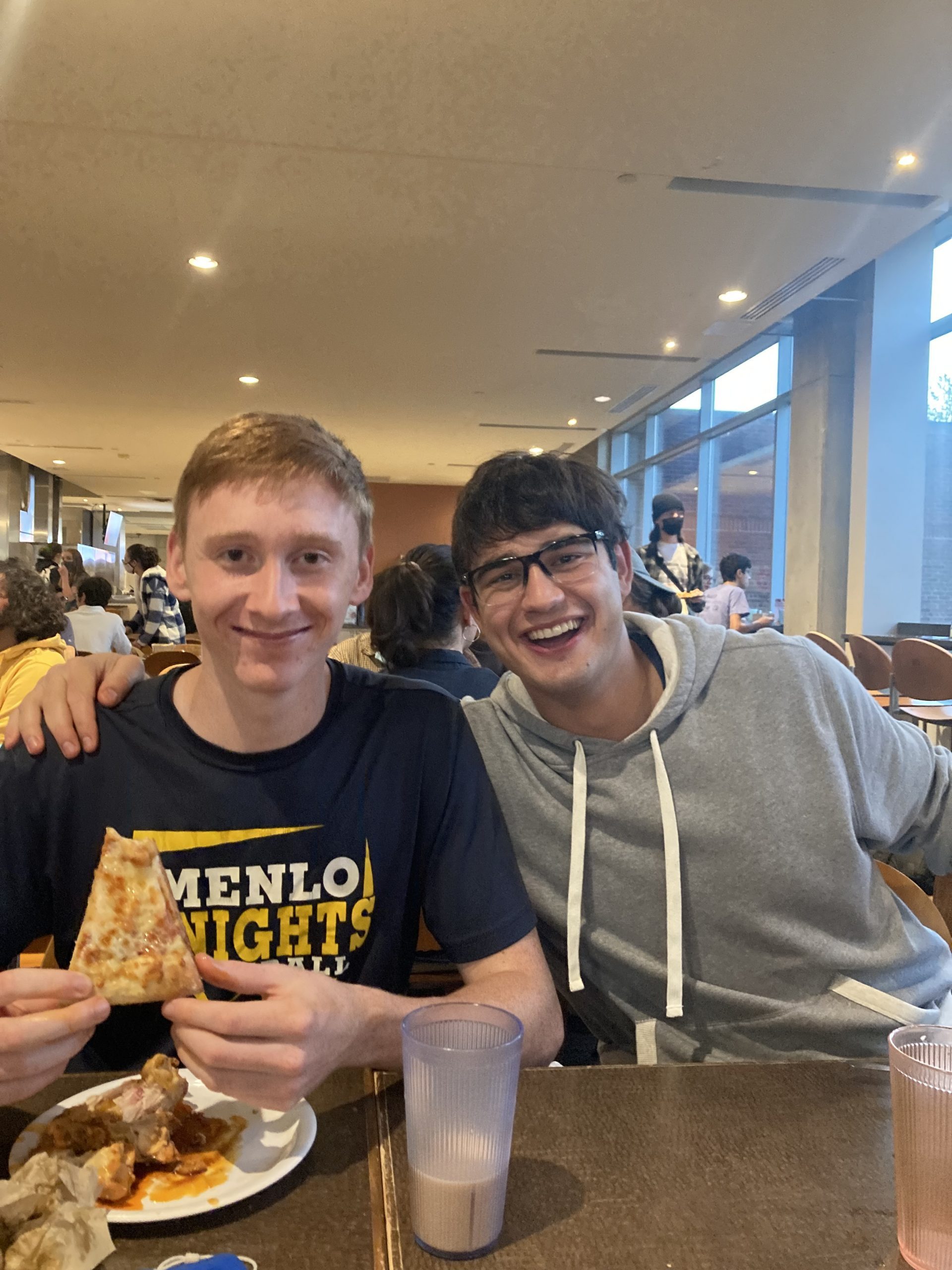 Most days, we load up our plates to refuel before finishing up our homework. Today, though, was a little different. I quickly finished up my dinner because…
7:00 p.m.
Today was my recital! I got to perform at our stunning Kracum Performance Hall, located in my favorite building, the Weitz Center for Creativity. I am always in awe when I go inside Kracum. The recital was a treat, as my fellow pianists performed impressively and beautifully tonight. I performed Chopin's Etude Op. 10 No. 4 "Torrent," which you can give a listen to in the video I recorded of myself below: 
8:00 p.m.
Homework time! After my performance, I ran into some of my friends, who convinced me to study with them in one of the Weitz classrooms. While studying together, we projected the live stream of the Carleton men's basketball team's away game as we chatted and did work. Once the game was over, I increased my focus and efficiency so that I could get to bed by around 11:00 p.m. Tonight, I could definitely use the eight hours or so of sleep that I aim for every night!

---
Kai is entering his second year at Carleton; though born in the Twin Cities, he lived in Kobe, Japan for a year, moved to New York City halfway through high school, and now calls Northfield home (plus Charlottesville, Virginia, his hometown). In true liberal arts student fashion, he's interested in anything from American Studies to Economics to Psychology; hopefully, double minoring in Japanese and Music Performance. He enjoys walks around Lyman Lakes/in the Arb, seeing friends at Sayles, playing piano at Weitz, and pitching/playing infield for the baseball team. Meet the other bloggers!