Less Common Study Spaces
Jack writes about his favorite secret study spaces on campus!
Jack writes about his favorite secret study spaces on campus!
---
When it comes to studying, most students tend to choose from one of three locations: the library, the STEM complex, or their dorm room. I, however, am a firm believer in "variety is the spice of life," so in my three years at Carleton, I have sought out study spots that the average student overlooks or has never considered before. Join me on this informal campus tour as we shuttle around and find these spaces.
Noisier Options
If you don't mind some ambient sound while you study, these are good options for you.
Economics Lounge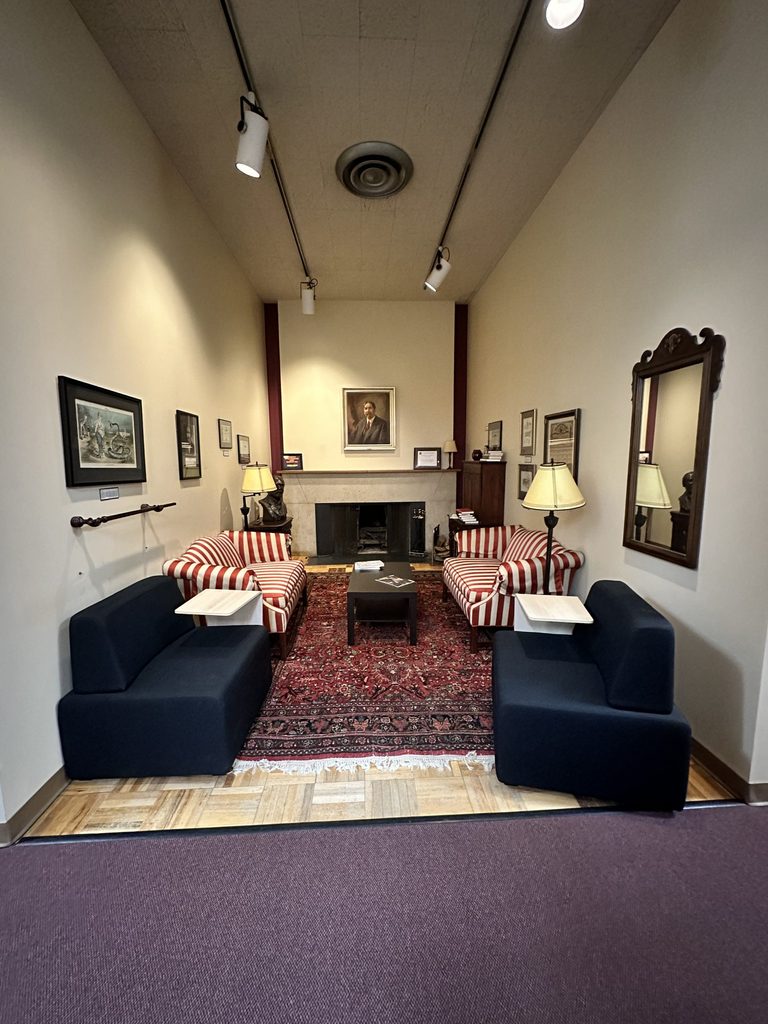 Outside many economics professors' offices in historic Willis Hall is this charming lounge. The striped couches, framed photos, and older decorative furniture really characterize this space. One of my favorite parts of this room is the framed portrait of Thorstein Veblen, one of Carleton's most famous alumni. He is known for coining the phrase "conspicuous consumption," for all my economics nerds.
As this is right outside many office spaces, there is a lot of movement and chatter in this lounge, but the comfortable furniture and old-timey vibes make this space a winner in my book.
English Lounge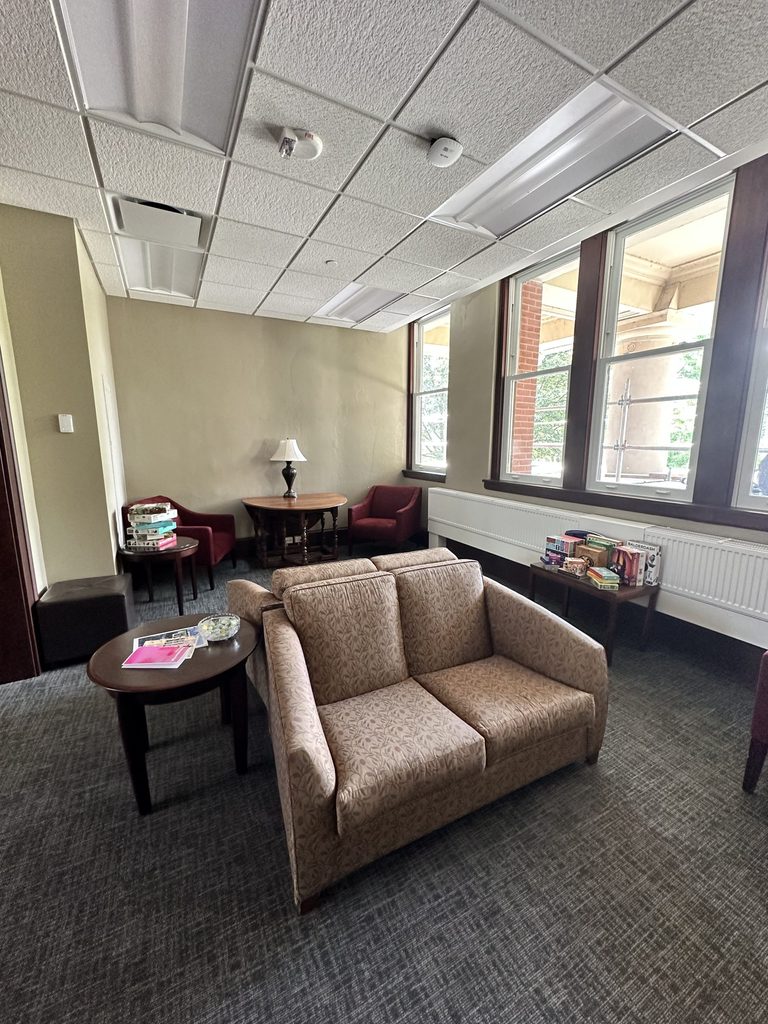 This airy space on the second floor of Laird Hall is a new favorite of mine. Not only does this space get excellent natural light during the day, but it's also very cozy at night. I love turning on the lamp in the background of this photo — it really gives the lounge a warm vibe. Another perk of this space is the board games. If you feel like a quick study break, there are numerous English-adjacent games to explore, including a Shakespearean deaths card game and Codenames.
There's a lot of traffic directly outside of this space, especially during the day when students are going to class, but I still really love all that this lounge has to offer.
Quieter Options
Sometimes, I seek spaces where I can completely escape from noise. These quiet options are geared towards that goal.
Empty Classrooms

I really enjoy finding the hidden gems that are empty classrooms on campus. Your best bet to find these, of course, is in the late afternoon to evening when classes aren't occurring. Pictured above is one of my favorite ones to occupy. Located in Leighton Hall, Carleton's humanities building, this is actually one of our larger lecture halls on campus. I enjoy setting up shop by the windows and opening them on nice days to get a cross breeze.
With this room comes not only silence, but also access to two blackboards and a projector. It makes for really good collaborative work, which is always a perk.
Observatory Lounge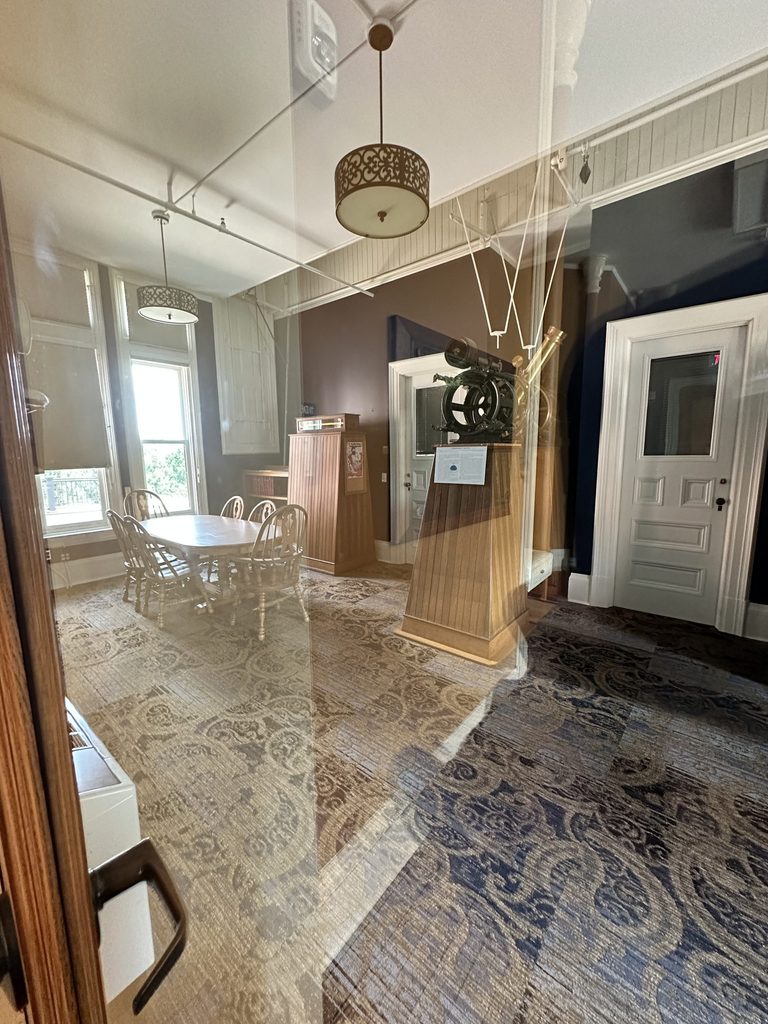 This is truly a private space. The photo above was actually taken from outside of the lounge (pardon the glare) because it was locked from the outside. I will note that this is not an uncommon occurrence! When it was unlocked, however, this is the place to study. Located in iconic Goodsell Observatory (a space that is already underutilized), this room features two tables, a blackboard, and funky astronomy textbooks and telescopes. The two white doors in the back are usually unoccupied offices, so solitude is guaranteed.
My friend and I found this room by accident when we decided to explore every building on campus during our first year. I'm beyond glad to call it one of my favorite places to study.
---
One of Jack's (he/him/his) primary extracurricular activities is as a mentor and event volunteer for Project Friendship. Project Friendship is a community partnership matching local elementary and middle school students with mentors, like Jack, at Carleton and St. Olaf colleges. You can also find Jack spending time at the Oak Grove in the Lower Arb, working on his social dance skills, and serving as the treasurer for the Academic Quiz Team!