Last-Minute Application Tips
Andriana gives advice about essay writing, interviews, and demonstrated interest!
Andriana gives advice about essay writing, interviews, and demonstrated interest!
---
Hi everyone!
This will be my last post for fall term 🙁 When I return, high school seniors will likely be done with college applications. In anticipation of this achievement, I thought I would give some last-minute application advice. Yay! (Before I start—if you want to read more about my experience with the application process, check out my post from a few weeks ago.) To get us started, let's talk about, drumroll please…
So! If you're anything like me, you are dreading the 15(000) essays that you have to write while applying to college. And I love writing! But you can only write but so much about your favorite pencil (or something like that) before you begin to go a *little* crazy. Luckily, I suffered so that you (hopefully) don't have to. At least, not as much… A little suffering is inevitable, right?
Don't wait until the last minute! That little bit of suffering will turn into a whole lot if you put your essays off until the day before they're due. It is so much better to start early and then keep working on them whenever you have time. If that means that each weekend you add a little bit to a couple of essays, or if you sit down for a few hours on a Thursday night and knock one out, so be it. Figure out which process would work best for you, create a plan, and stick to it. It will create so much less stress in the long run!
Don't try too hard. Now, hear me out, because I know this is counterintuitive. Your essays and your writing should feel natural, and your voice should come through. This is a really hard skill to learn! But some of the best advice I heard on essay-writing was from an admissions session at one of the colleges I was visiting. The admissions representative leading the session told the audience that the committee is not looking for an essay crafted from a thesaurus. Essentially, don't make a painstaking effort to use the fanciest words you know, because that might stifle your voice and limit your writing in other ways.
Pick a topic that says something unique about you. At the same admissions session, the representative mentioned that the essay should help the committee learn about you, the applicant. No one else. No matter what you write about, make sure that it is ultimately your own personality that is shining through and that you are not inadvertently diverting the attention to anyone or anything else.

Quick example: if you are writing about a role model, make sure you are still sharing something about yourself. The focus should not be on the actual role model, but on why this person is a role model to you and what that says about you—your priorities, your values, etc.
Moving on! Let's talk about…
You should take every opportunity to interview. Maybe it won't make a huge difference, but it helps you become a real person to the admissions committee. It also conveys your interest and gives you the chance to interact with someone affiliated with the school (especially important if you can't visit). And you get something out of it, too—the chance to ask any and every question you want. So here are a few tips for if and when you interview for a school:
Unless the school specifies differently, I think it is best to dress business casual for your interview. My go-to outfit was a casual striped dress with a green denim jacket and flats. As a rule of thumb, I think it is always better to risk being over-dressed than under-dressed. Some schools will explicitly say that you should dress in the way that is most comfortable for you. If that is the case, then do that! I attended a few interviews where that was the guidance; for those, I would wear a sweater and jeans (no holes), or a nicer pair of shorts and a casual top. But make sure to dress appropriately, no matter what.
Come prepared to ask questions! During every interview, I was given the chance to ask the interviewer questions. Have a couple of questions ready to go, and bonus points if they are specific to the school. This allows you to learn more about the school from someone who most likely went there (or at least works there)! Not to mention, it also gives you the chance to show that you have done your research.

Speaking of which… Please do a little research on the school beforehand! You might get a question related to the school, and it can be difficult to answer fully if you know nothing about it. Example questions: Which organizations do you want to join? What made you interested in XYZ University in the first place? How can XYZ University help you achieve your goals? Yada yada.

Be prepared for really weird questions, and take them with a grain of salt. The weirdest question I heard came during my second interview. "Which emoji would you be?" Yes, this was an actual question that I had to answer. At that point, I didn't really use emojis. I had no idea what to say. I think I made something up about smiley faces and the party emoji? Genuinely cannot remember. Either way, don't stress too much. You will probably be a little caught off guard. Don't feel in a rush to answer—give yourself a minute to think, and then just do your best. I promise, it will not make or break your chances of acceptance.
If an interview goes poorly, don't beat yourself up. Some interviews I had were really good, and some were kind of awkward. Let's play another round of Andriana Digresses and Talks About Herself Too Much. So! Here goes.

My final interview was scheduled last-minute, and it was clear that it needed to be done that week in order to be evaluated with my application. Lo and behold, the day of my interview came and I was really sick. Turns out I had the flu. Oops. Anywho! I knew that I could not reschedule, and that it would look really bad to cancel the day of. I think you can guess what I did. (Yes, I know how bad this sounds in the middle of a pandemic.) I showed up sick!
How did it go, you might ask? Well. I drove myself to the interview, determined to pretty much hold my breath so that I wouldn't cough on the poor guy and infect him. Turns out that I didn't have to worry about that. He didn't ask me a single question! Not one. I kid you not. I ended up asking him questions the entire time. No idea what happened there. I had thought of a few questions in advance to ask, as I advised you to do, but I didn't expect to need an hour's worth. So I improvised. Didn't go great. I got waitlisted. Moving on!
Let's talk…
I think this is a surprisingly important part of college applications, although some schools—including Carleton—do not use it as criteria for admission. (Keep in mind that I don't actually have anything to do with the admissions committee—all of my advice is from my own experience applying to college.)
Demonstrating interest does not mean that you have to visit every school you apply to. For most of us, that simply is not possible, whether because of time, cost, or now, the pandemic. Luckily, there are many easy ways to show a college that you are interested!
Most college websites have a spot on their admissions page where you can sign up to learn more. On Carleton's admissions page, for example, there is a panel called "Connect With Us." This is a great way to get more information about Carleton!
Interview! We've already gone through this.
Visit if you can! Obviously, this is not going to happen right now. But in a normal year, it is best to visit if/when you can for an information session and a tour.
Reach out to a professor! I didn't do this, but I probably should have. If there's a particular department that you're interested in, look at the faculty list for that department and see if anyone's research interests match your own. And then send an email! Most professors would be happy to correspond with you and give you more information about exploring your interests in college.
In conclusion…
I hope that this is helpful! I remember how stressful the college application process can be, so hang in there. You're almost done. And with that, have a wonderful (and healthy!) holiday season! See you in January!
-Andriana
P.S. Here's a picture from my own college search experience. I am with one of my best friends, Hannah, after doing a college visit together junior year.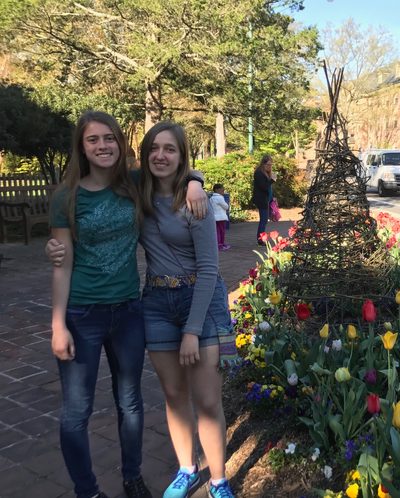 ---
Andriana is a sophomore at Carleton, where she plans to major in English and double minor in Creative Writing and Cross-Cultural Studies. Although she will be spending this fall at home in Richmond, VA, Andriana is already excited to return to Carleton and escape the southern heat. When she isn't busy avoiding Virginia's never-ending summer, you can find Andriana binge-reading, playing music, or watching a favorite movie or show for the umpteenth time. Meet the other bloggers!