Juggling At Carleton
Juggling at Carleton is challenging, fosters inclusivity, and requires collaboration.
Juggling at Carleton is challenging, fosters inclusivity, and requires collaboration.
---
Carleton has jugglers!
Now, I want to be clear: I did not enroll at Carleton just because it has a juggling club. I applied early decision to Carleton because of its tightly-knit student body, passionate faculty, and curious students. But… the juggling club didn't hurt. The club, the Carleton Juggling F.I.S.H., date back to at least the 1990s.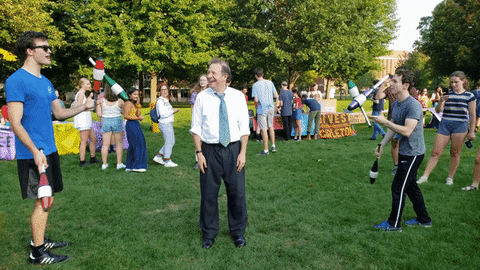 Aaron '23 and I throw juggling clubs, or "pass," around president of the College Stevie P.
Juggling is inclusive.
The F.I.S.H. jugglers are welcoming to all new members. While I have been juggling for 10 years — exactly half of my life — the majority of Carleton students who join the Juggling F.I.S.H. have never juggled before.
Carls love teaching others how to juggle.
Even though juggling is tough, most members master the basics after only a handful of practices. So, while we don't have formal juggling teachers, once a F.I.S.H. member learns how to juggle, they tend to help others learn right away. This trait is not exclusive to juggling at all — Carls are constantly learning with their peers inside and outside of the classroom.
Juggling is for math and music lovers.
Juggling isn't the most common pastime out there. Even so, a lot of our members find it engrossing, particularly due to its connections with math and music. Once you learn to "pass" with another juggler, you can adjust the timing of throws, which is similar to a change in key signature in music. Other juggling patterns can be quantified through a language called siteswap. 
F.I.S.H. meetings can be what you want them to be.
Our meetings are simultaneously focused and relaxed — you can see expert jugglers practicing advanced tricks while other jugglers relax with props in their hands, chatting about their classes. This atmosphere is totally Carleton! There are always opportunities to learn new skills, but at the same time, students have plenty of chances to congregate and connect with each other.
Juggling is an independent and a social activity.
You can juggle on your own or with a partner(s)! Juggling with another person is generally called "passing," and relies heavily on timing. When your juggling partner is throwing an object to you, you are simultaneously throwing an object to them. This kind of active collaboration is not only common with the F.I.S.H. but also in classrooms, at study tables, and in what it means to be a Carl. 
Eva '23, Aaron '23, and I practice a passing pattern in the Cowling Gym on a rainy Sunday.
F.I.S.H. members support each other.
The Carleton Student Association provides the F.I.S.H. access to quality juggling equipment. Our equipment is used at on-campus meetings, at the juggling festival we attend in February, and can be rented by Carls for personal use. Even beyond the juggling club, students on campus feel supported; the juggling club's support of its members furthers the narrative that Carls help Carls.
You can always find your people at Carleton — a Juggling F.I.S.H. meeting may be one of the many ways you will meet others! The commitment is generally manageable; the F.I.S.H. meet at least twice a week for a couple of hours. We are looking forward to being on campus sometime soon — we see a performance in our future 🙂 Maybe we'll see you there!
---
Joey balances his work for the American Studies major with his interests in Educational Studies, club soccer, ultimate frisbee, and club cross-country skiing at Carleton. He learned to juggle while growing up in Papillion, Nebraska, and has taught Carleton and middle school students how to juggle through his involvement with the Carleton Juggling F.I.S.H. and a CCCE/TORCH after-school program that teaches juggling and magic at the Northfield Middle School. When not writing satire for the Carleton Salt or dancing with the social dance club, you'll find Joey playing foosball in Sayles, burrowing into the Libe, or watching Avatar: the Last Airbender in a dorm lounge. Meet the other bloggers!